Yatani's proposal for more taxes, loans will leave majority of struggling Kenyans worse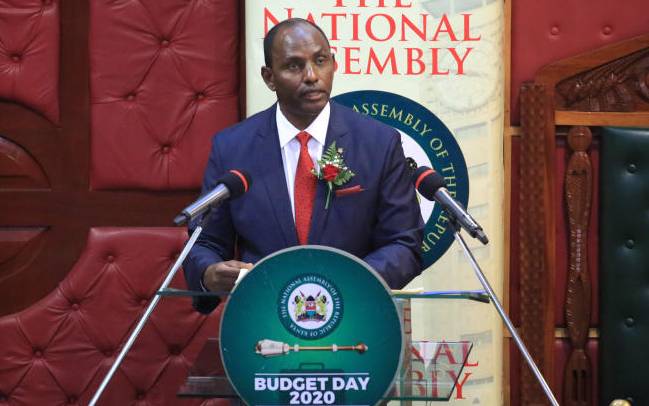 Cabinet Secretary Ukur Yatani (above) yesterday unveiled a Sh2.8 trillion budget that sought to rescue Kenya from an economic turmoil occasioned by Covid-19 pandemic.
In his 100-minute budget speech that was read in a half-full National Assembly, Yatani sought to lift the spirit of millions of Kenyans who have lost their jobs to the pandemic, promising to help them get back their livelihoods.
But the speech also stretched a three-year story of the Big Four Agenda that was started by his predecessor Henry Rotich in 2018, with Yatani promising to pump Sh128.3 billion into the drivers and enablers of the legacy programme that seeks to boost job creation, enable all Kenyans to access adequate and nutritious food, build 500,000 cheap houses and enable access to critical healthcare.
It will, however, be an uphill task for the new CS to stimulate the economy by collecting Sh1.6 trillion in taxes, with most businesses and workers ravaged by the pandemic. MPs and critics doubt Treasury can hit the target under the current circumstances.
"It is in this context that we have chosen the theme for this budget as 'Stimulating the economy to safeguard livelihoods, jobs, businesses and industrial recovery," he said.
Yatani sought to elaborate a stimulus programme aimed at getting the economy back on its feet.
Millions have lost their jobs as hundreds of thousands of businesses have yielded under the heavyweight of the containment measures that have been implemented to curb the spread of Covid-19.
The strategy
At the heart of the recovery strategy, dubbed eight-point economic stimulus programme, is the need to keep the food supply chains functional while promoting the use of locally produced goods and services, in what is aimed at jump-starting the economy by securing the livelihoods of daily wage earners, especially those living in slums.
Yattani set aside Sh56.6 billion for this programme.
Around 26,000 youth have already been employed under the Kazi Kwa Vijana Programme. Treasury has allocated Sh10 billion towards this initiative that aims at employing 200,000 jobless young Kenyans in Nairobi, Mombasa, Kisumu, Eldoret, Nakuru and other major towns across the country.
Access roads and bridges damaged by floods will be rehabilitated using local labour, with Yatani allocating Sh5 billion to this.
Unemployed teachers should also dust up their resumes after the Government set aside Sh7.4 billion to recruit teachers and interns and also support local artisans and builders' businesses.
Also as part of the stimulus programme that President Uhuru Kenyatta unveiled on Saturday, the Government will inject Sh3 billion as seed capital for the SME Credit Guarantee Scheme.
In addition to the Sh23.1 billion in the current financial year, Yatani has proposed to fast track payment of outstanding verified VAT refund claims and pending bills owed to businesses by allocating Sh10 billion.
He also gave an additional Sh500 million to supply 20,000 locally made beds and bedding to public hospitals, and Sh25 million to support the establishment of 50 modern walkthrough sanitisers at our border points and main hospitals across the country.
Farmers who have been hit hard by the pandemic will get Sh1.5 billion to "assist flower and horticultural farmers to access international markets during this period when we are experiencing low cargo traffic in and out of the country."
For tourism, which has been hit by massive cancellation of hotel bookings occasioned by lockdowns and travel bans imposed by various countries in an effort to check the spread of the virus, the Government has temporarily lifted the ban to hold meetings in private hotels by state agencies.
"The Government has also waived landing and parking fees at our airports in order to facilitate the movement of cargo in and out of Kenya," said Yatani.
The health sector, which will play a critical role in flattening the Covid-19 infection curve, has been allocated Sh111.7 billion. Universal healthcare will get Sh50.3 billion.
The housing sector has been allocated Sh15.5 billion, with the ongoing construction of Gikomba, Githurai, Chaka, Kamukunji and Dagoretti markets receiving a boost of Sh1.1 billion. Manufacturing will get Sh18.3 billion. Food security, the fourth pillar of the Big Four, was allocated Sh730 million.
This was Yatani's first budget since he came to the helm of the Exchequer in July 2019.
He plans to spend Sh2.73 trillion in the next 12 months, with Sh1.24 trillion going to recurrent expenditures by ministries, departments, agencies (MDAs), Judiciary and Parliament.
The government will spend almost Sh904 billion to repay debts and Sh316 billion on counties.
Broke Kenyans
KRA will also be expected to raise Sh1.6 trillion from businesses and workers that have unfortunately been battered with Covid-19 pandemic.
However, with broke businesses and workers, and with President Kenyatta proposing for the slashing of some tax heads, it will be an uphill task for the tax authority to hit this target.
National Treasury - whose Cabinet Secretary has been preaching the austerity gospel since Kenyatta put him at the helm of the Exchequer - will borrow Sh840 billion in the upcoming financial year to breathe life into the economy. This is compared to Sh806 billion in the financial year ending this month.
It will borrow Sh480 billion from the domestic market and Sh328 billion externally. For external borrowing, Treasury is under immense pressure not to tap expensive loans which critics have noted have overburdened Kenya.
Treasury projects economic growth of 2.5 per cent. However, other forecasters have painted an economic gloom that might be the worst ever in independent Kenya, with the World Bank noting that the economy will shrink by Sh974 billion should the containment measures go beyond next month.
For some, this will be the worst for Kenya since it gained independence. For the remaining months of the year, costs of food, fuel, school fees and rent may prove too hard of a burden for many.
Almost every reputable economic institution has projected a decelerated economic growth of not more than three per cent. Last year, the economy grew by 5.4 per cent.
Financial consultancy firm McKinsey & Company, which has made this projection, also predicts that this negative growth of five per cent will see the value of the country's wealth drop by Sh1 trillion.
And at least for the next 30 days, most aeroplanes will remain grounded after President Kenyatta directed that the Kenyan airspace remains closed to international passenger flights for another 30 days. Without airlines, travel agencies have furloughed their employees.
Movement of people into and out of the Nairobi Metropolitan is still restricted.
The head of state noted that while he wished to ease restrictions, the trajectory of the infections forbade him.
Yatani noted that through the tax relief measures, the government is expected to forego Sh172 billion. However, the government would compensate some of these losses by rolling back some tax exemptions that had seen it lose close to Sh535 billion every year, according to Yatani.