An emboldened president takes no prisoners as he chases his legacy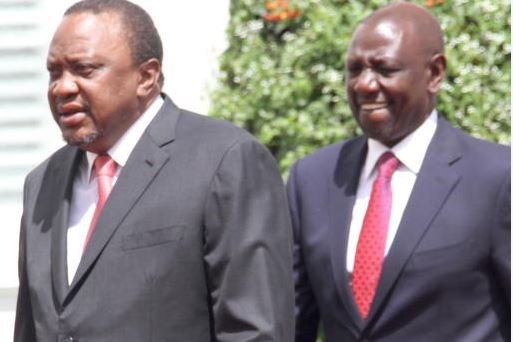 Just 25 months to the end of his presidency, Uhuru Kenyatta, once seen as a docile president incapable of making hard tackles, is throwing lethal kicks that are turning the tables on his enemies and defining Kenya's political trajectories.
A week ago, Kenyatta successfully executed a purge in Parliament which a few weeks ago was in the firm grip of his deputy, William Ruto (both pictured). In one fell swoop, the same MPs who were daring him to bring it on were begging for mercy.
Before that, he had ruthlessly wrested Jubilee Party from his protesting deputy, and not even a flood of memos could stop him.
When he was done with the party, he kicked off a purge against Ruto's allies in Parliament, routing them out of key positions and committees.
And when he was done with Parliament, he turned to an already weakened Judiciary, driving the last nail in its coffin with a controversial Executive Order (EO) which prompted Chief Justice David Maraga to protest.
In the same EO, the Office of Deputy President was subsumed in the president's own office in an optical coup.
The earlier unofficial arrangement of the DP running his own show at his office was dropped. The president's advisors had observed that Ruto had used the advantage of the mutual trust to build a strong political base.
And this week, he is expected to complete the radical surgery in the National Assembly House committee leaderships, sweeping away Ruto's allies and consolidating his support.
"The president is very careful to manage his transition. The deputy president appeared to be cannibalising his political space and the president would have preferred to be the only bull in the pen.
"We have a strongman, but I do not think it will translate into taking away people's freedoms," lawyer Kamotho Waiganjo says.
Fears of an emerging all-powerful president who will stop at nothing to vanquish any whiff of challenge have also emerged.
Besides swallowing the official Opposition, Kenyatta and his allies appear to be carefully controlling succession in every important office, including the Judiciary where he has refused to appoint judges.
Swallowed opposition
Nothing is being left to chance anymore as every opportunity is taken to reaffirm who is in charge. These happenings have added a spring in the step of the president.
While his deputy scampered to the bosom of elders over the weekend, the president was wowing the nation with a well-considered decision against re-opening the economy.
"Parliament has been subdued, wholly. Political parties have surrendered and embraced unflinching loyalty. Judiciary whimpers under the radar, dodging hostile 'acquisition'.
"It can't be all about clipping the wings of an 'errant' assistant. It's a bigger picture...sounds ominous?" former Mandera Senator Billow Kerrow said on Twitter.
Lawyer Ahmednasir Abdullahi says Kenyatta is fast closing the gap to "complete monarchy" given that he enjoys 100 per cent control of the Executive and Parliament, and the Judiciary appears to be the only stumbling block.
"With the death of the Opposition, Kenyatta is now like a monarch. Blame the Opposition that is cohabiting with the ruling party to an extent that they think they are ruling," Abdullahi said.
The panic Abdullahi is alluding to is best depicted by the events of Tuesday when the president hosted MPs at State House. Despite their Senate counterparts missing out on their initial one, this time every eligible MP attended.
Even the DP showed up, and witnessed helplessly as his allies were politically guillotined in his name.
"The power and influence inherent in the Office of the President constitutionally and politically are enormous.
The fact that the president did not exercise them during his first term does not mean that that he cannot exercise them when it becomes politically necessary.
"In his first term, he was looking forward to a second term, so he was careful not to step on so many toes," Amukowa Anangwe, a political scientist, says.
At the PG meeting, MPs were asked to leave all their phones and watches at the reception and women legislators were not allowed in with their bags.
Next move
For 35 minutes, the president lectured his party MPs, telling them they must either toe the line or ship out. None was allowed to speak.
According to David Murathe, the Jubilee Party Vice Chair, the president now has full control of the party.
"At the National Executive Council, the president has 15 of 21 members who owe him allegiance. Now we can plan our next move," he said.
Late last year, the president warned his political foes that he would deal with them ruthlessly in the new year, and he appears to have lived up to that promise, catching his enemies flat-footed through uncharacteristic stealth and strong-arm tactics.
The first victim of his strong-arm tactics this year was Nairobi Governor Mike Sonko.
Cornered in the wild, airlifted to the city, charged in court and his interactions with his office reduced, Sonko was summoned to State House and forced to sign away essential city functions to the national government.
Dazed and with the president watching behind him, Sonko signed the city away, and spent the rest of the months fighting to pull back his signature. The president hastily constituted the Nairobi Metropolitan Service (NMS) under his office to run the city.
"He has been labeled a dictator but he has got away with so many things and that is why he feels emboldened. The weakening of the Opposition and the fights between Ruto and Raila Odinga have given him breathing space," Anangwe says.
The other set of victims in the president's cross-hairs this year was the legion of DP-supporting cast led by his foremost online warrior Dennis Itumbi.
After shaking them off several times, starving the DP's office of funds for months, the government dropped all pretenses and sacked Itumbi and Co altogether.
Unfettered control
Then he turned his attention to Jubilee, Ruto's prized asset in his bid to succeed Kenyatta.
In the countdown to the 2017 election, Ruto had unfettered control of the party, translating into victorious candidates selling him their hearts, and minds.
"Some of us paid a heavy price for this. We are glad our sacrifice was not in vain. What the DP did to the president is unAfrican. You do not raid a man's bedroom in his presence," former Dagoretti South MP Dennis Waweru says.
Waiganjo adds that although the president had become 'all-powerful', the country has effective institutions to check any excesses.
But Kiharu MP Ndindi Nyoro says this is a situation where somebody has figured that he has not accomplished much as president and is seeking to consolidate more power and more control to try and do something of value in his last two years.