Wetang'ula pushed out as season of coups hots up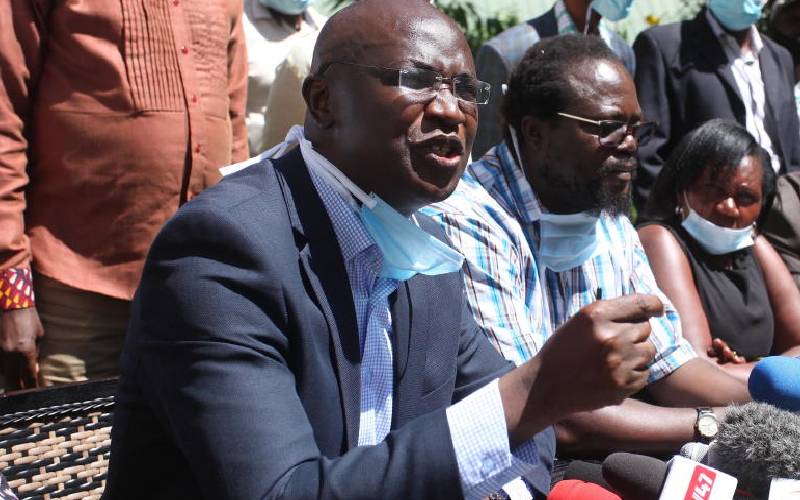 Ford-Kenya leader Moses Wetang'ula was yesterday added to the list of politicians who are feeling the wrath of their political parties.
What began as a spasm in Jubilee – change of party management committee – transformed into series of organised coups that defined the month of May.
From purging allies of Deputy President William Ruto from key Jubilee party positions, surprise post-election coalitions, opposition going for the jugular of errant membership, and reorganisation of western Kenya political leadership, political knives swayed the whole month.
And when the lion party's Secretary General Eseli Simiyu (Tongaren) cleared his throat to address the media yesterday, after a National Executive Council (NEC) meeting at a city hotel, it was to seal the fate of one of country's politically tortured leader in recent history.
Luhya meeting
Dr Eseli is himself one of the beneficiaries of Orange Democratic Movement (ODM) purge in Parliament, having replaced Dr Chris Wamalwa as the deputy minority leader in last week's changes. Together with Kanduyi MP Wafula Wamunyinyi, he attended Thursday's Luhya meeting hosted by Cotu boss Francis Atwoli at his Kajiado home.
They faulted Wetang'ula for failing to provide inspiring leadership, blamed him for disunity in the party and accused him of moral impropriety in last year's Dubai gold scandal saga.
"These are impostors who were airlifted to Nairobi from Kisumu and Mombasa and booked at Raddison Blu Hotel. They were detained and forced to hold a NEC meeting. Their resolutions are null and void," Wetang'ula later dismissed the coup.
In the morning coup, Wetang'ula was replaced by Wamunyinyi in acting capacity and the party's national organising secretary Chris Mandu was replaced by Josephine Maungu.
In his counter-coup in the afternoon, Wetang'ula announced the suspension of the trio and named Dr Wamalwa as Eseli's replacement.
And if the loud and pointed protests of Amani National Congress leader Musalia Mudavadi are anything to go by, the coup juggernaut may as well be rolling his way.
While it was still blazing, Mudavadi weighed in on the matter, dismissing Eseli's group as "sponsored quislings" and the coup as "a tragic mischief" presided over by an 'axis of evil."
He also claimed that the events in Ford-Kenya were part of larger scheme to destabilise independent political parties.
"The mischief has been escalated at a number of meetings led by the leader of a NASA member party, whose objective is to destroy and dominate everyone politically," he said in a strongly worded statement.
Wetang'ula had similarly attributed the happenings in his party to NASA coalition partner.
When ODM reacted to the events of the day, it reserved choice words for Mudavadi. Party Secretary General Edwin Sifuna described him as 'perennially programmed' leader, a professional mourner, fence sitter and one who sees the ghosts of ODM everywhere.
At his presser, Wetang'ula also linked his woes to his call for accountability in Bungoma County Government led by Wycliffe Wangamati. He claimed that the party will move to recall the governor for failing to toe the party's line.
"Wangamati is using public money which belongs to the people of Bungoma to ferry people to Nairobi to stage unlawful coups. He will face the consequences of his actions," Wetang'ula said.
He called on Ethics and Anti-Corruption Commission (EACC), Directorate of Criminal Investigations (DCI) and Director of Public Prosecutions (DPP) to investigate the governor.
"We are aware that Richard Onyonka (Kitutu Chache South) was offered money to replace me but he declined. He is a true hero of democracy. Wangamati used money to ferry some NEC members from Kisumu and Mombasa at this time when the country is in a lockdown due to coronavirus. He should be investigated," Wetang'ula said.
Ferdinand Wanyonyi (Kwanza), who is allied to the senator, was thrown out of the Radisson Blu Hotel meeting but later claimed he was offered money to back the Wetang'ula ouster.
He also dismissed the Luhya meeting hosted by Atwoli in Kajiado, saying the Luhya community's leadership have to fight for the positions.
Wangamati accused Wetang'ula of being a lone ranger, incapable of uniting the party.
"The greatest weakness of Wetang'ula is his inability to unite the party beyond Bungoma. This ouster has nothing to do with the Kajiado meeting," Wangamati said.
Foster unity
Wamunyinyi said he will spearhead the party to greater heights and work with government and other like-minded political leaders to foster unity in the country.
"We want to be part of government in 2022 and that is our focus. Our leader has refused to work with his coalition partners and President Uhuru Kenyatta. That is why we have removed him," Wamunyinyi said.
Olago Aluoch said Wetang'ula's ouster should be viewed as a national affair, not just a Bungoma one.
"I am here as a member from Nyanza. NEC members here represent the face of Kenya. So our resolutions should be taken seriously," Olago said.