Why travelling and holidaying abroad will never be the same after Covid-19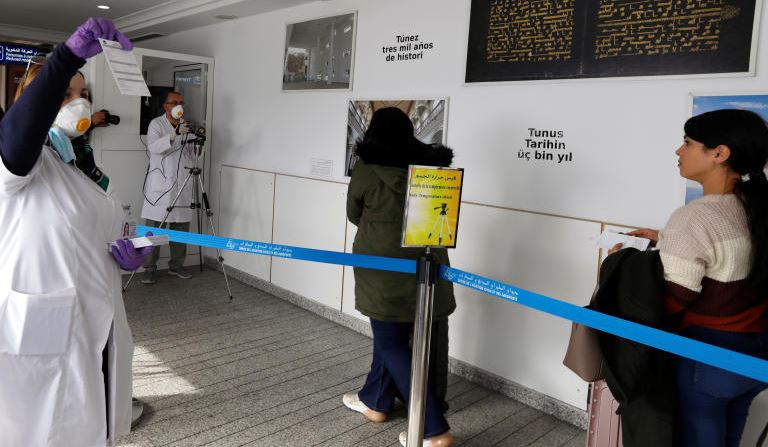 This week has been a mixed bag for the hospitality industry.
Just when the country is preparing for re-opening, with President Uhuru Kenyatta hinting at easing the travel restrictions and the dusk-to-dawn curfew, Norfolk Hotel announced that they had closed indefinitely.
All the hotel's employees were rendered jobless.
But there was a glimmer of hope as Pride Inn Hotels said they plan to open their doors next month.
"Plans are underway for reopening our hotel facilities to visitors starting mid-June or as soon as cessations are lifted," said PrideInn Hotels Managing Director Hasnain Noorani.
He, however, noted in a statement that it will not be business as usual, with the hotel having already made changes to its standard operating procedures in line with the safety rules provided by the Ministry of Health.
They have to, among other things, maintain social distance rules and frequently sanitise the premises to ensure the safety of both guests and staff.
In the next one month, many other hotels are set for re-opening, according to Kenya Tourism Federation Chairman Mohamed Hersi.
But it will not be easy. Most of them could stay without customers for as long as two years. Many others might just close shop as holiday-goers from abroad reboot their travel plans.
For a long time, the hospitality industry will just be in survival mode, says Silvester Mbandi, the general manager for Baobab Beach Resort.
The sector has so far been kept going by several State measures including being allowed to restructure their loans with commercial banks.
The government, through the Tourism Ministry, is putting together a health and safety protocol that might mean an unsavoury end to long-cherished meals such as buffet, as clients will not be expected to serve themselves.
"If you do a buffet, everything will be portioned," Hersi told Weekend Business.
But the post-pandemic protocol will be far-reaching, spanning the travel, tour and hotel sub-sectors.
The travel and hotel industry has made a lot of changes that will fundamentally alter their operations.
More employees might need to be employed to repeatedly disinfect the premises and take clients' temperatures as they enter. There will be increased need for medical supplies including disinfectants.
Hotels will also book fewer clients in a room as they adhere to the social distancing rules. This will be reflected by expensive air tickets and hotel bookings.
Airport screening
At the airport, the screening, social distancing and other stringent rules aimed at curbing the spread of Covid-19 will make checking for flights take at least four hours, according to experts.
Hersi says protocols for airports are nearly complete. There will be a screen between the check-in staff and travellers at the counters.
"We are also pushing the government to do electronic visas. Instead of you queuing, you just walk through a touchpoint and you run your passport," he said.
Nazir Khamisa, an international hospitality industry business development consultant, says medical testing of employees and thermal gun checks for all guests, among other technology solutions, will be introduced at check-in stations.
"Signage will be introduced to remind guests to observe some of the new protocols such as regular sanitising, physical distancing and wearing masks, alongside our usual energy and environmental conservation signs," he told Weekend Business.
The protocol for hotels and restaurants is also complete. Together with those of airlines and tour operators, they will be unveiled within the next seven days.
"Without the protocol then no airline will come here; without a protocol, no tour operator, no agent abroad will bring us clients," said Hersi.
"That is what we are going to market ourselves - that we are ready."
At the checking counters, there will be social distancing, there will be emphasis on paper-less checking and clients' rooms will be opened using keycards instead of keys.
The hospitality industry has been the hardest hit by the Covid-19 pandemic, with the country reporting its first case on March 13.
By then, airlines and hotels were already feeling the weight of the pandemic that had already hammered economies in China and Europe.
Official travel figures reveal a grim picture that began to show in March with the number of visitors to Kenya through Jomo Kenyatta International Airport (JKIA) declining by 47 per cent.
April and May's numbers have not yet been released but they were certainly worse after Kenya restricted all international flights into and out of the country.
This was as the whole world remained closed, with most European countries imposing lockdowns. This led to massive unemployment in the travel and hospitality industries as airlines and hotels shut down their businesses.
International travellers jetting into the country through JKIA reduced by 47 per cent to 128,313 in March this year compared to 241,359 in the same month in 2019.
Fewer passengers came into the country from the major airports such as Amsterdam, Dubai, Addis Ababa and Entebbe, affecting the hospitality industry and denying the country critical foreign exchange reserves.
Passengers from Europe, Kenya's main source of tourists, dropped from 46,067 to 24,549.
Passengers from Dubai reduced to 11,820 in the period under review compared to 25,473.
Towards the end of March, President Uhuru Kenyatta restricted all international passenger flights into and out of the country to curb the spread of the respiratory disease.
Loss-making national carrier Kenya Airways (KQ) was forced to cancel most of its trips even as its workers took a pay cut.
KQ chief executive Allan Kilavuka announced temporary pay cuts, with some of the employees getting a 75 per cent reduction. His first salary as the substantive CEO of the airline hit his bank account 80 per cent less.
The airline's loss widened to Sh12.9 billion in the financial year ending December 31, 2019, compared to a loss of Sh7.5 billion the previous year.
Amid the lockdowns, border restrictions and quarantines, the International Air Travel Agency has noted that airlines in Africa will be hardest hit.
The agency predicted last week that if the virus spreads more in Kenya, the country is likely to face a loss of 622,000 passengers.
Kenya Association of Travel Agents Chief Executive Agnes Mucuha says the travel industry recorded a decline in passenger bookings of 30 per cent in since the first coronavirus case was reported in Kenya on March 13.
This was followed by a drastic cancellation of flight bookings, conferences and events that resulted in a revenue loss of 85 per cent.
The dwindling passenger numbers have had a contagion effect on the entire hospitality industry, with major hotels that rely on foreign clients feeling the strain even before the government began to implement the stringent social distance rules and called for the closure of all hotels.
More than 90 per cent of forward bookings for April, she added, was cancelled after Europe, America and the Middle East issued lockdown notices for non-citizens.
These regions have since started to gradually re-open their economies.
Official figures show that the leading occupants of beds in Kenya's hotels are Europeans. They include Germans, British, French, Scandinavians, Italians, Swiss and other unspecified Europeans. These are also the countries that are hardest hit by the virus.
But even re-opening of the economy will not necessarily translate into re-opening of hotels, according to Sam Ikwaye, executive officer at Kenya Association of Hotel Keepers and Caterers, Coast branch.
This, he explained, is because the hospitality industry depends a lot on the well-being of other sectors of the economy.
Financial obligations
People have many other financial obligations that they need to address, such as paying mortgages, school fees, investing or just saving, before they can go for a holiday.
"We don't expect people to run to hotels when the president eases the restrictions," said Ikwaye, noting that it normally takes one year to 18 months for a holiday to be planned.
"Normalcy will return 12 to 18 months after restrictions are lifted," he said.
Even then, they will start working with the domestic and regional market.
Moreover, some of the guidelines that players are required to implement will only add to the cost of production for hotels. This might dissuade rather than attract people back into hotels.
According to Hersi, there are two sides to this. There will be an increase in the labour side as businesses put more men and women on the deck.
"But on the other side, the large extravagant buffet will be no more."
Mr Mbandi agrees that these are added services that will have to be brought in.
"There is a cost to it, but right now we are not even looking at what it is going to cost," he said.
Mbandi says Kwale County has agreed to test hospitality staff at a cost of Sh500 as long as there are over 50 people.
"They have done post-Covid checklist for re-opening," he said.
"They will disinfect the staff area and we already did for the guest rooms. They will come to inspect after we have told them we are ready."