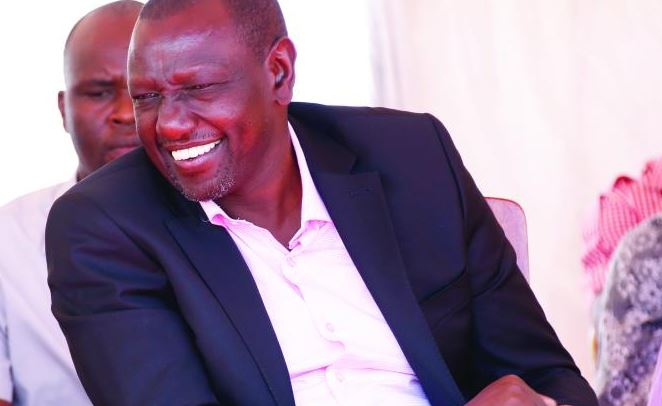 President Uhuru Kenyatta is not keen to have his deputy William Ruto
(pictured)
impeached despite their fallout, a State House insider has said. Jubilee Party's National Vice-Chairman David Murathe said yesterday President Kenyatta was against any move aimed at removing Dr Ruto from office. "It is the position of Jubilee Party and its leader who is President Uhuru that no scheme to impeach DP Ruto is on the cards. Absolutely there is no such a plan being pursued by the party or State House," said Murathe, a close ally of the president.
SEE ALSO: Uhuru in surprise city tour
The presidency
However, Murathe, speaking on Inooro radio (Kikuyu vernacular station), said the party has categorised Ruto as its competitor in the race for the presidency in the 2022 General Election "owing to his well-documented evidence of belittling the president, defying him and behaving as if he was running a parallel government". He said it was not true as claimed by the DP's allies that there was a scheme being hatched for his impeachment and "we will not waste our time pursuing such an agenda". "But if I were Ruto," he added, "I would leave Jubilee and government so as to be more independent in ambitions to contest the presidency in 2022." Murathe said there are several options being laid out for 2022 to dilute perceived support of Ruto in Mt Kenya region. He said Jubilee entering into coalitions with like-minded parties and individuals was one of them.
SEE ALSO: Irony as Mt Kenya differs on new cash sharing formula
"Sponsoring another Jubilee contestant is an option. And Kenyans should not buy the lie that the country is not ready for another Mt Kenya president...We can sponsor yet another one and sell him all the way to the ballot. Uniting Kenya does not mean excluding any tribe. And that is how we will defeat Ruto," Murathe said. The DP's camp has alleged they are aware of a motion to impeach the Deputy President and claimed it will be be tabled in the National Assembly by Kieni MP Kanini Kega. The Tangatanga wing of Jubilee that supports Ruto has claimed the purge in the ruling party, which began with the ouster of Senators Kipchumba Murkomen and Susan Kihika from Senate leadership and which is expected at the National Assembly has an endgame of impeaching Ruto. They have claimed the ruthless crushing of dissent within Jubilee and the ruling party's quest to enter into coalitions with other parties is aimed at shoring up their numbers to try kick Ruto out of government. Yesterday, Kega dismissed claims that he had been mandated to table an impeachment motion against the DP.
SEE ALSO: Uhuru inspects Nairobi City projects in surprise night visits
He termed the claims as "cheap and with no iota of truth" from a group he added was "well known for peddling political lies in Central region". But Murathe said Uhuru "is a man of patience, compassion and defender of friendships both past and current and has strongly cautioned his lieutenants against launching radical measures aimed at outrightly kicking Ruto out of the party or out of government". He added: "However, there are two scenarios that the president has said he will be of no help should his deputy find himself entangled in — if he gets nabbed in corruption purge or if he opts to quit by himself." Murathe said the ongoing purge in Jubilee Party where Ruto allies are being hounded out of office has everything to do with instilling internal party discipline and aligning it with President Kenyatta's service delivery agenda. "This has got nothing to do with undermining the deputy president as claimed. It is not about targeting him and we are not interested in him. But we are reorganising the party so that we can retain only those willing to toe the party line, pay allegiance to the party leader and help the government as members of the ruling party deliver on its mandate," he said. Going forward, Murathe said, the president has made it clear that he will not be working with those who are not willing to shelve 2022 political ambitions and first serve Kenyans and deliver tangible development. "That is why Ruto and his allies are claiming that the president has sidelined his deputy. The DP cannot be in the business of roaming the country accompanied by foot soldiers who openly insult the president, paint him as a failure and incite Kenyans against his rule. "In all instances, the DP is captured seated stoically amused by the anti-president speeches and when he gets his time to deliver a speech, goes right ahead to paint himself as the only reasonable man in government and who will inherit the presidency to deliver good leadership," Murathe claimed. He said the DP's 2022 political game plan was being executed through grabbing Mt Kenya region from Uhuru's grip and joining ranks with loyalists in Rift Valley to ascend to power through segregating the rest of Kenyans. "This is another area the president will not be supporting Ruto to advance. The president has made it very clear that he wants to abolish the political nonsense that makes the winner-take-it-all and the loser-go-to-hell or to hang…All Kenyans must have the sense of belonging in their country," he said. To that end, Murathe said, "the president is ready to part ways with his deputy in the wee hours of 2022 General Election and set him (Ruto) free to go and pursue the narrow agenda of ascending to presidency riding on the backs of a tribal base, as the rest of Kenyans seek a leadership riding on national considerations."