It's about a horse to ride to power, not one for trading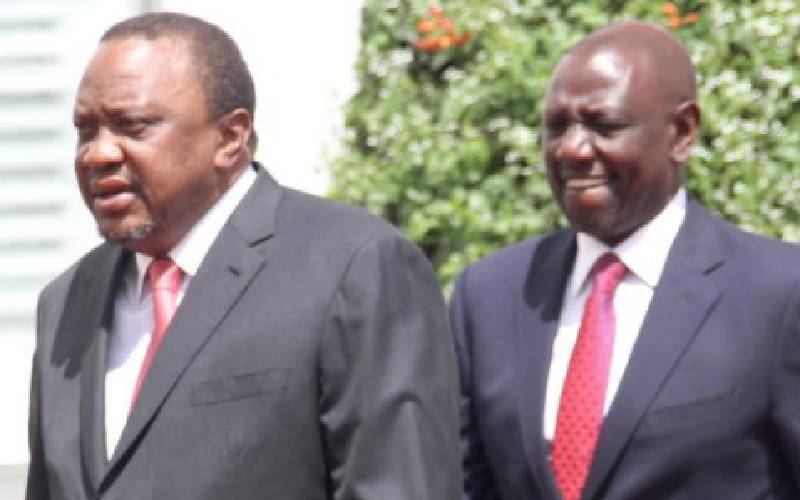 The unfolding political drama in the Jubilee Party must be understood behind significance of the words, "Uhuru is too young to retire". Cotu Secretary General Francis Atwoli keeps on sounding this bugle.
Regardless, Deputy President William Ruto has failed to take note of the import of these words. He has not asked Atwoli who has sent him to sing this song. He has, therefore, gone on to position himself as the person to beat in 2022. In the process, he has flown too close to the sun. The political wax that holds his wings in place has started to melt. It is not clear that flying lower at this time will be of much use. But, in politics, anything is possible. Besides, in the broadest sense, Ruto sits only a heartbeat away from the presidential power.
Ruto, however, seems to have failed to take lessons on how to do the political flight without perching, while his adversaries have learnt to aim without missing. He not only perches too often, he also roosts too visibly. In the process, he also flutters his plumage a wee too much. He sings his political songs too loudly like the real political minstrel that he is.
He has made his thoughts and intents only too clear, a fatal mistake in politics. As the Uhuru Succession game enters the next crucial phase, Ruto will want to play his cards a little closer to the chest. He will want to resist the urge to put his precious thoughts in the social media all the time. There is power in mystery, this is what he must remember.
Above all, Ruto must wake up and go to sleep thinking about Atwoli's refrain, "Uhuru is too young to retire". He must not forget what his tormentor that is Jubilee's National Vice Chairman, David Murathe, keeps flaying him with: "We will not allow you to take political power in this country." He must ask himself: "Who are 'we'?" He must know that it is about a succession game in which President Uhuru Kenyatta's interest is less than passive.
In essence, it is not about retirement and succession. It is about continuity. How does President Kenyatta remain in control after his present tenure ends in 2022? How do we get around the hurdle that is the constitutional term limit? But if the term limit remains, how does the Executive power of the republic remain with Uhuru Kenyatta? This is what is eating up Kenya's fifth ruling party, after Kanu, Narc, PNU-ODM and TNA-URP.
It appeared after the merger of close to 20 parties into Jubilee, in 2016, that a third party in Kenya had come to stay, after Kanu and ODM. Alas, the succession and continuity issues in the governing party are so high-staked that they may very well end up destroying the party altogether.
As President Kenyatta was meeting the group called Jubilee Senators at State House Nairobi yesterday, another group was apparently empowering Nakuru Senator Susan Kihika to torpedo the State House group.
In a letter invoking the names of 22 senators, the Ruto-leaning group disowned the proposed change of Senate leadership as agreed at State House. The communication to Speaker Kenneth Lusaka cited a number of Senate Standing Orders and clauses from the Jubilee Constitution, to dismiss the State House-driven change of Senate leadership.
Prepare for a tough political fight. The president and his deputy can now no longer hide the fact that they are at war with each other.
Jubilee on its deathbed
Ever since the March 9, 2018 handshake that restored peace between the president and ODM leader Raila Odinga, things have never been well between Kenya's two topmost public office holders. Ruto and his disciples, called Tangatanga, have accused Raila of a ploy to destroy their party.
And the Jubilee strand called Kieleweke has defended Raila, while accusing Ruto of being so ambitious as to have started premature campaigns for the 2022 presidential race. Whether Raila intended it or not, or whether he is responsible or not, the Jubilee Party is on its deathbed.
Kieleweke, largely a Mt Kenya outfit, further accuses Ruto of disrespecting the president by trying to establish himself in the region without going through the boss. Finally, they have placed all the alleged corruption in the government and its dysfunction at Ruto's doorstep. And now battle royale begins, with the coming of the independence party, Kanu, into what is clearly a pact with Kieleweke – but which has been passed on as a pact with the entire Jubilee Party.
If the 22 senators who have been fronted by Senator Kihika do not come out to disown her communication to the Speaker of the Senate, then Jubilee is in for a long and hard fight, both in the Senate and outside. Indeed, it is expected that a similar purge is likely to befall Ruto's allies in the National Assembly. The subsequent combat is likely to completely wipe out the party. But, as in cowboy movies, it must eventually narrow down to Ruto himself. They must sort it out man-to-man.
At this moment, however, it is not quite clear whether it will be, indeed, a man-to-man sword-to-sword contest between Uhuru and Ruto as the stars, or whether it will be Ruto against one of the co-stars – Raila Odinga, Gideon Moi, Kalonzo Musyoka or Musalia Mudavadi. What is emerging is not just a game of political horse-trading, it is about horse-riding. The partnership at the very top in Kenya's politics is the partnership of horses and horse riders. Everyone seems to see everyone else as a horse that he wishes to ride to power.
There is no honour in this class. As a lesson in this fallout, the levels of trust at the very top – and to some extent between tribes – will diminish very significantly. You trust fully at your own risk and peril. You must always leave yourself some escape route, even as you go into new alliances.
What someone can do to a past or existing partner, he can also do to you. Even those getting into new formations today may break away from them yet again, tomorrow, to enter into fresh formations. In the end, the Kenyan political cream is like a pack of canines in the season of fertility. They don't choose their mates with any depth of commitment or permanence. It is just a flighty orgy, dictated by the exigencies and appetites of the moment.
- The writer is a strategic public communications adviser