Will Safaricom make huge profits forever?
THE STANDARD INSIDER
By XN Iraki | May 3rd 2020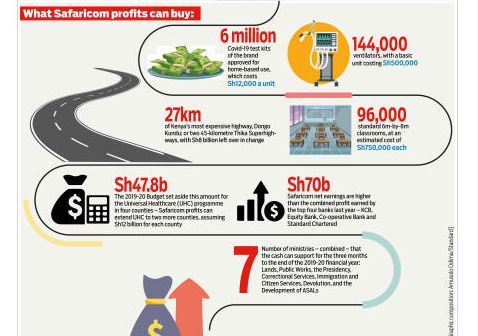 A chart shared online compares the revenue of Safaricom's M-Pesa to that of our major banks. Except Equity and KCB, M-Pesa beats the rest hands down.
On profitability, the mobile money platform is the undisputed leader. Her profits keep rising from year to year.
What makes Safaricom profits more sensational is her average age compared to the banks, some which are more than 100 years old.
Let me confess that I am a Safaricom shareholder with only a few shares. I had bought the shares out of conviction, not the euphoria that surrounded the firm's initial public offer (IPO).
And why are such IPOs so rare? They excite the economy and bring more Kenyans to the heart of capitalism.
The success and the future of Safaricom are not hard to explain. Despite my shareholding, I will try and maintain the objectivity of a Supreme Court judge in analysing the jewel of Kenyan entrepreneurship.
The shareholding is Government of Kenya (35 per cent), Vodacom (35 per cent), Vodafone (five per cent) and free ?oat (25 per cent). Free float are the shares available for trading.
Studying the shareholding structure of listed firms is interesting particularly when you think of power, controls, profit sharing and some politics thereof.
We rarely remember the government has such a large stake in Safaricom. Given that shareholders will get Sh56 billion in dividends, the government will get a cool Sh19.6 billion. Not bad amid the Covid-19 pandemic.
Going by the shareholding structure, most of us - the owners of free float - will be left sharing 25 per cent of the dividends. That includes foreign corporations (holding majority of free float shares), local organisations, and local and foreign individuals.
Interestingly, 96 per cent of shareholders hold 10,000 shares or less. The name and the hype make Safaricom seem a purely Kenyan firm. Remember Safaricom's adverts?
One interesting observation is that Vodafone transferred its 35 per cent in the firm to Vodacom (South Africa) of which it owns 64.5 per cent. It retained a five per cent direct stake through a local subsidiary, Vodafone Kenya.
The transfer of shares to Vodacom follows an old dictum: South Africa is the economic route to the rest of Africa. Is that one of the legacies of Cecil Rhodes? Could the current shareholding be the reason why a Kenyan was needed at the helm?
Back to profitability. Safaricom entered Kenya when there was pent up demand for telephones. Before Safaricom and Airtel (then Kencell), owning a phone was a privilege. I waited for two years to get a fixed line.
It was more than demand for phones; communicating with each other is a necessity just like food or water. Anyone facilitating us to reach out to each other through voice or writing was bound to make money. And we love talking, it is part of our culture.
Modernism, however, is making us quiet. When did you last have a one-hour telephone conversation, unless from abroad? Voice is plateauing and Safaricom anticipated that by introducing M-Pesa for money transfer and making payments.
M-Pesa rode on our high dependency ratio and under-banking. Do you recall when one needed to be introduced to open a bank account?
Game changer
The younger generation is now shifting to the addictive chatting or sharing videos and photos on Instagram, WhatsApp, Snapchat, YouTube, Tiktok and others. You need data, readily available from Safaricom.
M-Pesa makes it easy to use your money. You can call, buy data, pay for goods and services or even transfer it to someone else. And if you have no money in M-Pesa, get it from your bank account seamlessly. How better can it get?
This interfacing of banking and M-Pesa was a game changer. It saved banks from extinction. We have often downplayed the role of regulators, Central Bank of Kenya and Communication Authority of Kenya in creating a favourable environment for telcos. How they competed among themselves is another story.
Safaricom's success mimics that of Coca-Cola. If thirsty, you can take soda, juice or water, all from the same firm. Banks are trying to mimic Safaricom but they lack her flexibility and backing of powerful shareholders like GoK and Vodafone.
Is Safaricom's success forever, like diamonds? My answer is maybe. Innovations have built and killed firms. Safaricom was built on innovations, very frugal like M-Pesa. Its future will depend on innovations.
Will someone come up with a rival to M-Pesa, its cash cow? Which Safaricom innovation is addressing Covid-19? What is her equivalent to Zoom or WebEx?
The company must also navigate regulatory land mines. Remember the call to spin off M-Pesa? Exploiting regulatory grey areas is another source of innovation. Why else are lawyers becoming CEOs?
What of global diversification, taking her products to the global market? Most Kenyans shifted from cash to M-Pesa without going through debit or credit cards. Suppose Safaricom exports M-Pesa to the rest of the world, how will key card issuers such as Visa and Mastercard react? Banks embraced M-Pesa, will card issuers embrace it too?
Safaricom's latest report identifies possible causes of reduction in her profitability as economic growth slows, increased pressure on the consumer's wallet, interest rates and currency devaluation and reduced government income.
Shift from cash
On the brighter side, Safaricom sees opportunity to shift away from cash, increased uptake of mobile data, increased penetration of fixed connectivity and enhanced long term customer loyalty.
Without a radical innovation threatening her, Safaricom profits will keep rising. The increase in share price over time from Sh5 to almost Sh30 is a testimony to that. The firm is insulated by economic reality.
Communicating is a necessity, with low price elasticity of demand. That inoculates Safaricom from economic fluctuations and shocks like Covid-19. But the growth in profits is slowing (see graph).
Clearly, it is time for another M-Pesa moment.
The writer is associate professor at the University of Nairobi