Four parties tell off Ruto's team over GNU claims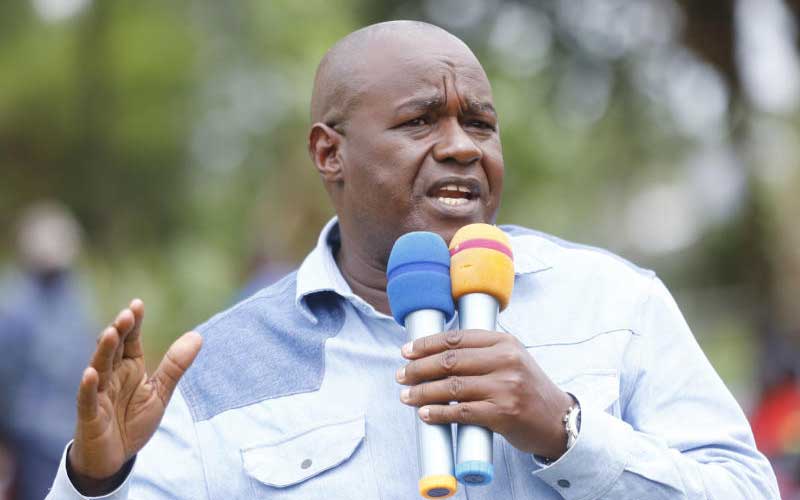 Top officials of four political parties have dismissed claims by Deputy President William Ruto's allies that they were part of a plan to form a Government of National Unity (GNU) targeting to push him out of power.
Jubilee Party Deputy Secretary and Soy MP Caleb Kositany yesterday raised the stakes with claims that President Uhuru Kenyatta's wing of Jubilee had rallied eight parties to endorse the move.
Mr Kositany, an ally of the DP, claimed Baringo Senator Gideon Moi-led Kanu, Maendeleo Chap Chap of Machakos Governor Alfred Mutua, Martha Karua's Nark-Kenya, Economic Freedom Party chaired by Issack Abey and Party of National Unity (PNU) had been asked to convene their National Executive Committee (NEC) meetings to ratify the plan.
Other parties Kositany claimed had been contacted were Democratic Party (DP), Peoples Democratic Party (PDP) and Party of Development and Reforms. "These parties are being asked by some busy bodies to hold NEC and delegates meetings to endorse a GNU," Kositany claimed. "Members of these parties, who are opposed to the idea, have informed us that they have been asked to hold their NEC meetings. We want to tell the parties to relax because such a decision can only be made by the Jubilee Party," he said.
Corona fight
But the parties hit back, terming the claims political sideshows at a time the country is focused on fighting the Covid-19.
Dr Mutua said he was not aware of such plans, saying Maendeleo Chap Chap was an independent party that did not take instructions from other outfits. "I am not aware of such engagement. We are not sitting in some corner waiting to be told what to do as a party," said Mutua.
Ms Karua dismissed the claims as rumours, stating that her party had structures and would announce any of its political engagements and activities.
"Those are rumours. Whoever is making the claims is not our spokesperson. They cannot speak for Narc Kenya," Karua said.
Kanu Secretary General Nick Salat described the claims as a fishing expedition. He said engagements by the Independence party were guided by its constitution. "I am surprised. It is a pure fishing expedition. I would advise them to relax because if there was anything like that, it would come out," said Mr Salat.
Political conmanship
Economic Freedom Party chairman Issack Abey described the claims of GNU as pure political conmanship. "EFP is not aware of such engagements and is not party to the wrangles in Jubilee Party. We find this a cheeky attempt to drag our party into the ongoing wrangles," said Mr Abey.
Jubilee Secretary General Raphael Tuju also denied knowledge of such plans. Jubilee National Advisory Council (NAC) Secretary Hassan Osman and Nyeri Town MP Ngunjiri Wambugu said the President did not require permission from any quarters to make appointments in his government.
Osman said it was unfortunate that some allies of Dr Ruto were politicking even with the coronavirus crisis. "The President has powers to pick anybody to his government. I find it insensitive for our colleagues in Tangatanga to continue engaging in political sideshows when the President is doing everything possible to contain the pandemic," said Osman.
Ngunjiri said the President had the authority to form a government with anyone he chose. "He does not need to consult anyone on who he will nominate for whichever position. Once he nominates, Parliament vets," said the MP.
Big support
He added that because of the enormous support the President enjoys in Parliament, his nominees would easily sail through. "Today, Uhuru has numbers from within and outside Jubilee MPs to have anyone he wants to appoint passed. Once passed, they are appointed to government. So if he wanted to bring in people initially associated with other parties outside Jubilee, he would," he added.
"There's nowhere the law says he must appoint Jubilee members only. In fact, State appointees are not supposed to be members of a political party."