It will cost you an arm and a leg in forced quarantine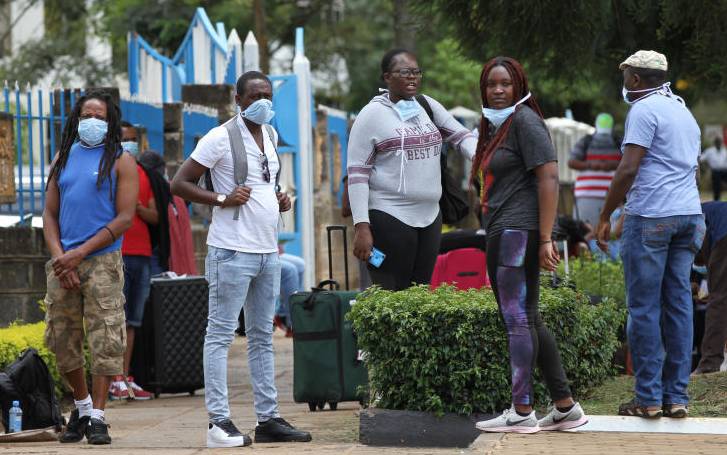 A day after the brazen, yet callous escape by individuals under Covid-19 quarantine from a government facility, The Standard can now reveal that a four-week stint under State supervision will cost you between Sh54,000 and Sh83,000.
Those quarantined in schools, State-owned training facilities such as the Kenya School of Government or the Kenya Medical Training College, the scene of Tuesday's 'jailbreak' have had to part with a minimum Sh2,000 daily. Others such as those held in Kenyatta University Teaching and Referral Hospital are charged a standard fee of Sh3,135 every day.
Estimates collated from government daily briefings show that to date, more than 4,000 people have undergone mandatory quarantining countrywide, with a minimum of 2,000 of them being held at one point or another since the beginning of the pandemic in government facilities.
Assuming all paid the lowest fee of Sh2,000, this translates to some Sh112 million over a 28-day quarantine period.
This amount could easily be more.
Bills in our possession from two of these facilities show individuals being charged as much as Sh3,100 per day for the quarantine service. One such bill shows a potential Covid-19 patient held in quarantine at Kenyatta University charged Sh3,135 per day over a 13-day period. His total bill amounted to Sh40,755, which the patient had to settle before being discharged.
His final bill indicated no treatment regimen administered since he tested negative for the virus. This individual was also charged an additional Sh185 over two days for mouthwash, bringing his total bill to Sh41,125.
At Kenya Medical Training College campus along Mbagathi Way, individuals were charged a flat rate of Sh2,000 per day. They were given a final bill on the 28th day, amounting to some Sh54,000. Patients are not charged for the final day of being discharged. The description of services rendered simply reads 'Quarantine Services.'
Considering that some of those in isolation are individuals picked from the streets for offences that include breaking the ongoing curfew as well as being in public without face masks, the steep price could have been the reason for the daring, yet callous escape by those being held.
Discord among the quarantined has been simmering since it was first instituted, with those being held complaining of high costs and poor living conditions.
"The trouble is that people are looking at this as some sort of punishment," Government Spokesperson Cyrus Oguna said. "This is far from it. If someone breaks curfew rules and is in a bar somewhere, it is assumed they are exposed and are quarantined at their own cost."
Mr Oguna says those taken into mandatory quarantine are held to protect them from other law-abiding citizens.
"Otherwise they ought to have been in their own houses. The Sh2,000 is not punishment," he says.
These complaints come on the back of a Sh5.3 billion World Bank loan to the government that included funds set aside for quarantining and isolation purposes, as well as donations of almost Sh1 billion from Kenyans of goodwill towards a public Covid-19 fund.
An itemised list from the global lender shows that Kenya received the money under project ID P173820 on April 8. This money included some Sh1.587 billion for quarantine, isolation and treatment centres.
Oguna said he did not know whether the said money had been received by the government.
"I cannot speak to this. I have not been briefed on the matter," Oguna said.
By Tuesday evening, the Kenya Covid-19 Fund had received more than Sh917 million from donations by individuals and Kenyan companies.
"The board would like to express its deepest gratitude for the support and goodwill that the fund continues to receive from Kenyans from all walks of life. We would like to encourage more Kenyans to donate to the fund as we all work together to overcome this challenge," read a statement by chairperson Jane Karuku.
On April 17, individuals quarantined within Kenyatta University staged a protest, walking to the institution's main gate to complain over what they termed unfair conditions. This, however, earned them an additional 14 days in quarantine, as the government insisted that they failed to maintain 'optimal social distancing.'
"After a thorough evaluation of circumstances, it was observed that those in the following quarantine facilities did not maintain optimal social distance and instead had close contact and interactions," Director General Public Health said in a memo to the quarantine centres that included Kenyatta University and KMTC.
Civil society groups have asked the government to clarify the ongoing quarantine programme.
To date, it is unclear how many people have been held in State institutions. As of March 27, government records showed that more than 2,000 people were undergoing mandatory quarantine for 14 days at several governments designated facilities.