Ruto: I have forgiven those who gave false testimony against me at the ICC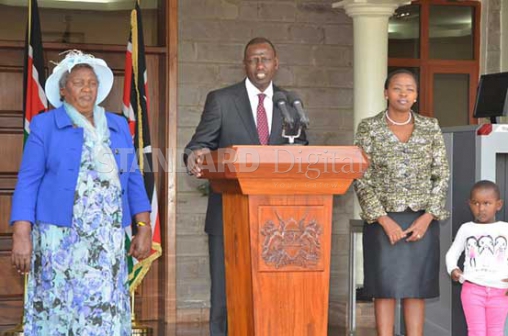 "I have searched my conscience and soul and I have chosen to forgive all those who gave false testimony against me."
This was Deputy President William Ruto's message to individuals whom he said fixed him at the International Criminal Court Court (ICC) in a case that tormented him and his family for over six years.
"It is my prayer that one day all those individuals and civil society groups who connived, colluded, conspired to manufacture my case and hired, bribed and coached witnesses to testify in events that took place will engage in soul searching and find their conscience," he said.
Ruto maintained that the allegations that he organised meetings at his house, planned violence and purchased weapons, were false.
"For good record, there was never a meeting or meetings in my house, or anywhere I know, where violence was planned against anyone. There were never any guns or weapons in my house. There was never a plan by me or any person I know to cause violence," the DP said.
"The allegations of my involvement in planning, arming, financing and inciting people to commit acts of criminality are totally false. They are figments of fraudulent, hateful, malicious and treacherous minds."
The DP, who spoke for the first time yesterday after The Hague-based court terminated his case and journalist Joshua Arap Sang on Tuesday, declared that he was set free because he was innocent.
A sombre-looking Ruto who addressed journalists at his official residence in Karen, Nairobi, spoke haltingly, thinking about each word he uttered.
"It is my prayer that the same God who vindicated me will help them come to terms with their evil acts and bring them to repentance so that they account for their acts," added Ruto.
His wife Rachel, mother Sarah Cherono and two daughters Charlene Chelagat and Nadia Cherono stood beside him. Ruto said termination of the case reaffirms his innocence and that of Mr Sang.
He recounted the trauma he underwent after being named among the 'Ocampo Six', terming the court process 'six tortuous years of a trial that should never have been'.
"I pray that no other Kenyan or human being ever falls victim to the sort of ordeal we have endured. How did an obvious lie take six long years to be unearthed? What impelled organisations and individuals to conspire on such a vast scale to visit heartache and anguish on so many innocent people?" he posed.
The Deputy President paid special tribute to his mother and wife and also thanked President Uhuru Kenyatta and other Kenyans for standing by him.
"I thank the special women in my life; my wife Rachel and my mother who fervently prayed for me. My children and the larger family for their prayers, emotional and moral support," he said.
The DP said his 73-year-old mother constantly prayed for him each time he travelled to The Hague and took care of his children.
If the matter went the other way, my mother would have been very devastated, as she brought me up in the way of the Lord and she has seen me go through Sunday school and grow up to be God-fearing man," noted Ruto.
"I want to thank my President Uhuru Kenyatta for his steadfast support and encouragement as we went through this process. He is my friend, my brother, a dependable ally and true leader," he said.
On post-election violence victims, Ruto said the Jubilee Government would not rest until they were all resettled.