The Kenya National Union of Nurses (KNUN) has called off a five-day strike that paralysed operations in public hospitals in Nakuru County even as the doctors' union vowed not to return to work till their needs are met. Deputy Governor Joseph Ruto said the employees agreed on a return to work formula in a meeting conducted between the Nakuru County Government, KNUN and labour officers who acted as a reconciliation party.
Issues raised by the union include delayed promotions and payment of promotion arrears and allowances - issues Ruto said have been addressed in the agreement.
"We have completed signing of the memorandum of understanding with nurses but unfortunately doctors have not. They brought demands that are not eligible," said Ruto.
KNUN Secretary Nakuru County Syprian Odera said during signing of the agreement, it was agreed that all employees return back to duty by Friday afternoon.
"Nurses have agreed to go back to work, they shall not be victimised by the County Government," said Odera.
Read More
Odera said that all parties shall adhere to dispute resolution machinery in future to facilitate faster resolution of disputes. It was agreed that employees who have been promoted on various dates shall be affected in the month of September 2015, for an Economies Stimulus Programme and Public Service Commission list.
The parties also agreed that 1,700 promotion for respective cadres shall be implemented in the months of September, October, November, December 2015 and January 2016 payroll of which effective date for all will be July 1, 2015. While conducting promotions, workers who are not eligible will also be notified on September 1, 2015, with a reason why they are not eligible.
To ensure the employer abides to the agreement, all parties shall meet on October 1 to review the progress of the implementation of all the memorandum of agreement at the county labour office.
Also present during the signing of the agreement was KNUN Secretary General Seth Panyako who said county governments leadership should be accessible and give promotions when due. "The only solution to disputes is dialogue: all counties should listen and negotiate with health workers to avoid paralysing services in hospitals," said Panyako.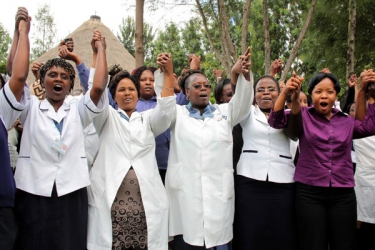 However, South Rift Kenya Medical Practitioners and Dentist Union chairman Dr Oruko Sitima said doctors were locked out of the negotiation process and have vowed to continue with the strike till their needs are met.
Dr Sitima said issues affecting doctors and nurses were more or less the same and especially in regard to promotions.
"The county wants promotions effected by September 1, despite guidelines that state promotions should be effected as soon as an officer qualifies," said Dr Sitima.
However, County Chief Officer of Health Dr Samuel Mwaura disputed claims that the doctors were locked from the meeting. Dr Mwaura said the leaders met with the two groups on Friday morning but the doctors disagreed and brought up other issues during the negotiation process.
"Nobody locked doctors out of the meeting; during negotiations, their representative moved out, saying he was going to consult," said Dr Mwaura.
He said among issues raised during the talks included promotions being backdated to 2010, 2012, 2013 - concerns he said could not be addressed.