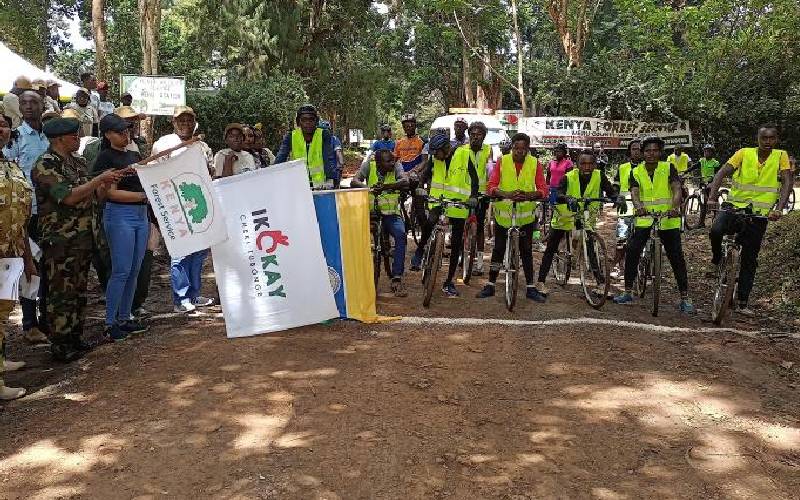 The backdrop setting is splendid! Sights and sounds of an indigenous forest include chirps from birds and insects, grunts and squeaks from baboons (main residents of Imenti Forest), calm river flow, and a beautiful landscape with an abundant cocktail of indigenous trees that complete a setting for peace and tranquillity.
This is home to the Meru Arboretum Park, a project by the County Government and Kenya Forest Service. The park is the largest in the country.
In a speech read on behalf of Meru Governor Kiraitu Murungi by his CEC, Dr Rufus Miriti, the Governor said his government was working tirelessly to make Meru a tourism hub.
"So far we have achieved beyond measure, key in the list being the opening of the 22km stretch of Themwe route to Lake Ellis in Mt Kenya, the Mountain Run, the ongoing establishment of Meru Bongo and Rhino sanctuaries in Mucheene Forest. The development of Lake Nkunga as a prime picnic site and now this great landmark of creating the biggest arboretum park in the country," he said.
"In the past, the work of a KFS station has been to keep off communities from forests to protect them, but this has brought conflict and destruction of the very forest that we are protecting," said John Njoroge, Ecosystem Conservator, Meru County.
Meru Arboretum is the first green space in the county and covers a 23.82 Ha forest area. It is situated inside Meru Forest Station, along the Meru-Nanyuki highway, at the intercession of the new by-pass from the Meru National Polytechnic.
"The arboretum will also feature an agro-tourism block that will be a boaster to miraa, coffee, tea, dairy, and other farm products. Here, farmers will showcase their produce and products, and benefit from prospective buyers, both local and international," said Murungi.
The arboretum is a public facility and will be open for education and aesthetic purposes. The park that will complement Nteere Park within Meru Municipality will be managed by KFS and the county government.