My father's legacy: Remembering Mo Amin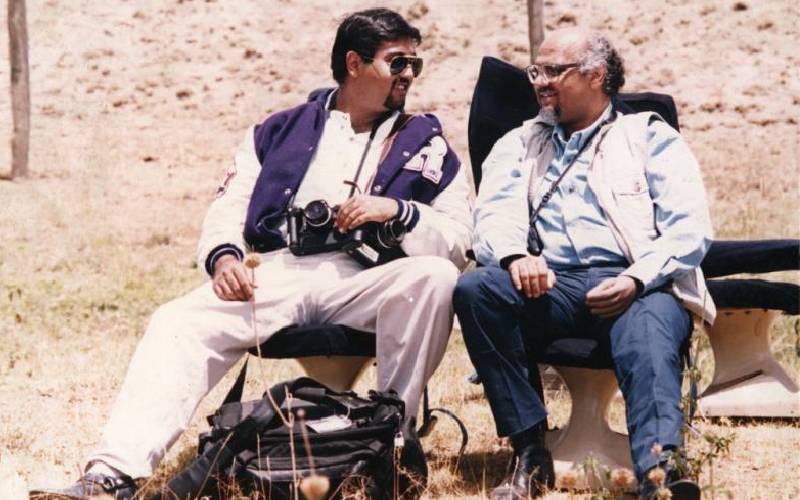 Salim Amin's office in Lavington is a perfect blend between the present and the past. An ornate desk could sit anywhere in Nairobi's corner offices while the artefacts take a visitor to another era, one where his father, the legendary photojournalist, Mohamed 'Mo' Amin, thrived.
His father's legacy looms large in Salim's office: a picture of Mo, as he was fondly known, stooping low to listen to another Amin, the late Ugandan dictator. Mo surrounded by dying villagers in Korem, Ethiopia, in 1984, an episode so profound and indelibly etched in his mind that he later said that "nothing that he had witnessed in 25 years in covering wars, disasters, riots and even the previous Ethiopian famine could have prepared him for this."
There is a combat helmet, a bulletproof jacket and jungle boots that testify to the perils Mo faced to get the perfect story. And so is a military cap belonging to former Ethiopian dictator, Mengistu Haile Mariam.
Salim leans back on his office chair, his eyes firmly fixed on a video camera lying on a shelf, one of two Sony Betacam SP cameras that were his father's favourites.
The camera looks archaic by current technological standards, but a better version than the second-hand Box Brownie Mo had bought at the then princely sum of Sh40 when he was just 11 years old. But through the Betacam models, Amin moved the world when he highlighted the 1984 famine in Ethiopia and jolted the world into action.
The cameras have shot African revolutions, captured dictators such as Idi Amin, Jean-Bedel Bokassa of the Central African Republic and Haile Mariam. He was at home capturing the queen of England as he was when covering the wars in Afghanistan and Pakistan.
The cameras documented the Somali upheavals, the Rwandan genocide and survived an explosion in Addis Ababa that blew off his arm.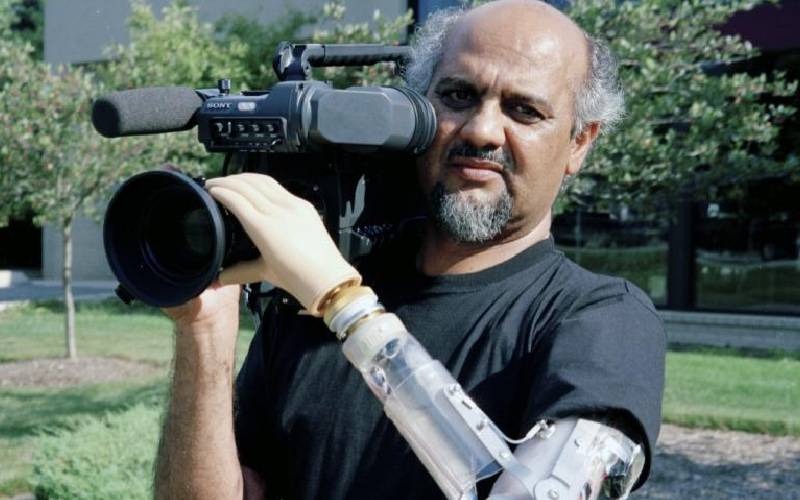 Back home, these cameras ruffled crocodiles in Lake Turkana but also captured some softer subjects, including that popular and heartwarming photo of a young Uhuru Kenyatta under the warm embrace of his father, the late Mzee Jomo Kenyatta.
Uhuru had seen this photo on other forums and fell in love with it, says Salim, but the president never got to know that it was taken by Mo. It is among the first photos in Salim's book, Kenya — Through My Father's Eyes, a collection of short stories about men, women and events that shaped Kenya's history from the early 1950s to the present.
The book had a limited edition of 2,000 copies, with the president collecting enough copies to give to visiting foreign dignitaries and other close friends, especially his peers who know him as Kenya's president but never associated him with Mzee Kenyatta.
Salim, chairman of Camerapix, met Uhuru in 2019. The two men can relate on a personal level. "Both of us have fathers whose shadows loom big over us. Both of us feel the pressure to fill in the shoes of our fathers," says Salim.
November marked 25 years since Mo was killed when hijackers took control of an Ethiopian Airlines plane, and after his efforts to negotiate with them failed.
"He lived and died for the same course, his love for humanity," says Salim.
"I never expected to be thrust into this business at 25 years of age. But you learn to innovate and use tools that my father never had."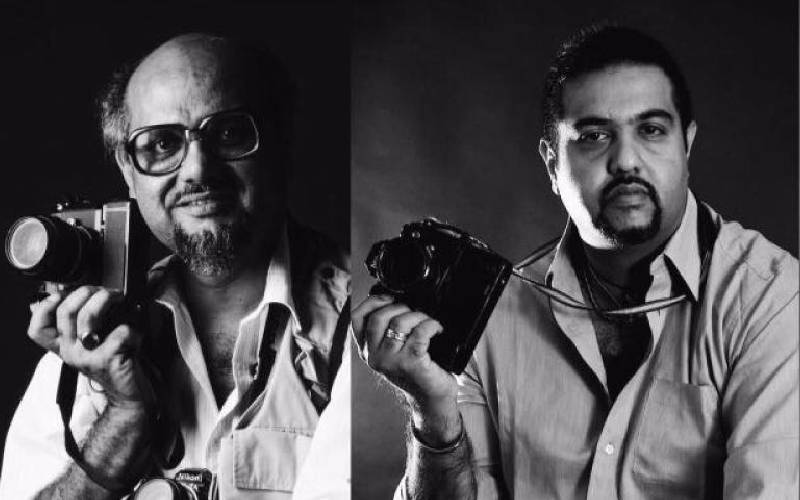 Mo had a larger-than-life profile and it is only natural for those whose lives he touched to expect his progeny to walk in his footsteps. Salim knows this too well, and in the current violent skirmishes in Ethiopia, there are those who wish Mo was there to highlight their plight.
What if Mo was still alive?
"He would be in Ethiopia, in the battlefront," says Salim. "He would have interviewed Osama Bin Laden, covered the tragic events in Afghanistan, the coups in Sudan and elsewhere on the continent."
Still, his friends in Ethiopia think Salim should have at least represented his father in recording the current civil conflagration. "But no, I am not Mo," Salim tells them. "In any case, the rebels of today have changed and may not necessarily offer protection the way they did to my father. I have different abilities that complement what my father did."
Salim may not be in the frontlines but has the responsibility to ensure his father's legacy lives on by safeguarding his works that spanned decades — three million still photos and more than 8,000 hours of raw video footage. Salim feels it is time for the world to explore and learn from the collection.
In a first for Africa, Google Arts and Culture together and the Mohamed Amin Foundation have undertaken a yearlong digitisation process and made at least 6,000 photos and dozens of stories available online in one of the largest internet exhibitions titled Mo Amin: Eye of Africa.
"My father would have loved the content to be available to young people and that was one of the reasons behind the programme, Africa Journal. The world's dynamics may have changed but what will not change is the history that my father documented and the need to safeguard it for posterity," says Salim who also heads the foundation.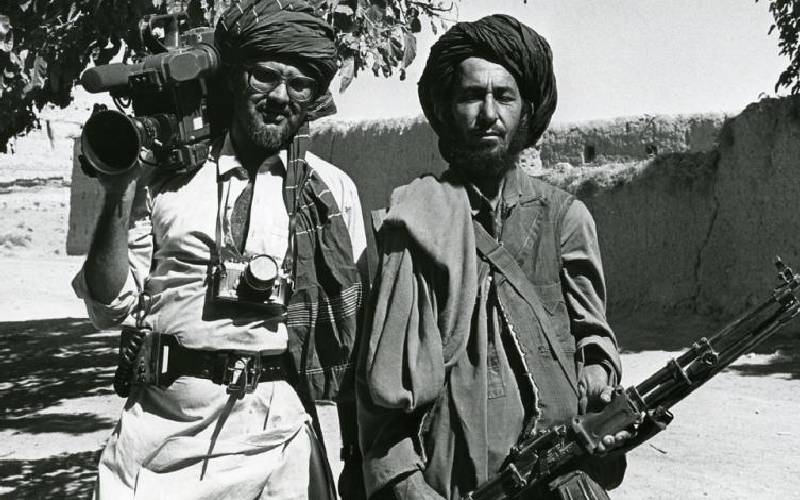 Salim hopes the exhibition will be a turning point in the lives of young people, many of whom may not have known Mo or what he stood for. The exhibition, he adds, should spur educators in collating an audio/visual curriculum that can be used to teach children in schools worldwide.
"We cannot move forward if we do not review our history. We risk losing such priceless heritage owing to poor archival services in Africa. Ours is the first step in making sure we preserve that heritage."
"Will Kenya get another photographer of Mo's calibre?" I ask Salim.
"Perhaps. There are many fearless photojournalists out there. But they must be committed to the course and not be swayed by the political, racial or economic persuasions of the day. My father photographed what he saw without adding his opinion. In the Ethiopia famine, he only photographed what he saw without knowing exactly how his pictures would move the world. He did not interfere with the scene or make a judgement on the people," says Salim.
Mo would have been 78 today, and Salim wonders if he would have had the energy to travel around the world, sitting with and interviewing dictators and benevolent leaders alike. But Mo was a man of action, and Salim reckons it would have been interesting to see how he would have navigated the current digital platforms. "I am sure he would be innovative enough to achieve his ambitions. The platforms and how you gather content may change. But the content does not change. He would still be a champion in storytelling."