Forget plastic Americanism: Here's Kenyan culture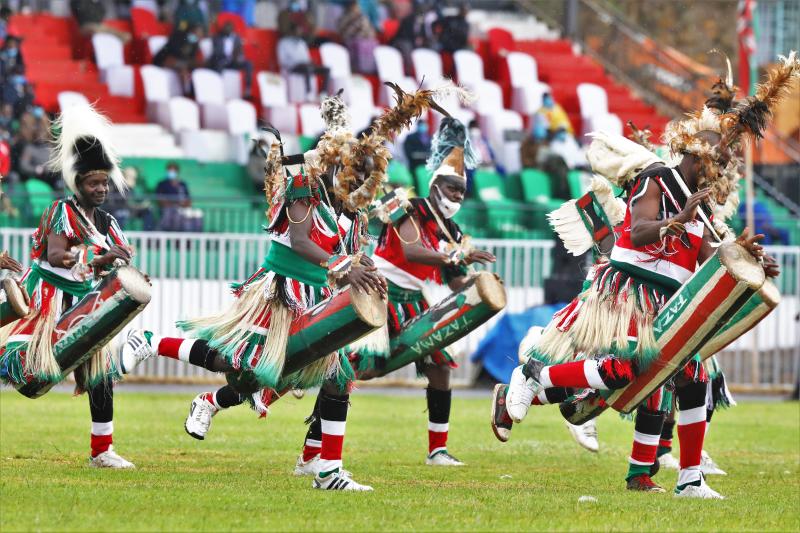 Mount Kenya region boasts of a rich cultural history, and this year's Mashujaa Day celebrations captured this and much more.
It is the bedrock of Kenya's folk culture dating back to the precolonial era, roots that seem to be on a path to extinction with each passing generation.
With essential cultural aspects such as marriage, mode of life, dressing and music having been westernised, government institutions, with partial support from the private sector, are now racing against time to reclaim this history.
This was the tone as creative groups presenting folk music and dance; cultural wear, jewellery and food assembled for the visitors touring Kirinyaga for Mashujaa Day celebrations.
They belted out traditional tunes that brought out forgotten cultural aspects of the Mount Kenya region.
John Mwale's classic Kenyatta Aliteswa rent the air at the new Wang'uru International Stadium – the venue for this year's Mashujaa Day celebrations where President Uhuru Kenyatta was the chief guest.
With the tune inducing memories of the struggle for independence that the region's greats are associated with, the Utawala Police Band and the Kahawa Barracks 'Yellow Waggoner' band took the crowd through a nostalgic Déjà vu as they presented renditions of Harembee Harambee, one of the late Daudi Kabaka's classics and the 1980s wake-up call radio tune, Uvivu Mbaya, by Habel Kifoto and Maroon Commandos.
And in came traditional dance groups among them Njukiini Mwomboko Dancers, Embu Traditional Dancers and Tanzama Mbele Dancers to enhance the role music has had in projecting the country's cultural pride.
"We formed the Njukiini Mwomboko Dancers group five years ago after we discovered that our traditional music was getting extinct. With most of the group members having been born in the late 1950s, we are sons and daughters of freedom fighters and we would not like the Gikuyu culture to die. That is why we are bringing back Mwomboko dance and other traditional Gikuyu dance tunes," says Naftali Githiji, a music teacher who is also the Njukiini Mwomboko Dancers leader.
Mwomboko dance rhythmically is one that is livened by accordion and the metal ring tunes. In Mt Kenya, they refer the two musical instruments as Kinanda Kia Mugeto and Karing'aring'a, respectively.
Even though the Kikuyu tribe - that predominantly occupies the Mt Kenya region is knon for many traditional dances, including Gichukia, Ngucu, Mugoiyo, Muthongoci and Kibaata, it is this Mwomboko dance that seems to have captured national attention hence its prominence allocation on such a significant national day.
A story is narrated of how before Kenya received its independence, the colonial administration banned most traditional dances which the people of Central Kenya were perceived to use as a tool to spread anti-colonial messages. It is said that the colonies tolerated Mwomboko, which more or less borrows heavily from the British fox trot dance. Both dances are characterised by couples dancing rhythmically, in a counted steps slow circular motion. Mwomboko even gets more sophisticated with dances moving in a file as they count two steps before bending down and then moving majestically back and forth; a romantic jig that can even melt the heart of a warlord.
During the Njukiini Mwomboko Dancers presentation, unlike past national ceremonies where the lead Mwomboko vocalist has been an old man, on this day, two young men are leading the troop as they play accordion tunes. Young dancers drawn from the Nairobi-based Sarakasi dancers as well as the Mt Kenya region join the aged dancers to give Mwomboko a youthful touch and trendy style. It is almost unbelievable how this old genre is getting its groove back.
"We love the music history created by our great grandfather and we are here to embrace it as we pick the art from the old men who are now training us," said Lawrence Njuguna aka DJ Faxton who now does Mwomboko and Mugithi, both enhanced by his accordion prowess.
The art and culture of Kirinyaga County primarily reflects the traditional Kikuyu way of life. The music, dance and cultural rendition in the county captures the mosaic of Gikuyu culture in one of its purest and unadulterated forms.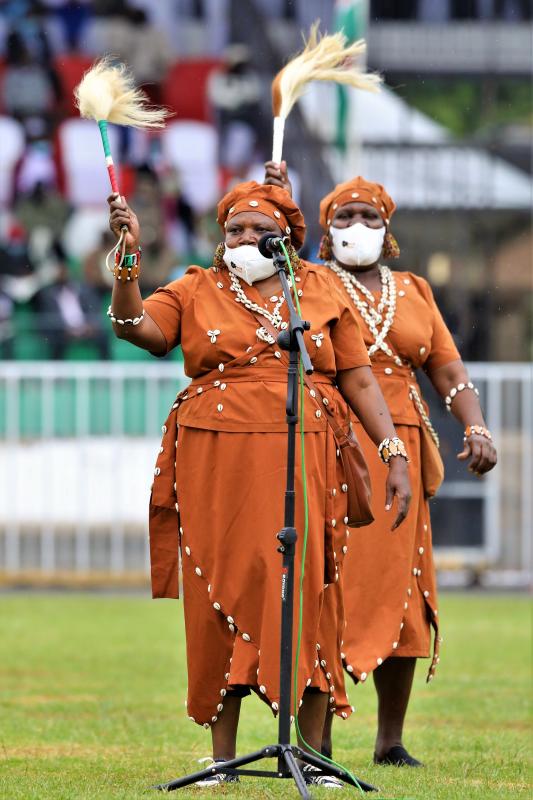 This is depicted by some of the traditional music instruments including small rattles, called Njingiri, large rattles referred to as Kigamba the horn, otherwise known as Coro as well as the flute, which is popularly known as Muturiru.
Obadiah Gatumo, the leader of Embu Dancers, a traditional dance group that has existed since independence and that has represented Kenyan in various international festivals says Kenyans should embrace their culture as he urges the government to support groups such as his.
Having started in 1958, he says the group has seen many generations come and go adding that lately, the motivation has been low with most members getting no substantial financial returns to support their livelihoods.
"Unless we are invited in celebrations like this one, we hardly get any gigs to perform at and that tells you we are not making much from keeping this tradition," he notes, sentiments that are ecoed by his counterpart, Nelson Ngari, the leader of Tanzama Mbele traditional dancers.
"Besides us, you can hardly find groups doing Mwomboko or any other traditional dances in this area. The African culture has been dying and that is really regrettable. However, it is good to see that the relevant government organs like the Permanent Presidential Music Commission (PPMC) that gave us this opportunity are working hard to revive this culture," compliments Githiji.
It is initiatives such as the new rotational system of holding national celebrations in different counties that is giving such groups a lifeline as Kenyan traditional cultures get revisited.
"Since the government begun the hosting of national celebrations in counties on a rotational basis, the Permanent Presidential Music Commission (PPMC) always endeavors to give a bigger platform to artistes from that region and its environs in order to empower them and highlight what they have to offer in terms of music and dance," says Donald Otoyo, the PPMC director.
"The commission is mandated amongst other functions to document, preserve and disseminate the music and dance heritage in Kenya. So far, PPMC has 30 running hours of this heritage and is serializing these songs and dances under the label 'Ngoma za Kenya Series' which are now available to members of the public and institutions," Otoyo remarks adding that behind the scene, there is an elaborate research programme that has already been initiated to reference and archive traditional Kenyan music.
According to Githiji, some of the African traditional practices died due to stereotypes that came with Christianity as the colonial era set in.
He says that the Christian religion made it look 'evil' for a man and a woman to dance together as a couple during the Mwomboko pairing, that stopping many married people from keeping with the tradition.
"In the African context, dance was always associated with seasons, from social activities like marriage, food harvest, war, celebration of a new born and the like. That is why you can't dissociate dance from other cultural values such as the kind of foods and the dress styles you'd find in this region associate with the Gikuyu culture," Githiji notes adding that there is need to use this rich music traditions, fused with new styles, to sell Kenya's culture even beyond the boulders.
Overtime, the Agikuyu art scene has evolved and in contemporary times, this is manifested in Mungithi and Benga music genre which have gained traction among Kirinyaga people drawn from all ages and walks of life.
Mary Wanjiku, a 61-year-old married woman is a member of Githinji's team. She joined Mwomboko dancing three years ago. She says the dance exercises do help in keeping her fit and healthy besides giving her a sense of patriotism.
"I have seen many young people joining us in our dance group and this is encouraging. I am a married woman who has children and when I pair with a man during the performances, I don't have to worry what my husband might think as this is just a performance. People used to ask if the man I get paired with is my husband as they were not getting it that this is just entertainment," remarks Wanjiku.
"As young girls join the old women in this dance, they are being cultured into our cultural traditions such as how to behave before men and their seniours as well as how to dress and how to make traditional foods. I personally want them to embrace our trademark regalia and jewelry," she quips.
The traditional brown Kikuyu garb, which is a trademark regalia among the Gikuyu is widely worn in the county between both male and female genders.
This is complemented with flamboyant jewelry and make up. The mwengu is a brown cloth that covered a woman's front from the waist down and the muthuru is a garment tied to cover a woman's back from the waist down. On top of these, two undergarments is a one-shoulder cloak that covers a woman's breasts and the inner clothes.
Women wear jewelry made out of cowrie shells and seeds known as bollos. Only married women were permitted to wear earrings – hang'i – bracelets, and armlets.
Men on the other hand wear a one-shoulder cloak known as a githii and Colobus monkey headgear. It is only after a man is an elder that his attire would transition to the sheepskin headdress.