Proud of heritage: A lifelong passion to preserve our culture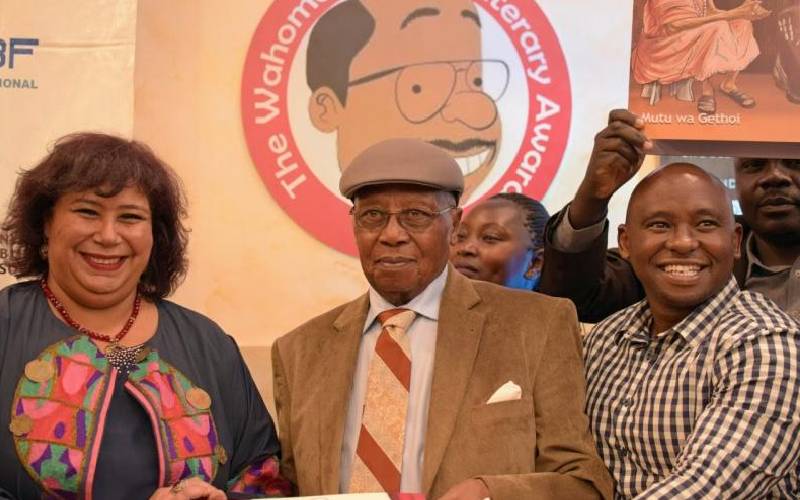 Mutu wa Gethoi, a renowned historian and author, spends his afternoons at the Karen Country Club. He has teed off here for five decades and knows every nook and cranny of the 18-hole internationally-acclaimed course established in 1937, the same year he was born.
His swing, however, has not been up to scratch lately. His handicap has risen to a figure few golfers can mention in public. "I am playing at 26 now," he tells me in a low tone lest the chirping weavers creating a frenzy on a nearby fig tree hear. "Nothing wrong for a man who is 84-years-old."
But the tranquility of the club, the regular, off-the-course banter with fellow senior golfers such as David Mutiso, the famous architect behind the design of Kenyatta International Convention Centre make up for lack of agility in hitting the balls.
While his prowess in the gentleman's game is waning, Gethoi's mind remains as sharp as the day in the early 1950s when he dropped his 'baptismal' name, Leonard, as "I had nothing to be ashamed of in my forefathers' history."
The erosion of African culture through the adoption of foreign concepts hurts the prolific author with at least ten titles to his name.
His peers in Kiawarigi village near Karatina, Nyeri County, know well that Gethoi is a non-conformist when it comes to replacing African culture with Western customs.
Such disdain for the 'cultural exchange' bleeds through his latest book, Elders of the Mace, a work based on a fictitious African country known as Watuland where people reap the ugly ravages of cultural erosion.
Take a quick survey and help us improve our website!
Take a survey
The book that took him 20 years to conceptualise and write won the 2019 Jomo Kenyatta Prize for Literature in the English Adult category.
Through Elders of the Mace, Gethoi hopes readers will see the need to replace cultural norms that were lost when Africa embraced "foreign practices hook, line and sinker."
"I was saved during my early teenage years following the prodding of my mother. I even preached to others but dropped many of the White man's rites just before joining Kagumo School in 1952. I fear that my children might lose their identity the way I almost lost mine," says the father of four with a chuckle.
Kagumo School was meant to hone his literary skills but his love of storytelling saw him expelled from the school at Form Two, a high price to pay for chatting with a friend.
He still has no recollection as to what he was telling his friend but that incident marked the end of his high school education.
Undeterred, Gethoi took up correspondence courses in the UK, trained as a teacher at Kagumo College and taught at Kiangoma School in Nyeri.
Sometime in 1959, Gethoi got a job as an artist with the then East African Standard newspaper but less than two years into the job, he resigned to join Northern Michigan University before transferring to the University of Michigan four years later.
Gethoi was a beneficiary of the African students airlift programme that included among others, Barrack Obama Senior.
Upon return, Gethoi got a job as a journalist with the then Voice of Kenya's (now KBC) Eastern Service that was created to pacify the restless Somali community before joining the station's General Service owing to his "American accent".
He would later have another six-month stint in the US during the mid-1970s before returning to work in the civil service.
Gethoi would come face to face with raw power while working as the director of state functions under founding president Mzee Jomo Kenyatta. This meant interacting closely with the power barons close to Kenyatta.
Among the rabblerousers Gethoi had several run-ins with was Mbiyu Koinange, the then powerful Minister of State in the President's Office and Gethoi's immediate boss.
"I would plan everything including the seating arrangements during presidential functions only for Koinange to come and undo everything. Interestingly, Mzee (Kenyatta) would agree with me but then there was his main man who would overrule everyone else," recalls Gethoi.
One of them had to give in, and of course it was Gethoi. "Koinange called me to his office one morning and told me to go back to where I had come from," he remembers the not so flattering message. "Where had I come from? Was I not a civil servant? That statement confused me."
In the same office was the head of the civil service Geoffrey Kareithi. Gethoi descibes Kareithi as a "stable man" who entertained no politics but was only interested in one's output. "Kareithi was a real Kenyan who listened when you spoke. He was never influenced by money nor give in to corrupt deals," says Gethoi.
What of Mzee Kenyatta? Though Gethoi only interacted with Kenyatta in official functions, he remembers him as a "guarded but jovial man".
After his disagreement with Koinange, Gethoi had a stint at the University of Nairobi as assistant registrar.
But brushing shoulders with the high and mighty might have been a blessing in disguise, especially when he set out to pen autobiographies of some of Kenya's leading political and business titans.
In 2009, Gethoi worked on the book Beyond Expectations - From Charcoal to Gold, the autobiography of the late politician and businessman Njenga Karume. It was a patient undertaking that took two years of painstaking meetings, drafts and more meetings with Karume.
In 2014, Gethoi edited Jeremiah Kiereini's autobiography, A Daunting Journey, another story of a career civil servant who helped transition three regimes – from the colonial administration to the late President Moi's government.
"The two men were social and friendly. Of course you feel there could have been more to extract from such men who held Kenya's destiny in their hands," says Gethoi.
He shifted to writing fiction after working on what he calls 'self-centred' biographies.
And he insinuates as much in his preface to Kiereini's book, stating that "there are a few sensitive aspects of the story that Jerry could have enlightened the public on "but hesitated so as not to hurt colleagues or upset the country's security apparatus.
Kiereini too, agrees with Gethoi, stating in the book that he would not disclose "truths not yet ripe for revelation" and would not desire the fleeting fame that "accompanies the loose disclosure of scandal and gossip."
Full disclosure or not, Gethoi says writing such autobiographies is a step in the right direction in a country where top leaders live in an unapproachable bubble.
Is Gethoi about to retire from writing? "I can't dig at my age. What else would you want me to do?"