Indomitable Henry Wanyoike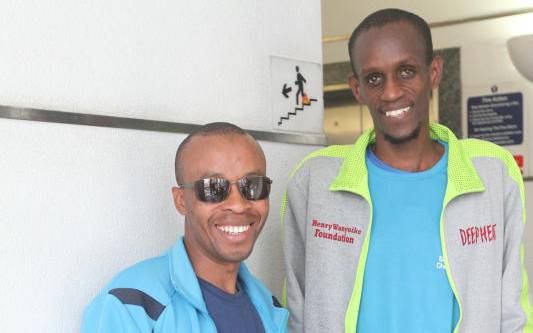 When Wanyoike went to bed that night on the last day of April in 1995, it was as a normal 21-year-old man with the world at his feet. Sure, he had had a long day, one that had started out with a horrible headache, but there was nothing that solid rest couldn't solve. And so with a quick word to his mum, he slipped into bed. A few dreamless hours later, he would awake to the sounds of children playing.
He wondered for a minute why children were playing in pitch darkness. But he didn't think about it for too long; a few more hours of sleep were welcome anytime. But the respite was short-lived because his mother lumbered into his bedroom to wake him up to go milk the cows. After all, the cows had to be milked and she wouldn't be the one to do it.
"I asked her why she was waking me up when it was still dark," he asked. Sensing the skepticism in his mother's response, obviously having concluded that he was just being stubborn, Wanyoike decided to look around again because maybe it was dawn already and he hadn't realised it because he wasn't fully awake.
Yap, it was still dark. And that is the moment panic set in. His mum disbelieving that he really couldn't see a thing, decided to take him to the hospital; a journey that at some point involved propping her adult son into a wheelbarrow to shorten the trip.
Eventually, they got there, and the doctor confirmed that her son couldn't truly see a thing.
But how does a sighted person just go blind?
Days earlier, he had suffered a stroke. His left side had been paralysed but what they didn't know was that it had also affected his optic nerve; the reason his world had suddenly gone dark. And for the young man, he had been dealt the worst hand fate ever would. For the next three years, he wallowed in self-pity and avoided people, which for the previously outgoing man, was akin to cutting off his limbs too.
"Sometimes I would wish I would die so as not to be a burden to people. The sudden loss of independence was too much for me. I just couldn't accept what had happened to me," he says.
What saved him was a family and a doctor that refused to let him wither away. They took him through an intense rehabilitation; getting him adapted to a world without lights. Slowly, through interacting with other blind people, he began realising he could live a full life too.
"I met many who had lost their sight due to the August 1998 Nairobi bomb blast," he says.
Slowly, he even began entertaining the idea of going back to running as he had always dreamed of.
As we speak, Wanyoike has only been in the country for two days. Even at 45, his athletic ability has not diminished in the least bit. Last week, he was in Germany where he came second place at the 13th Eberswalde City Run, 2019, despite being the only visually impaired person in the race. He is scheduled for the Cologne Marathon on October 13 and the Stanchart Marathon on October 27. He runs with a guide; Paul Kihumba, who Wanyoike tells me, has to train much harder than him.
"Do you know that when one goes blind, with the time you stop seeing images in your dreams?" He asks me, tilting his head ever so slightly.
"If I dream about you, I will dream about your name and how you sound."
"Being very well-traveled, can you tell when you are in a different country? Does it smell different? I prod.
"I have been to 60 countries. I usually feel that I am in another country by how independent I can be. In developed countries, accessibility for the disabled is highly enhanced. I can even tell what street lights say and walk about easier. Other blind people have guide dogs. I don't think any blind person here has a guide dog."
He bears some scars from when he has tripped and fallen throughout the years.
"Sometimes I don't even remember that I am blind, especially if I am with people. If I am alone and I knock something over by accident, that's when I remember. You fall, you get up and you move on," he says. And while many would consider losing sight a tragedy, he has learnt to take it in stride.
"I don't mind being blind. It has helped me impact many people's lives. It is a stepping stone for the many things I have achieved. I hold countless honours and three world records in the five-kilometre, 10 kilometre and full marathon races. I have also summited Mt Kilimanjaro twice," he says.
The losing sight did come with an unexpected perk, he adds with a laugh.
"I have never had a headache since the one I had the night before I lost my sight. Not a single one. I don't even remember what it feels like, and I hope it stays that way."
Today, Henry's left side, previously paralysed by the sight-snatching stroke, is back to form; though sometimes it goes numb. You wouldn't really know he was blind if you saw him seated in a café'. The dark glasses that are now a part of him add a debonair flair to an otherwise simple look. You would be forgiven to think he is one of those men who wear dark glasses indoors to exude mystery. Well, Henry is nothing but an open book, and to many around the world, an inspiration.
The stranger who bequeathed Henry
One time, he spoke at a school in Hong Kong and later on got a letter from a student who had intended to commit suicide but changed his mind after hearing him speak. That student, later on, recognised him at an airport where he (the student) was working for the Cathay Pacific Airlines and introduced himself.
Teresia, a 23-year-old Austrian, read his book and was so inspired that before she died, she instructed that all the money she had in her account go to Henry Wanyoike. "It was 10,000 euros (about Sh1.1 million). We built a kindergarten in my home area using the money. The kindergarten is named Teresia House of Hope."
Unromantic proposal
One thing Henry is grateful for is having good people around him. "Like Paul," he says, referring to his guide. But the apple of his eye is clearly his wife Myllow (short for Millicent). Married for about two decades now, he speaks highly of her. And No, it wasn't loved at first sight for them.
"We met at a telephone booth at Nyayo stadium towards the end of 2001. My guide was late that day, so I was trying to call him. I told her to help me make a call. She asked why she should help me and I told her it was because I could not see. She thought I was joking and responded by asking who had taken me there if I was blind."
Eventually, the cheeky soon-to-be lovers' quarrel was settled when she agreed to come and watch him run. She did, and they exchanged landline numbers and from thence, a love match blossomed.
"I realised she was very kind-hearted and really wanted to know more about how we lived as disabled people. She would also take care of me, and hold me to make sure nothing bad happened to me. Even today, she will go out of her way to help other disabled people in need," he says.
And he was not about to let that go. He proposed a year after they met. It was not exactly romantic, but it got the message across.
"You look like you can be my wife," was how he did it, no rings and going down on one knee.
She did not agree to it immediately, but a few months later, she was all in. Some people tried to discourage her from doing it, but her opinion of him was all that mattered and his family was in full support and Wanyoike says they still are.
He thinks she is beautiful. "She has described herself to me. I know she is light-skinned. And taller than me by about two inches. But you know we (blind people) can tell if someone is a good person within a few minutes based on how they speak. I knew she had a good heart from the word go. That is what matters to me," he says.
The couple has four children; three boys and a girl, aged 24, 22, 16 and 8. Two of them are named after people who have had a significant impact on Wanyoike's life, like Petra Wangui and Hugh Herschell Kahira. Petra, 22, is named after a German doctor who was working at Kikuyu Hospital and helped rehabilitate Wanyoike after he lost sight and continues to be involved in his life to this day. Hugh Herschell, 16, is named after a dear friend who was working at Safaricom, and paid all expenses for him to attend his first Boston Marathon.
The children, so far, do not seem to have taken after him, though. Except in looks. "People tell me they look like me," he says. Peterson Nderi, his firstborn, is a photographer, while Petra is in the hospitality industry. Hugh Herschell is in high school, while the last born George Waweru is in Grade Two.
While he has accomplished much and isn't about to let up, his one unfulfilled ambition is to compete in Ironman Triathlon. It involves cycling for 180km, running for 42km and swimming for 3.8km. "The swimming part is the only hurdle right now but once I overcome it, I will be good to go!" For a man who has achieved nearly everything he set out to accomplish, we wish him nothing but luck.