Rosemary Odinga: Adjusting to new life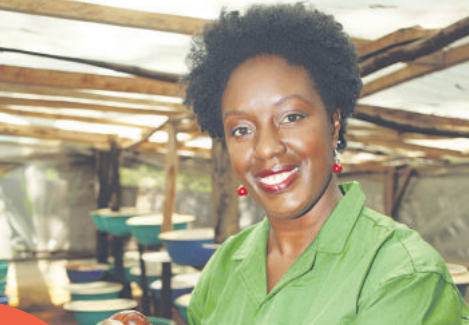 When Rosemary Odinga threw her hat in the Kibra constituency ring, few expected her to fight hard political battles. After all, her pedigree as the daughter of Raila Odinga, who was then eyeing the presidency, put her as a front runner. Her early campaigns were crowd pullers and the seat, many concluded, was hers for the taking.
But all that changed in April 2017 when she announced her withdrawal from the race on medical grounds. Rosemary had just been diagnosed with a brain tumor that required immediate treatment. In an emotional message to the people of Kibra, she vowed to continue serving the community in other capacities but regrettably bowed out of the race for Member of Parliament.
Kenyans heard little from her or her family thereafter apart from her brief message in August this year, urging Uganda government to free musician-cum-politician, Bobi Wine.
Then last Tuesday, the 41-year old mother of two reappeared in Kibera, the same area where her political ambitions came to an end. Together with a Korean NGO, she was donating 60 sewing machines to the Raila Odinga Educational Centre.
Images of Rosemary supported by Chang Lee of I love Africa were heart-breaking. Still, she marched on confidently, facing the wind of adversity while shining a ray of hope to those hit by similar hardships.
After the event, Rosemary said she is gaining her confidence after losing her eyesight, more so because of the outpouring of support from Kenyans.
Salim Lone, veteran journalist who worked in Prime Minister Raila Odinga's office, and has been close to the Odinga family, took to Facebook to show his support for Rosemary.
Take a quick survey and help us improve our website!
Take a survey
"Rosemary Odinga's public appearance on Tuesday marked the culmination of a heroic two-year struggle, and of a profound inner strength, against seemingly impossible medical and other odds," Salim wrote, adding that "she has somehow managed to overcome the horrors and demons of her wrenching ordeal to a point where she could do something this week that was unthinkable at many points of this long journey of hers. "
Rosemary says she is struggling to adjust to the new way of life.
"Since the operation and losing my sight, I'm happy people are welcoming and I am getting confident in how I interact with people and communicate."
Salim's piece was more of a tribute: "I personally know of no more compelling story like Rosemary's and her family's of prolonged fortitude and courage against what seemed an overwhelmingly negative prognosis.
"It is a story that should be recited to provide strength to all those who face unbearably hopeless calamities, and do not believe that there is a light at the end of the tunnel.
"Rosemary's recovery to even this frail condition that we saw is of course her very own doing, but it was also only possible because of the utter devotion that Raila, Mama Ida and sister Winnie somehow managed to summon, so soon after they had inconsolably lost their first-born Fidel. And of course, Rosemary's two loving girls, who always wanted to be by her side," Salim's piece read in part.
Rosemary's resolve to fight what is perhaps her greatest battle is not far-fetched. She comes from a family that has weathered many a storm. As a family, the Odingas suffered emotionally when they lost Fidel, the family's first born in January 2015.
Politically, the Odingas have suffered under successive governments for their steadfastness in sticking to what they believed was right. Her grandfather, who was also Kenya's first Vice President fell out with Jomo Kenyatta.
Her father, Raila, was detained when she was only five after the attempted coup in 1982. She endured political raids until her teenage.
The political upheavals had a negative effect on her early education. She had to transfer from Kilimani Junior Academy due to a decrease in funds after her father's arrest and subsequent detention.
In that era of single party, few schools could accept her and her siblings for fear of a backlash from the ruling class.
Rosemary soldiered on and studied in the United States, earning a Bachelor's degree in Sociology (Criminal Justice) from Howard University and an MBA in Business Marketing from the University of Dallas, while doing odd jobs to make ends meet.
In 2007, Rosemary came back to Kenya and set up a snail farm through her company, Shelltops Limited, a project many did not associate with a daughter of the high-flying family.
Her goal, she told Standard's Smart Harvest, was "to champion smart and innovative agriculture" with her company spearheading alternative farming practices in Kenya and the rest of East Africa.