How I got rid of adult acne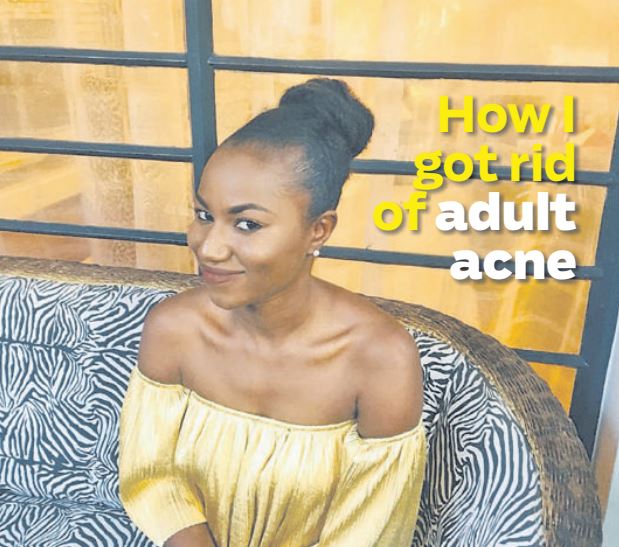 Esther Adoyo, Air hostess
When I turned 30...
I dealt with adult acne for almost one year. My dermatologist recommended isotretinoin that is only available on prescription which has serious side effects but after weighing the benefits I decided to take his advice.
The most important part of my skincare routine is...
Cleansing, toning and moisturising.
I avoid wrinkles and aging skin...
By staying hydrated, eating lots of anti-oxidants, using a good moisturiser, sunscreen and lip balm with high Sun Protection Factor. A good night sleep also goes a long way in helping my skin stay in good shape. I don't take sugar, I also drink a lot of water.
For my homemade masks...
I use bentonite clay mixed with apple cider vinegar.
I rarely get dark spots under eyes but when I do...
I soak a green or chamomile tea bag in cold water then leave it on my eyes for 10 minutes.
To prevent my skin from breaking...
I use an exfoliating face wash which penetrates deep into the pores, removing excess oil. This also clears black heads.
I can't live without...
Sunscreen and lip balm with SPF.
In the morning...
I cleanse, tone and moisturise, use sunscreen then make up primer. At night, I cleanse, tone, and moisturise with a night serum.
To a 20-year-old...
Wear sunscreen and sunglasses to protect the delicate skin around the eyes which shows the first signs of aging. If you have acne, treat it and don't pick any pimples, scarring requires more work and time than treating acne. Acnetreatment requires time but the results will be worth it. Drink lots of water, remove all make up before going to bed. Wash your hands before washing your face to avoid transferring bacteria to your skin.
To a 30-year-old...
Use a hydrating toner, sunscreen and a lip balm with high sun protection factor. Vitamin C serums are great to even skin tone, eye creams reduce first signs of aging around the eyes, use a hydrating masks once a week, exfoliate at least twice a week to boost cell turnover.
I cannot live with sunscreen because…
It prevents my skin from harmful ultra violent rays, prevents premature aging, lowers risk of skin cancer, prevents sun burns, sunscreen enhances the overall health of skin by protecting the essential skin protein such as collagen, keratin and elastin.
The products I use are...
Freederm exfoliating daily wash, freederm clear skin serum, freederm overnight clearing serum, freederm pore minimiser. I use rose water as my toner. I use Garnier amber solaire sensitive advanced expert spf 50+ lip and balm _ blister utra lip balm spf 50+.