You have to watch your weight — obesity is a killer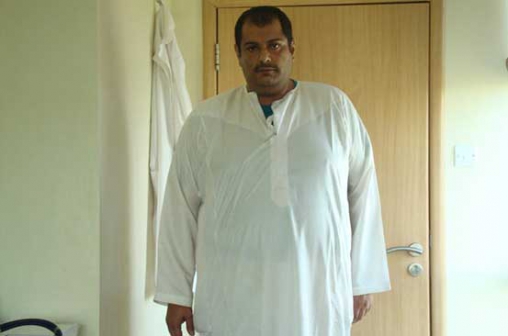 The best advice Dr Anthony Njenga of the University of Nairobi gives weight watchers is that they should avoid gaining weight.
He tells them so because it is ten times harder to lose weight than to gain.
There are many Kenyans who clearly understand what the doctor means because they are struggling with their body weight, and know how hard it is to lose a kilogramme. Or even less.
One such person is Abdala Faizal, a 40-year old resident of Nairobi, who, as far as he can remember, he has always been "big."
Abdala says he was always the biggest among his peers even when he was young.
For a better part of his life, he maintained his "big" status.
But eleven months ago, when the pounds he was carrying seemed to weigh down on the quality of his life, he had to let go.
And it is not because he wanted a sculpted body.
Take a quick survey and help us improve our website!
Take a survey
When he tipped the scales at 159 kilogrammes, his doctor flicked the red light and recommended he gets rid of the extra flab.
"Nearly all the illnesses and ailments I visited hospitals over were linked to my weight," he says.
"I felt the weight myself. I was heavy and it was taking away my comfort and happiness. I couldn't sleep and my feet would swell without any known causes."
In order to live, Abdala had to start a journey towards losing weight. His first stop was at a gym and it was not a walk in the park.
"I would exercise and lose some weight then regain the whole of it, and more," he says. "It happened several times. The back and forth went on for long."
Sometimes he lost as much as 10 kilogrammes but would regain it.
So desperate was he that he went as far as combining therapies — using slimming pills, staying hungry and drinking concoctions — just to get rid of the excess weight.
Gaining weight is as easy as gulping down unnecessary calories.
Dr Njenga says that "the body only needs a certain amount of energy every day.
Thus when one consumes more food than the body needs, the extra calories are stored as fat.
And when such a lifestyle persists the result is weight gain. You become overweight and obese."
Monica Wanjiru, 35, knows the drill too well.
On her 18th birthday, she was weighing 115 kilogrammes and was also diabetic.
She knows how that came to be. From the time she was young, she loved sweet food.
To make matters worse, she lived in Nakuru town with a loving grandmother who would go to great lengths to make a granddaughter happy.
Chocolate and ice cream — her favourites — were in endless supply.
"We were just the two of us; my grandmother and I. It was no secret that she pampered me.
"I loved sweet-tasting food and she was always ready and happy to provide.
"I grew bigger and even after I was diagnosed with diabetes when I was 15, I could not stop eating the 'bad' food."
Monica says she was addicted and hooked, and she cannot think of any better words to describe her relationship with sweet food.
Two months ago, when her body weight reached 142 kilogrammes, she found herself at the same place where Abdala had been.
"Many think that 'fat' people are enjoying life, but until you become fat and you realise it is not the place where you want to go," Abdala says.
Because of his runaway weight, the first day of 2015 was not quite a celebration for Abdala.
His health was deteriorating fast and every minute felt like torture. "I could not sleep well. Even walking became very difficult.
"My legs could not carry my weight anymore. I stopped enjoying life and I feared for myself."
That is when a friend advised him (based on their own experience) to undergo Bariatric Surgery, which involves dissecting and resecting (cutting out tissue or part of an organ) the stomach.
Medically, Abdala needed the surgery because he was morbidly obese and needed to lose over 70 kilogrammes.
Abdala visited a weight loss clinic in Nairobi's Upper Hill area in February 2015. It is run by obesity specialist couple — Dr Vladimir Shchukin and Dr Lyudmila Shchukina
He went through psychological evaluation and physical measurements on the first day.
According to Dr Shchukina, obesity is influenced by four factors: social, psychological, anatomical and metabolic. All, she says, have to be addressed if a patient is to achieve weight loss. Working out in the gym serves only one. "Obesity patients need psychological correction of eating habits," she says.
"Food addiction is similar to drug addiction. Working out only, when the patient has not dealt with food addiction, will lead to failure."
At the clinic, Dr Vladmir could not perform any surgery on Abdala as there wasn't appropriate equipment for the procedure.
He had to order them from Europe and it would take months.
While Abadala waited for surgery, Dr Shchukina signed him up for a strict weight loss programme.
He was issued with a book to record every meal and liquid that he consumed. Each meal was not to exceed 700 calories, a value reached at after both his weight and height were factored in.
Miraculously, Abdala began losing weight.
He lost four kilogrammes within the first seven days.
During the second week, he was down by nine kilogrammes and in two months, he had lost a total 32 kilogrammes.
"With every kilogramme I lost, I felt better," he says. "I followed the rules to the letter. I maintained an active lifestyle and did not drive much. I was not supposed to feel hungry at any point. I snacked on fruits every time I felt hunger pangs."
Adding more weight after months of losing some is synonymous with patients who are yet to train their mind, says Dr Shchukina.
"It happened to me too," admits Anne Achieng' who not long ago weighed 132 kilogrammes. I have tried losing weight but somehow I give up and gain back all of it,"
She needs to lose 67 kilogrammes to reach her ideal weight of 65 kilogrammes.
Anne, who is 27 years old, says her obesity is caused by stress and depression because she was lovelorn.
She came back to Kenya from Germany in 2011 and has been away from her boyfriend ever since.
To lose weight, Dr Shchukina says, the mind has to be treated first before any other method is employed.
This is because the mind often lies to the body that it needs more food.
"Often, people will be full but they keep eating more food because their mind lies to them that they need to keep eating.
"We eat to live. Any other way — like eating to feel good — is a recipe for being overweight and obese," says Dr Shchukina.
To lose the weight she says she gained because of her grandmother's sweet foods, Monica too has been exercising, and in two months, she has lost 20 kilogrammes of her initial 142.
"I don't mind being big," Monica says.
"As an African woman, being big is almost a natural thing and I am losing weight because I want to be healthy.
"Ideally, I should weigh between 82 and 90 kilogrammes."
Monica's health is improving, she says, and she no longer needs her daily dose of insulin.
However, she still craves the bad food and has to fight temptation all the time.
"Now that I am not supposed to eat as much chocolate as I used to, I feel drawn even more when I see someone having chocolate," she says.
"I am learning how to say 'no' to the wrong lifestyle."
After months of following a tough regime, Abdala is looking trimmer, but with happiness the size of the universe.
He weighs 100 kilogrammes, 59 less than his weight almost a year ago.
His steady weight loss means he will not need Bariatric Surgery.
"However, he needs to obey the rules for the rest of his life because he stands the risk of regaining the 59 kilogrammes," Dr Shchukina says.
"He can regain that and even add more than his previous weight."
Terry goes from zero to hero in amazing Chelsea draw
Chelsea captain John Terry went from zero to hero, first netting an own goal but eventually coming up with a 98th minute equaliser in an extraordinary 3-3 draw with Everton in the Premier League on Saturday.