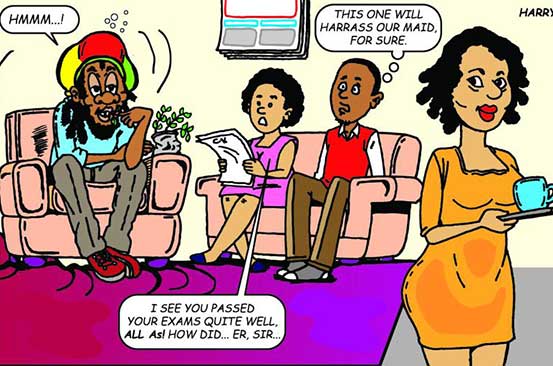 Like most parents of school-going children in the country, Baba Jimmy's head has been on fire throughout this term. Thanks to the teachers' strike, my children have been cooling their heels at home, leading to fears that their grades might plummet below the current low.
As such, sometime last month, Mama Jimmy and I brainstormed on ways to keep our children busy.
"I think we should make them study on their own," I suggested. "That way, they will learn to take charge of their affairs. A child shall not rely on teachers alone."
I added that by studying on their own, children can adopt important skills such as time management, concentration and goal-setting.
Most children would do wonders if they invested as much passion into their schoolwork as they did on social media platforms and games. Mama Jimmy, however, insisted on a home tutor who would offer academic coaching and double as a life coach. We finally agreed on her plan, and I posted a notice at our gate: Wanted: Tutor for two school children. Pay: Sh100 per hour.
As you might have guessed, the notice attracted all sorts of teachers, wannabe-teachers, former school teachers and even Sunday school teachers!
It was clear from the messages, phone calls and e-mails I received that Kenyans need jobs, and they can go for whatever job is up for grabs. Oti, whose family leaves around the corner, was the first to arrive. He is a Third Year student at a city university and he is pursuing a Bachelor of Arts degree, and girls.
"So, what can you teach my children?" I asked him. "Er, mimi ni odijo wa lugha, Baba Jim" he said, confidently. "Wewe nipe hii jobo uone venye akina Jimmy wataiva lugha."
He specialises in Literature and Fasihi, he added.
Perhaps he should have added "sheng" in his portfolio. But if this is what he called language, then I would have none of it. I would not want my boys to start writing compositions that sound like Genge music lyrics. Mama Jimmy, too, was far from impressed by this tutor.
"Huyo kijana hanipendezi, Baba Jim," she said after he had left. Well, let's just say Mr Sheng did not get the jobo.
Next on line was Kim, a self-professed Rastafarian who spends the better part of his waking life chewing miraa. The twigs were dangling from his back pocket, and he had a half-eaten pack of peanuts.
"I can teach History and Religious Education, Baba Jimmy. I scored straight As in both," he bragged. Kim is a smart boy who always topped his class in high school.However, I feared the influence he might have on my boys, and I didn't like the way he was staring at our househelp. Let's just say he became history as soon as he left.
The next candidate was a girl in her early twenties. "My name is Christine," she introduced herself. "I have been tutoring children in various households around here, and most of my former students have made it to university."
My boys liked this tutor instantly. She had a calm, easy way of communicating, and there was something about her that spelled professionalism. But given her drop-dead looks, Mama Jimmy was doubtful the boys would learn anything from her.
"The boys are all grown-up, dear, and they may get distracted easily," Mama Jimmy said after Christine had left.
More candidates followed, each with an impressive profile, but most of them were disqualified on various grounds.
Getting a suitable home tutor was proving to be so hard that I started wishing our government could send in the National Youth Service like it has been doing in other situations.
Finally, we decided to vote on the one candidate we felt could raise the boys' interest in books, and Jimmy oversaw the hotly contested election.
I wish the new tutor all the best in her new task.