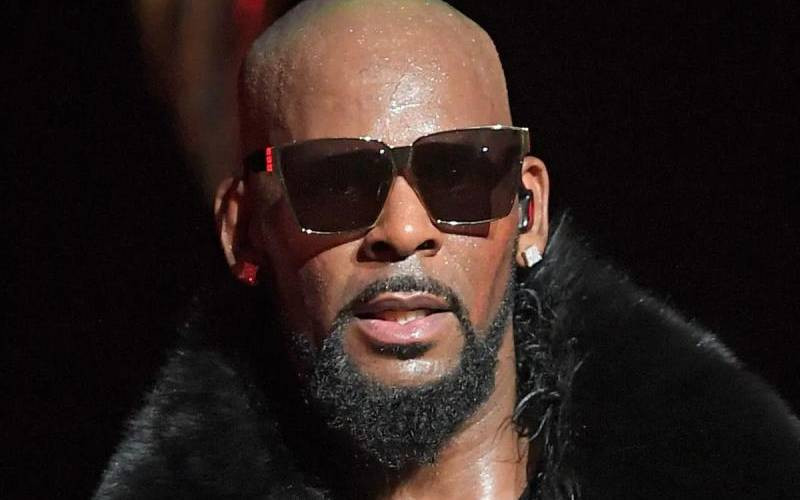 He believed he could fly as he 'Burned it Up' the 'Same Girl' in 'The World's Greatest'.
Come 'Ignition', after 'Step in the Name of Love', there was a 'Bump n' Grind' 'When a Woman's Fed Up'. "I'm a Flirt" he sang before getting 'Trapped in the Closet'. 'I wish'… but well… 'The Storm is Over'.
Finally, the verdict is out!
On Wednesday, celebrated and fallen R&B American singer Robert Kelly aka R Kelly was sentenced to 30 years in prison following his conviction last year on taking advantage of his celebrity status for sex trafficking crimes.
While the prosecutors had asked the judge to sentence the one-time top selling singer 55 or more than 25 years behind bars, his defence attorneys argued that was tantamount to a life sentence. And even as his defence attorneys pushed for 10 or less years in prison, the judge settled for 30, saying she considered Kelly's own traumatic childhood – when he was sexually assaulted by a family member and landlord.
It was an emotional moment both for R Kelly as well as the survivors of his abuse with some groups pushing for his punishment holding hands and praying as the US District Court Judge Ann Donnelly begun to read the sentence.
"I literally wished I would die because of how you made me feel," said one of the survivors.
R Kelly remained calm throughout the session during which he wore prison khakis and dark glasses. He neither made a statement nor did he react to the verdict.
"It may explain, at least in part, what led to your behaviour," the judge said. "It most surely is not an excuse."
"You left in your wake a trail of broken lives," Donnelly told Kelly, whose full name is Robert Sylvester Kelly.
This judgement was a highly anticipated moment for human rights activists and sexual abuse survivors. It was emotional and tense.
Predatory behaviour
Previously during the conviction trial, woman watching from an overflow courtroom cried as the verdict was read, as did others who had waited to learn Kelly's fate in a park adjacent to the courthouse, according to Reuters.
The report added; "Kelly kept his head down as the verdict was read, with his face shielded by a white mask."
Stories of Kelly's predatory behaviour dates back to his early career in the 1990s, and the allegations made against him heavily revolve around the pursuit of teenage girls.
Definitive moments in Kelly's trial include the confirmation that he married musician Aaliyah when she was only 15 years old, and that he had been abusing her since she was 13 years old. He was 27 at the time.
According to CNN, Kelly's legal troubles started coming up as early as 1996 when he was reportedly sued by a former sexual partner for personal injuries and emotional distress.
Before him, actor and comedian Bill Cosby, who was previously admired as a positive, black role model on TV was exposed as a sexual predator who had drugged and abused women.
In 2018, Cosby was sentenced to three to 10 years in state prison by a Pennsylvania judge who described him as a "sexually violent predator".
The conviction was overturned and the star was released from prison in June, this year. And before the comedian's fall from grace, one of the biggest social justice movements against sexual abuse and harassment, the Me Too movement had already attracted global attention.
The movement, which was founded by a sexual abuse survivor, Tarana Burke in 2006, aimed at giving power to abuse survivors through solidarity in numbers.
In 2017, the hashtag was used by prominent celebrities and victims alike, who spoke out about Harvey Weinstein's history of abuse, including actress Alyssa Milano, Gwyneth Paltrow, Rose Mcgowan and Lupita Nyong'o. Weinstein faced multiple accusations, most notably, accusations that he forced women to massage him and watch him naked.
In March 2020, the once celebrated film producer was sentenced to 23 years in prison for rape and sexual assault.
And there is more in the long list of famous musicians who served or are serving time for various offences. They include Adidja Azim Palmer aka Vybz Kartel who is serving a 35-year jail term for murder. He is remembered for inspiring a criminal ring in Nairobi's Eastlands, whose disrepute prompted him to disown it. His fellow country man and superstar, Mark Antony Myrie aka Buju Banton, served almost seven years for gun and narcotics possession.
Maverick lifestyle
Here in East Africa, Tanzanian Khalid Muhammed or TID, also serves time for assault. Perhaps, the most famous African artist to be jailed was Fela Anikulapo Ransome Kuti from Nigeria, who had several run-ins with the state over his activism and maverick lifestyle. The longest term that he served was five years for currency smuggling under military leader, Muhammadu Buhari, from 1984.
At the time of his death in 1997, he had just been released from prison, yet again, by the Sani Abacha administration. His brothers said he died from HIV/Aids complications. This elicited wild whispers since Kuti had an infamy for debauchery, drug abuse and violence, all masked in his sweet saxophone and loud afro-beat chants.
The late prolific singer and songwriter, Merle Haggard, was jailed in various prisons for offences ranging from robbery, burglary and even possessing drugs and guns. So troubled was Haggard's childhood and youth that he confessed it in the song, 'Mama Tried'. Interestingly, one of his mentors was his jailer, Johnny Cash, who was a prison guard at the San Quentin Penitentiary.
Haggard embraced music after Cash staged his first performance at the correctional facility for prisoners. It turned out to be a Road-to-Damascus moment for the young man who had escaped from prison 17 times!
The late baritone crooner, Barry White was jailed in 1960 for stealing tyres from a Cadillac store. While in prison, Elvis Presley's song 'It's Now or Never' saw him turn to music, chart his way and scale the heights.
Crooked side
The late celebrated rapper, whose milestones continue shaping the rap and hip hop genre, Lesane Parish Crooks or Tupac Shakur, also had a crooked side. He served an 18-month sentence for sodomy in 1993. He also battled various charges including gun possession and violence. He was later killed in a shooting incident in Las Vegas in 1996.
A year later, a British artist was emerging. Mark Morrison's song 'Return of the Mac' was charting when he was arrested and later jailed for attempting to board a plane with a firearm. He did three months in the can.
While many more artists served time behind the bars, the one whose case qualified for the macabre was Charles Milles Manson. Manson led a cult called The Manson Family that carried out a series of nine murders in various places in the United States, between July and August 1969.
While the world knew the ghoulish side of Manson, it is still unknown to many that he was a prolific songwriter and guitarist whose songs were covered by famous bands such as The Beach Boys.
For Robert Sylvester Kelly, his jailing comes as an ironic ode to his mentor, Michael Jackson, for whom he wrote the song 'You're Not Alone'.
Kelly is not alone. The King of Pop also had his fair share of whispers touching on sexual offences against minors. But he opted for out of court settlements with his alleged victims. Kelly's explosive interview three years ago on the CBS Evening News brought to the fore a man unsettled by his destiny. A guilty mind that was betrayed by his volcanic temperament.
For a man whose secular, gospel and contemporary chords themed the late 90s and 2000s, the 30-yeyar sentence is an anticlimax to a colourful run. As he crafts his appeal, it is time to accept that his actions that were fueled by illiteracy and lack of judgment, opened the door to prison. Robert Kelly: Full of talent, devoid of character and now staring at the stillness of time.