Celebrities: Why we are venturing into politics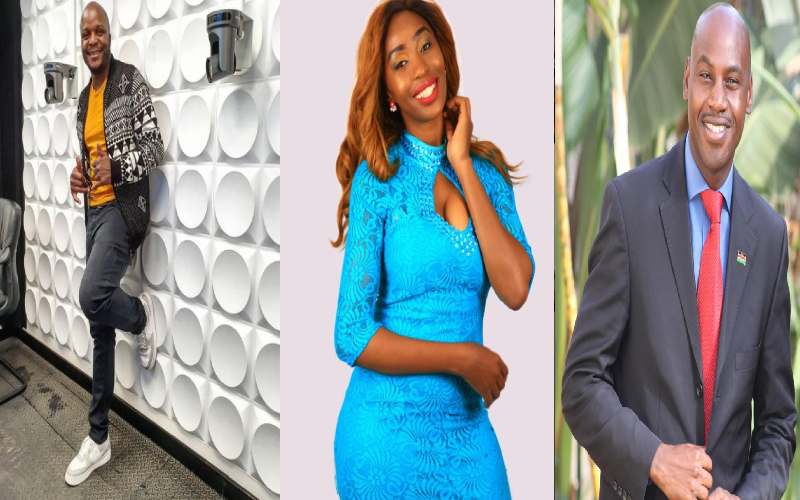 As the campaign tempo picks up ahead of next year's elections, entertainers are among those who have expressed interest in various seats.
This is expected to boost the number of youthful leaders in elective positions.
Thirty-two people below the age of 35 were elected to Parliament in the 2017 General Election.
And the script is getting better as more celebrities want to dive into politics.
Radio presenter and events guru Felix Odiwour, better known as Jalang'o, will be running for the Langata parliamentary seat, while former TV host Mwanaisha Chidzunga is going for the Matuga MP seat.
Music promoter Refigah (Yusuf Noah) is eyeing the Kibra parliamentary seat, while hype-master DNG (Davidson Ngibuini) and singer Gabu (Gabriel Kagundu) are running in Woodley and Kenyatta Golf Course wards.
P-Unit star Frasha Amisi will be making a fresh attempt in Makadara-Athi River ward, while his counterpart and mentor Nonini (Hubert Nakitare) wants to be Mathare MP.
Comedian MC Jessy (Jasper Muthomi) has his eyes on South Imenti Constituency in Meru and showbiz guru Aben Rogena, aka Sonko, is making a run in Borabu Constituency, Nyamira County.
Others include Rufftone, Tonny Yogo and CMB Prezzo.
Celebrities who have successfully transitioned into politics include Charles 'Jaguar' Njagua (MP Starehe), John 'KJ' Kiarie (Dagoretti South) and former actress and Big Brother Africa (BBA) Kenyan representative Millicent Boina (MCA Ziwani Ward, Nairobi).
They are all expected to be on the ballot come 2022.
"I believe creatives who have joined politics have ignited change on issues concerning the youth. Their track record will help more get voted come 2022," says Boina, who revealed that she might be vying for a bigger seat in the coming elections.
Boina says it is encouraging to see more artistes joining politics, noting that as role models for the youth and voices representing the youthful generation, they stand out as the ideal engines for change.
More policies
"Getting more young people into power is an advantage for the youth since this means more policies related to youthful issues will be pushed to empower the industry and protect its players. There is a need for us to have a Creatives Fund and this is part of my agenda as I look forward to making my next political move," she says.
Musician Frasha says the youth should seize political opportunities and more so, those in the entertainment industry, which play a major role in creating jobs for the youth.
"There might be a number of challenges for any young person seeking power, but above all, young people should end self-doubt and seize opportunities. I believe we should join politics while still young and vibrant," he says.
"We have seen what some of the youthful leaders have done in Parliament in pushing for music and other policies, including the Copyright Bill, which is a big win."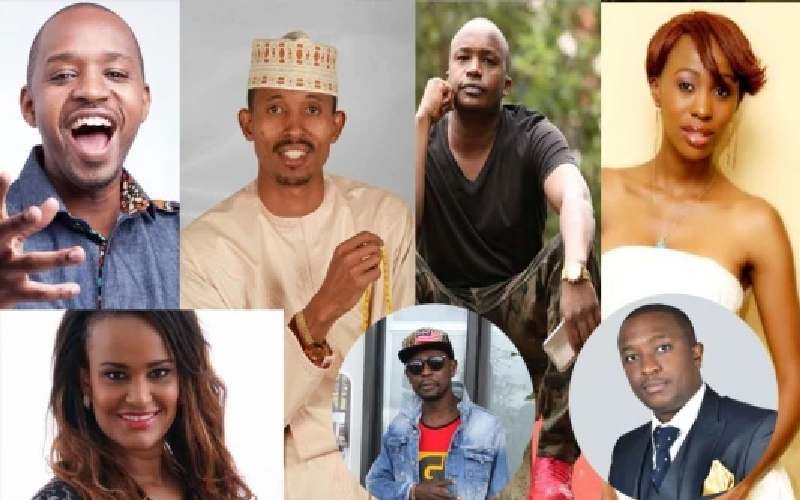 The 'Wajinga Sisi' hitmaker says unless the youth fight for political positions, they will continue blaming the 'old' for not factoring in their needs at the national platform.
In its 2017 manifesto, Jubilee Party promised to create a youth development council to facilitate training, skills building and mentoring to link the youth with jobs.
Through the council, young people were to be linked to potential employers.
It was meant to encourage organisations to take on board interns by expanding the tax incentive framework that would have talented young people work in the Public Service.
Little to show
However, there has been little to show for the promise for the creatives, with industry players toiling to make ends meet.
In the period 2007-2009, Kenya's creative economy was worth approximately Sh85 billion, or 5.3 per cent of the Gross Domestic Product (GDP).
With appropriate institutional, policy and regulatory reforms among other private sector related reforms, the government believed the creative industry could become a key catalyst to economic growth by doubling its contribution to the GDP to 10 per cent by last year.
However, this is yet to be attained.
Musician Refigah has been running his Grandpa Records music stables for more than 10 years.
As an artiste, he says, one can use their actions to effect change in society.
He says music, film and all other forms of arts are powerful tools in shaping how society evolves, including fighting corruption and retrogressive government actions.
"The fact that out of the 85 registered parties, 15 are led by young people tells you that there is a revolution on the way come 2022. Young minds are vibrant and dynamic. We need job creation for the youth and a boost to our ailing economy through innovative ideas," says Refigah.
It is not only in Kenya where youthful leaders and creatives are joining politics.
During last year's polls in Tanzania, Bongo Flava artiste Mwana FA and Diamond Platnumz's manager Babu Tale secured parliamentary seats.
In Uganda, dancehall singer Bobi Wine has been leading a revolution to end President Yoweri Museveni's 35 years in power.