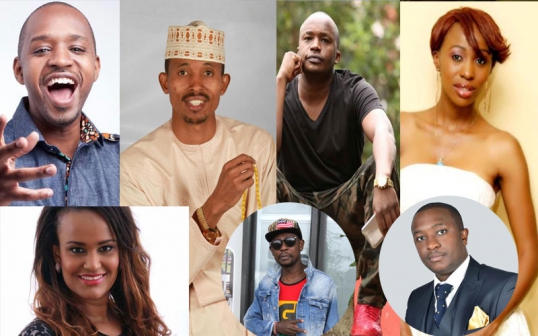 On Easter Monday, this writer happened to be in the Kongowea area of Nyali Constituency, when he was met by a group of about 100 youth and women, decked in Orange ODM T-shirts that had Mohammed 'Jicho Pevu' Ali's image on the front.
The group was going around the area, showing support for their preferred candidate, later, the entourage was joined by the man himself, the famed and award-winning journalist – former KTN investigative journalist Mohammed Ali.
Come Sunday night, Moha – as he is popularly known - was on live TV, lamenting the lack of democracy in his party, as he awaited on the outcome of rigging claims pitting him against his main opponent, Said Abdalla Saido.
"Am a man of my own principles... Am not a yes man," he said in regards to the drama surrounding the nomination process.
"I came into politics to fix my country; I am taking Jicho Pevu into parliament," he added on the live interview. But what is informing these celebrities; journalists, artistes, comedians, showbiz players and models to switch from their everyday lives to elective posts?
In early December, 2015, when speculation was already rife that the bold investigative journalist who has unearthed several scandals within the Kenyan governments and the private sector was running for politics, we managed to sit down with him. By then, Moha was fighting the Jubilee government, saying his life was in danger while pointing a finger at some powerful forces inside the ruling party. According to him, these people were scared of his political ambitions.
"These people are out to finish me," he told Pulse. "I am receiving a massive beating on Twitter from fake accounts opened by the government. Most are accounts with Muslim names, to make it seem Muslims are against me. I know all their tricks, because they tag senior policemen on their tweets and no one responds in my defence."
Moha has built a name as an authority when it comes to investigating terrorism, drug cartels, extra-judicial killings and other conspiracies that have seen tens of Kenyans killed in unexplained circumstances. Moha has been a wanted man, having had to change houses regularly so as to stay one step ahead of the people his investigative pieces have crossed.
But wouldn't a parliamentary post expose him to the same people he has run away from?
Other celebrities who have joined the political arena include Gilbert Wanyonyi, popularly known as Mtumishi of the comic duo Mtumishi and Mchungaji of Kreative Generation. Mtumishi is vying to be a Member of County Assembly for Kabiro ward, Nairobi County.
"I would love to come in as a catalyst and not as politician but as a servant as my name says. I just want to sit down with people, sit down with youth and understand their problems and together come up with the solutions," Mtumishi said, the comedian using his famed tagline 'Asande Yesu, Asande Mwami' on his posters.
Another is KBC's Vittimbi actress Eunice 'Nyasuguta' Wambui, who is eying the Embakasi South seat on a Jubilee ticket.
The beautiful 20-year-old Sadaf Deen also caused ripples, after she declared her interest to run for the Mombasa Woman Rep seat.
In at least two artistes' WhatsApp group that this writer is in, there are two showbiz players who are vying for seats, constantly urging other members to contribute in their fundraising events.
All these celebrities are gunning for votes using the youth agenda - their aim being to help the Kenyan youth achieve their dreams by empowering them. They are using the fame to reach out to the populace which directly understand them, fellow youth who make the majority of their fan base.
According to Charles 'Jaguar' Njagua, his main reason for running for the Starehe parliamentary seat is to effect change in the society, especially to the youth and women.
"My political ambition is just a continuation of what I have been doing in the past years around Starehe constituency," he elaborated. "I have been supporting youth projects, helping young people find employment and also working with women groups especially those from disadvantaged families."
Jaguar, who has extensive real estate interests, started making inroads in Starehe as early as 2013, while he remained non-committal on his political desires. When asked numerously about his plans, especially when he started appearing besides the President and Nairobi Senator Mike 'Sonko' Mbuvi, he played down the claims, stating that he was only playing his part in changing the society trough philanthropy.
His recent court appearance, where he is being charged with causing the death of two young men through a road accident, seem to not have slowed his political ambitions.
The Starehe seat has attracted a number of youthful candidates, including flamboyant businessman and showbiz honcho Steve Mbogo, who has plastered Nairobi's street lights with his posters.
Steve Mbogo was virtually unknown three years ago, before his loud entry into the showbiz scene with his taste in women, cars and the high life. Bits and pieces of his life have been questioned, especially the source of his wealth, and education background.
Another contestant is photojournalist, civil rights fighter and author Boniface Mwangi, who will run under the newly formed Ukweli Party. The seat is also being eyed by seasoned Nairobi politician Maina Kamanda.
"Only the youth can represent the youth," said Ralph 'Cannibal' Masai, who is running for an MCA position for Mtopanga Ward. "People out here are struggling with unemployment, drug addicts and peddlers are increasing in number, crime is on the rise and all this problems are affecting the youth. I want to give solutions. Kijana pekee ndio atasaidia vijana."
Cannibal, who comes from a privileged family, was one of the first celebrities to publicly come out with their political ambitions.
The Street Hustler hitmaker hit the ground as early as mid last year, distributing foodstuffs to his people.
"My political ambitions have not stopped me from rapping. I will be dropping hits as I conduct my County duties," he elaborated.
The other big artiste other than Jaguar is Francis 'Frasha'Amisi, of Punit. The artiste, who has wowed Kenyans with lyrics in the hits Hapa Kule, Gentleman, and the two racy videos for You Guy and Wabe, is eyeing the Athi River Township ward under Maendeleo Chap Chap.
The former physiotherapist has been running around his ward, trying to get as many votes as he can.
But celebrities getting into bed with politics is nothing new around here.
Celebrated cartoonist and branding guru John 'KJ' Kiarie has been trying for years to get into an elective post. KJ, who was part of the famous Redykyulass trio, has vied unsuccessfully for the Dagoretti parliamentary seat.
More successful media personalities and artistes include former KBC news anchor Naisula Lesuuda former radio presenter and actress Sabina Wanjiru Chege and actress and Big Brother Africa contestant Millicent Mugadi who is the MCA for Nairobi's Ziwani ward.
Bongo star Joseph 'Profeesor J'Haule is a sitting MP for Mikumi in Tanzania, his Instagram page a concoction of development projects, lyrics and shout out to fellow artistes.