Student wins Miss Earth Kenya beauty contest
STANDARD ENTERTAINMENT
By Elvis Ogina | September 27th 2021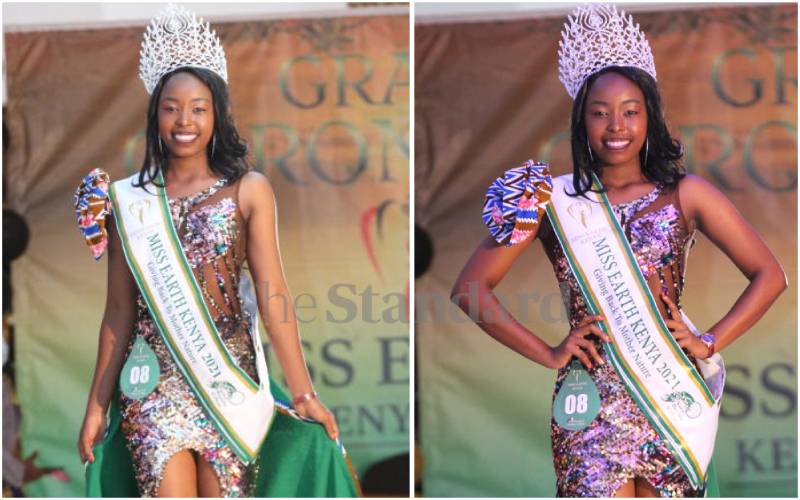 University of Nairobi law student, Stacey Chumba, was over the weekend crowned Miss Earth Kenya 2021.
The Third Year Law student beat 13 other contestants to win the coveted crown, whose theme is to conserve nature.
Competing in a tightly contested finale on Saturday, the 21-year-old stood out because of her beauty and brains.
Chumba was the only crowned queen with three other beauties categorised as Miss Earth Fire, Miss Earth Water and Miss Earth Air. They will be working alongside Miss Earth in the beauty pageant's franchise.
The Miss Earth Air title went to Grace Maganga, an Environmental Planning and Management final student at Kenya University, while the Miss Earth Water title was taken by Diana Joy, a lawyer.
Eulene Vulegani, a Civil Engineering student at the Technical University of Kenya was conferred the Miss Earth Fire title award.
The colourful event that took place at Diamond Plaza, in Nairobi's Parklands, featured performances from upcoming artistes including GNS, Tesla and Wangui Kimani.
"This is a very great opportunity and I'm very excited. I promise to follow in the footsteps of those before me like the late Wangari Maathai in conservation," said the beauty queen.
Chumba was crowned by the outgoing Miss Earth Kenya Fridah Muthoni, who urged the contestants to keep the spirit of nature conservation.
She will represent Kenya at the global finals in The Philippines.