Hit by Covid-19 rules at home, artistes try their luck abroad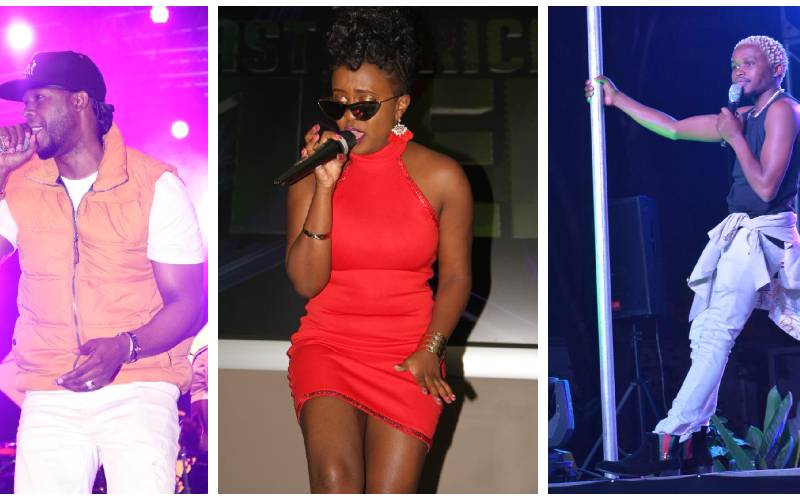 For three months now, Hubert Nakitare aka Nonini, has been in the US seeking green pastures, both for his music and luxury wear brand; the Mgenge2Ru merchandise.
The 'Mwisho ya Mawazo' rapper held a major concert in Dallas and a well-attended pool party in Arizona two weeks ago. He also staged shows in Delaware and Houston.
This week, the Kenyan rapper and creative entrepreneur's Mgenge2Ru apparel was gaining ground in the US, buoyed by the concerts he is holding there.
A pair of his limited edition leather shoes have been going for about Sh24,000.
Other merchandise becoming the craze among his US fans include designer caps, suits, hoodies and wooden watches.
His latest design is a unique and limited edition shoe wear, which he has collaborated with Italian master-crafts AliveShoes.
Through its founder and CEO, Luca Botticelli, AliveShoes, certified Nonini's designer shoes for distribution and sale to the public in the US this week.
The announcement comes days after Nonini and his team met the Floyd Mayweather African team in Las Vegas to discuss collaborative ideas they can work on touching on the apparel business.
"I have created products, some of which target clients back at home and others that are specifically targeting the US market. The US is a lucrative market because their economy is thriving and that is why my products are in high demand," Nonini said during an exclusive interview.
Another Kenyan musician, Swabri Mohammed aka Redsan is also in the US.
The dancehall king was leading other African artistes during a five-day Afrobeats festival in Houston, Texas.
The festival, organised by Frankaz Entertainment, also featured Kenyan US-based stars such as DJ Mochi Baby.
Others included DJs Slim, Brian, Izzo, Shinski, Babu, Rex, Steve, Onyx, Calvin, Sunny Sistuki and 8th Wonder.
The much-hyped event also saw performances by award-winning Kenyan singer, Nadia Mukami and Harmonize from Tanzania.
Fena Gitu was also part of the Kenyan stars blazing US.
Comedian Eric Omondi and another team of entertainers are leaving the country in November for yet another US tour that will see them visit a number of States.
Omondi says this invite is a reprieve since they have not been holding any concerts due to Covid.
"It has really been a hard time for creatives. You can imagine the fate of hundreds of creatives who can no longer pay bills, most of whom have opted for other hustles. You can imagine someone who has a family and solely depends on money from performances," notes Omondi.
Some of the deals the artistes are enjoying have been organised by Kenyan showbiz promoters, who have been living in the US among them Dallas, Texas-based creative promoter Kelly Ochieng'.
Platform to network
Ochieng' notes that this weekend he is organising an all-Kenyan star concert in Dallas that will help artistes network with other industry players.
He believes this will change their perspective on how to market themselves beyond Africa.
"Having seen how our entertainment industry is suffering due to lack of exposure especially after Covid-19 hit the industry, my partners and I came up with a plan to create opportunities for creatives. We have since partnered with the City of Dallas to put together events that promote Kenyan designers, musicians, deejays, comedians and everything creative," says Ochieng'.
He adds, "I have been hosting big music names from Africa such as Burna Boy, Diamond, Davido, Khaligraph Jones, Ali Kiba, Nyashinski, Eric Omondi and the like. However, I came to the realisation that Kenyan creatives are suffering due to minimal exposure they have been getting compared to their Nigerian and Tanzanian counterparts."
The Kenyan event will be hosted by comedian Jalang'o.
Since the Covid-19 pandemic struck in Kenya early last year, the local entertainment scene has been thrown into shambles. Club performances are few due to restrictions on the number of people who should occupy such spaces and also the 10 pm curfew. Further, earnings artistes used to make through royalties collected on their behalf by Collective Management Organisations (CMOs) have dwindled.
According to the Music Copyright Association of Kenya (MCSK), the agency accorded the right to collect and distribute money from music users for members, there has been a major shortfall in royalties' collection mainly due to the closure of clubs and hotels, Covid-19 restriction measures in the PSV sector – where most of the income is derived from.
In the last distribution quarter, jointly, the three CMOs; Music Copyright Society of Kenya (MCSK), Performers Rights Society of Kenya (PRISK), and the Kenya Association of Music Producers (KAMP) only managed to collect Sh114 million out of the estimated Sh300 million.
"Times are hard and CMOs have been finding it difficult to collect royalties. That means our members who are majorly musicians are not receiving the money they deserve," says Lazarus Muli, MCSK chairman.
Due to this, Kenyan artistes are looking for opportunities in the US and other countries where Covid-19 restrictions are easing up.
Others are depending on digital platforms to engage with their fans.
"The truth is that the entertainment business in Kenya is dead and hundreds of artistes are suffering. Sadly, nobody is addressing this issue that is driving many to suicide and depression," Nonini told the Saturday Standard during a telephone interview.
"Since I moved to the US, I making money from music and the Mgenge2Ru merchandise. At least, I get a show every weekend. I am happy my fans are supporting me and there are many opportunities here," he said, indicating he was not in a hurry to return home.
For an established artiste, a US performance in a well-organised festival like the Afrobeats festival, one can easily earn Sh1 million while ordinary club shows, one can fetch about Sh200,000.
New norm
Nonini revealed that popular deejays are earning approximately Sh40,000 for a gig down from the approximated Sh200,000 they used to charge. "I advise my fellow artistes is to think out-of-the-box and become innovative. Covid has changed the entertainment scene and we must embrace the new norm," Nonini said. Comedian Chipukeezy has also landed a gig in the US.
Taking to Instagram, Chipukeezy announced that he would be leaving the country for a three-month tour dubbed the Celebrity Fish Tour that will be held in Atlanta on September 18. The tour will also feature other comedians from Africa.
"Atlanta is diversely known as a centre of black wealth, culture, political power and higher education. It will be the host State ahead of the Funny and Fishy US tour," Chipukeezy said.
According to the 2020 Global Music Report released by the International Federation of the phonographic industry, the organisation that represents the recorded music industry worldwide, streaming services accounted for 62.1 per cent of global music revenue, with performance rights revenues taking the biggest hit as concerts and events were cancelled due to Covid-19 pandemic. The report revealed that last year, streaming live videos contributed to 71.9 per cent of Africa's music revenue.
"It is still a big gamble for musicians and other creatives on how they can maximally monetize their work in the digital space. Traditionally, artistes were used to making money through club and concert performances. To stay afloat, they must look for opportunities either locally or abroad," says Alliwah David, a musician and theatre director.