She would wave at the screen whenever she saw me: Larry Madowo eulogises grandma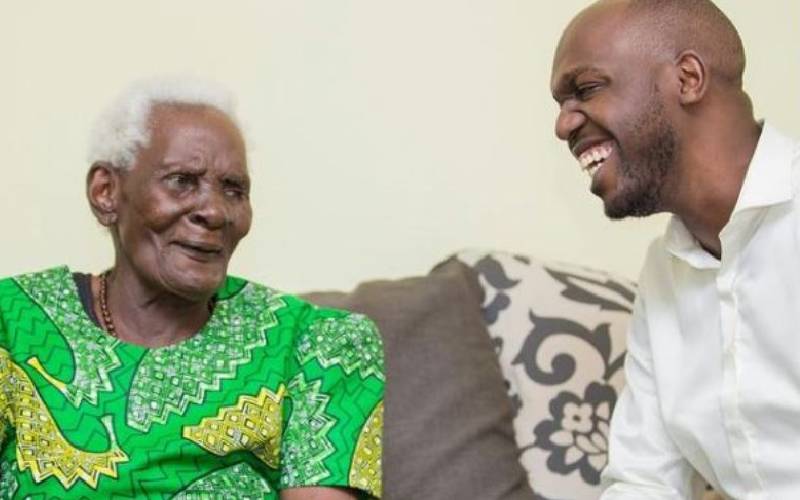 Media personality Larry Madowo has described his grandmother's demise as the most painful experience of his life.
Taking to social media where he shared his tribute to the late Francesca Madowo, Larry said burying her was extremely difficult but he is thankful for the impact she had on his life.
"My grandmother knew I worked for a media station and whenever I was on screen she would wave at me. She thought I would see her and often wondered why I never waved back.
"We would laugh about it whenever we saw each other," he said.
Adding: "I wish she would live longer but I am glad that she raised us. We are quite a number in our family but grandma is the one who made us have this bond.
When Mama Francesca rested on August 27, Larry said he felt like his heart had been ripped from his chest, describing the deceased as the family's heartbeat and his comedy partner.
"My grandmother, the family matriarch, our heartbeat, my comedy partner, the dearly loved Francesca Madowo has joined the ancestors.

"I am numb. My heart has been ripped from my chest. Light has gone out of my life. Nind gi kwe, min Omollo," he wrote at the time.
A month ago, Madowo opened up about his anxiety following the hospitalization of his grandmother.
He revealed that Mama Francesca was on a ventilator for weeks and had not been vaccinated at the time due to what he described as hoarding of the vaccine.
"Even at 96, my Kenyan grandmother was among hundreds of millions in the developing world who was not vaccinated until recently because rich nations have hoarded most of the available shots. Though I'm more than 60 years younger than her, I was fully inoculated by April because I was living in the United States, where anybody over 12 can get a vaccine if they want one.
"The acute shortage of doses for the world's poorest people has been called "vaccine apartheid," "greed" and a "catastrophic moral failure." Yet the public shaming has made little real difference, and Africa has received the fewest vaccines in the globe so far," he wrote at the time.