There will be consequences, Ezekiel Mutua warns Embarambamba over viral video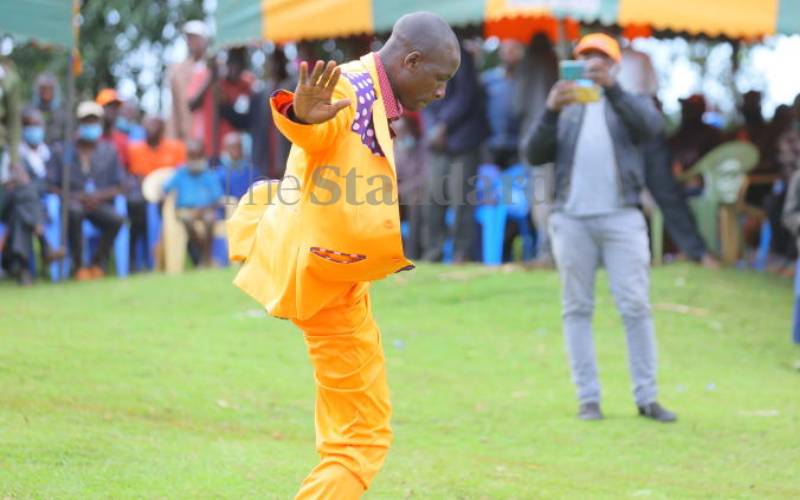 KFCB CEO Ezekiel Mutua has warned Chris Mosioma aka Embarambamba after a video of quirky gospel musician dancing suggestively with a lady in a club surfaced online.
Embarambamba was gyrating to music in the video as fans wildly cheered him on. Through a tweet, Mutua stated that the Kisii-based artiste had crossed the line and there will be consequences.
"Embarambamba, that's gross! You have crossed the line and there are consequences!" wrote Mutua.
The video elicited mixed reactions on social media, as netizens opined that the Bend this way singer was hanging between stardom and self-destruction.
Solomon Muingi: I said here, embarrassed (whatever his name is) is hanging between creating a celebrity tag and self-destruction, this line is too thin - there are consequences.
Conrad Karume: This guy should have been stopped a long time ago.
Paul Owuor: I totally agree with you. His videos should be banned with immediate effect. What I saw today is total nonsense!
Charles Otieno: It's high time he acted his age. He's gone overboard. Does the man have a family! Parents! Relatives and friends?
Janet Munyao: And the lady laughs and goes on dancing akirukaruka like nothing has happened
Josephine Kyumwa: And just like that, embarambamba has destroyed a brand he worked hard to built
Just a month ago, Mutua offered to help Embarambamba. Through a tweet, Mutua said his attention had been drawn to the artiste's theatrics which he described as embarrassing.
"Embarambamba on the Trend on NTV, says his theatrics are because of poverty. He's asking for help. Bro come, let's talk. You don't have to do this madness for likes on social media.
"Come let's find a way out. You sound ok, but your theatrics are embarrassing and must be moderated!" said Mutua.
On his part, Embarambamba said he opted to do gospel music differently by incorporating theatrics. He went ahead to thank his wife for standing by him, saying she is the one who washes his muddy clothes after performances.
He also urged Mutua to support him instead of critiquing his work.
"There are some people who do not understand what I do…I wish Mutua would have contributed something to boost my work and support my talent.
"I am doing this because of poverty though I also want to praise God's name," he said during a TV interview.