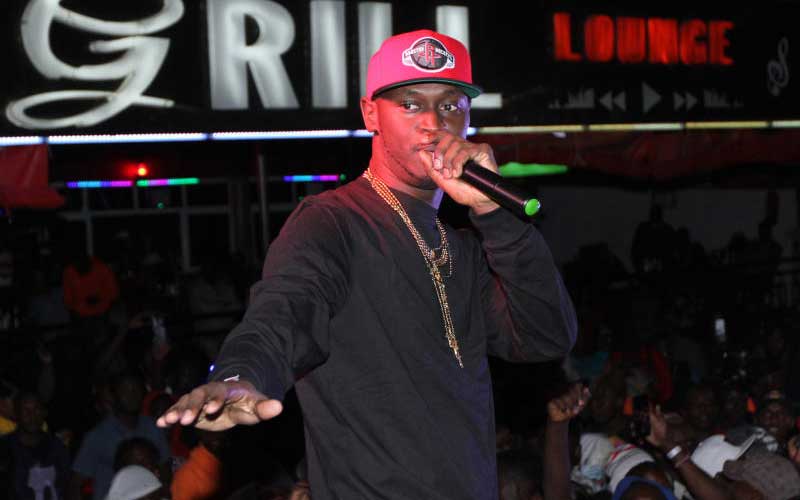 On Friday, thousands of music lovers went online for a live show hosted by Kennedy Ombima (pictured), whose stage name is King Kaka.
The three-hour show started at 8pm, ushering in the weekend to a lively start as fans enjoyed the thrill from the comfort of their houses.
King Kaka was accompanied by a full band in the show held at Workspace, Muthagari Road, in Nairobi. It attracted viewers from Africa and beyond.
King Kaka gave it his all as he would in a normal stage act - wooing viewers whose comments kept streaming endlessly.
Read More
This was the first in a series of six lined-up online shows being sponsored by Safaricom, DStv, Showmax, Workstyle and Remy Martin. Kenyan artistes such as Naiboi, H_Art the Band, Khaligraph Jones, Mercy Masika, Eunice Njeri, Evelyn Wanjiru, Valarie Muthoni, Karun and Xenia have been slotted to headline the next shows which will be streaming live via YouTube and Facelive digital spaces of the showbiz company Trace.
Bargaining power
Initially, Trace had started its 2020 entertainment calendar with Trace in the Streets live events. The last - which was to host Sauti Sol, King Kaka and Naiboi among others - slated for Sarit Centre was postponed in mid-March following the government's ban on public gatherings due to the health risks presented by Covid-19.
"The Trace live online series seeks to empower local artistes during this Covid-19 period, ensuring they continue to earn and produce more entertainment for viewers at home. This will augment the social distancing guidelines given by the government to reduce the spread of Covid-19 in the country," said the Trace Eastern Africa Chief Executive Officer, Danny Mucira.
"In these uncertain times, the role of entertainment in enriching lives is more significant than ever. People are looking for ways to connect with their passions and this can now best be done by plugging into our strong online networks.
This partnership with Trace TV, who we also carry on our platform, is a great opportunity for us to ensure we are serving fresh content that resonates with our customers despite the existent challenges," MultiChoice Kenya Managing Director Nancy Matimu, said.
The online shows are of an interactive nature where viewers can get involved by making song requests and enrolling in competitions where winners get giveaways.
While ordinary concerts attract around 2,000 fans, the live online platforms are offering both artistes and sponsors more leverage with thousands of fans and followers who would not make it to an ordinary gig streaming. This hands the artistes a bigger bargaining power when it comes to payments.
Although the show sponsors are mum about the amount of money they are paying the artistes, The Standard has learnt that the rates are almost the same as those paid during nationwide concerts. Calibre artistes take home about Sh150,000 during a big corporate show.
"We can't disclose the amount the organisers and sponsors are paying because of contractual agreements. What one has to understand is that these shows are commanding big numbers than ordinary concerts due to how they are being organised.
"We want to put as much money as we can in our musicians' pockets to keep their careers moving during this rough patch," said a Trace Live event organiser who sought anonymity.
The big winners in these new online shows are artistes who have a big online following. King Kaka for instance has 1.1 million followers on Instagram while Mercy Masika has slightly over 800 thousand followers.
"Musicians survive from gig to gig. That is their lifestyle and that is how they make their income. Online gigs and other interactive activities like the Shaffie Live show will ensure that sponsors and advertisers turn their big spending on artistes online.
"This is already happening and is reshaping our entertainment industry," says Shaffie Weru, an emcee who has been hosting artistes on his online show.
While deejays among them Crème de la Crème, DJ Mfalme and the Dohty Family stable have been hosting weekly online shows, some of which have been sponsored by liquor companies, local comedians seem to be a step ahead. Singer Akothee, who has almost two million followers on Instagram, is an online ambassador for a local food processing firm.
This month, the bi-monthly Koroga entertainment and social event hosted fans to an online concert that was headlined by South Africa's Distruction Boyz.
Live streaming
The show that was livestreamed on Facebook, Twitter and Instagram commanded quite a following, registering over 3,000 viewers. The show attracted viewership from East Africa as well as southern Africa.
Another group, led by events organising stables Reggaebeach and Ngoma Tucheze hosted dancehall king Konshens in a Nairobi-centred online gig last month. It gained traction in the US, Australia, the UK and the Middle East.