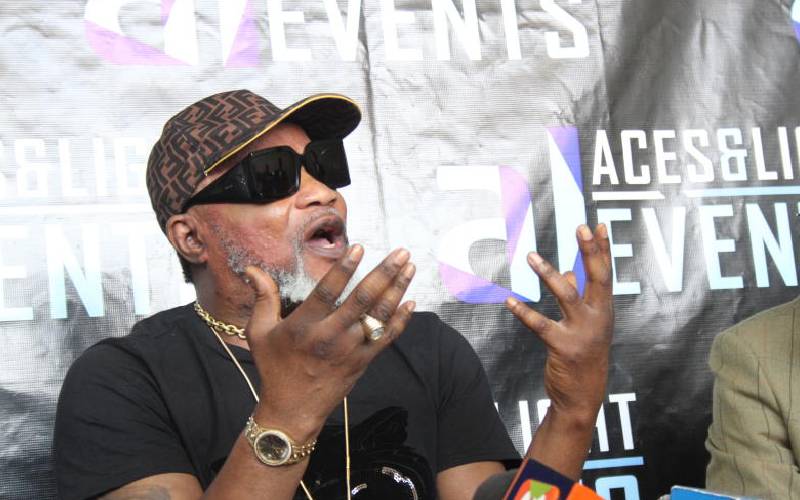 Four years after he was deported for assaulting one of his female dancers at Jomo Kenyatta International Airport, Rhumba legend Koffi Olomide is back.
The controversial Congolese artiste quietly flew into the country on Sunday, right after performing in Dar es Salaam, Tanzania, where he had a sold-out show on Saturday night.
Olomide's visit comes just four days after announcing via his Facebook account that he will return to Kenya, having been cleared by the government.
Unlike in past visits, Olomide made a low-key return and only his lawyer, Prof Luchiri Wajackoyah, was on hand to receive him and his entourage at the airport.
Olomide had shared a short video as he boarded a plane to the country revealing his excitement at being back in Kenya.
"After four years, the king of Africa is back. My heart is vibrating, I am very excited to be back in the country," he said.
Kenyan authorities lifted a ban that had restricted the musician's entry into the country following the assault incident that sparked an uproar in July 2016. A video footage of the incident shows Olomide kicking and even charging at the woman, who was said to be one of his dancers.
He was later arrested outside Citizen TV studios and deported to Kinshasa, the Democratic Republic of Congo.
The Selfie hit-maker also thanked the Kenyan government for lifting the persona non grata status it had imposed on him following the incident.
"I sincerely apologise. To everybody who was affected by what I did, I am sorry," Olomide said.
While addressing the media at Ole Sereni Hotel, Olomide said his arrival into the country on International Women's Day was no coincidence, but he wanted to make a statement to women.
After his deportation, Olomide took to his social media platforms and issued an apology to women and the Kenyan government, saying his actions were out of character.
The 63-year-old artiste was dressed in a black T-shirt and trousers, black sun glasses, golden necklaces, brown sneakers and a black and brown Fendi cap.
He is scheduled to perform at Carnivore on May 9.
Olomide is no stranger to controversy and has had several run-ins with the law over the years.