Beyonce rocks 'Obama' on her ears
STANDARD ENTERTAINMENT
By BBC | October 27th 2012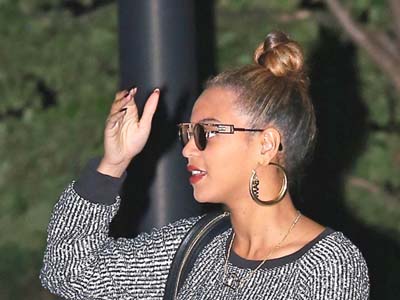 Beyonce wearing Obama earings [Photo: Courtesy/Huffington post]
-Adapted from Huffington post
Beyonce has shown her love and support for President Obama and First Lady Michelle Obama through emails, fundraisers, parties, open letters and video messages. This weekend she upped the ante by wearing her heart on her sleeve -- er, ears.
For a sunset dinner with hubby Jay-Z in New York this weekend, Beyonce wore gold hoop earrings with the word "Obama" spelled out: the hoop itself made the "O" with a "BAMA" charm dangling from the top. The earrings, Glamour pointed out, are by jewelry designer Erika Peña as part of her Obama Collection, which includes the baubles in both silver and gold.
The best part? The gold pair Bey wore are only $32, which probably makes them the cheapest jewelry item she owns.
Although she kept the rest of her outfit apolitical (just a low-key sweatshirt and leather leggings), she could have worn head-to-toe Obama gear. She and her mother, Tina Knowles, designed several items for Obama's Runway To Win campaign including a t-shirt for grown-ups and onesies for babies.
Also, these earrings are a possibility.