Women PR1W1 Single Sculls: Asiya drops out of medal bracket, focus turns to ranking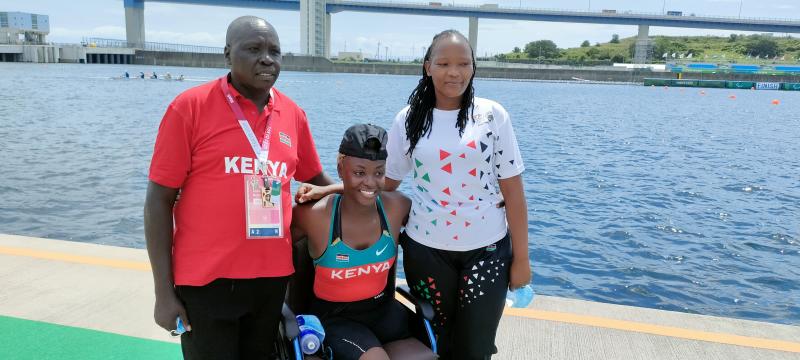 Asiya Mohamed improved her time remarkably even as she fell off the medal bracket in the PR1 Women's Single Sculls in rowing at the Sea Forest Waterway as she shaved off 31.24 seconds from her previous mark.
The 29-year-old double amputee will return for a final heave-ho Sunday in the chase for ranking as the top dogs gear up for medal showdown.
Racing in Heat two of the repechage on Saturday, Asiya held her nerve to coast home in 13:14.26 a time her coach Joshua Kandagor said was a step in the right direction.
"This far we have come is encouraging. Asiya is up against athletes with many years of experience. What she has managed here in Japan is remarkable and says a lot about her competitive character and attitude," Kandagor said after Saturday showdown.
Gold medal favourite Moran Samwel of Israel won the Saturday repechage in 10:33.34 followed by Germany's Sylvia Pille-Steppart in 10:49.78 both of whom will contest in the Final A for medals.
Sejeong Kim (11:04.59) of South Korea and Liudmila Vauchok (12:20.24) of Belarus finished third and fourth.
In the final B clash on Sunday, Asiya holds the slowest time of the six in the ranking showdown.
"My target is not to be the last in this tough sport," Asiya said Wednesday as prepared for the Paralympics Games.