Okutoyi one win away from Australian Open quarter-finals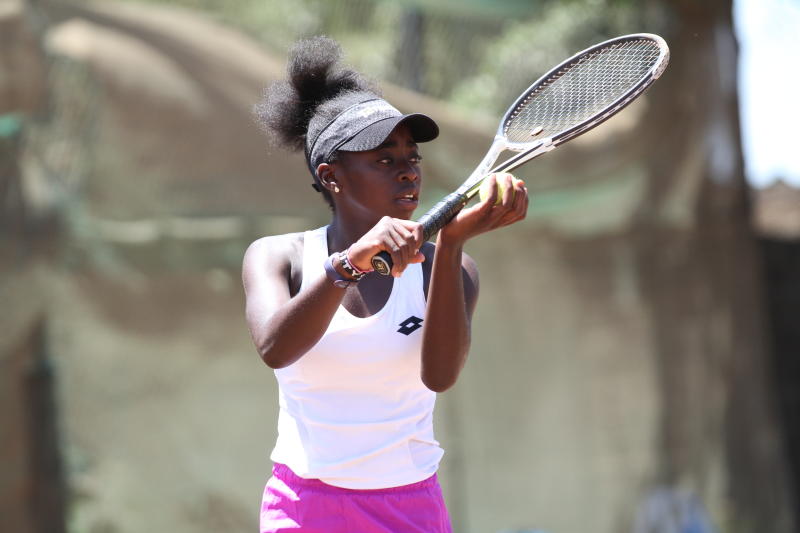 Kenya tennis sensation Angela Okutoyi registered her second victory at the Australian Open Junior Championship at Melbourne Park yesterday.
The two-time African champion qualified for the third round of the competition after beating local player Zara Larke 7-6 (7), 5-7, 6-1 in the second round.
Okutoyi saw off the Australian in under 2 hours and 18 minutes and in the process became the first Kenyan to go past the second round at a Grand Slam tournament.
The game could have gone either way after the two opening sets but Okutoyi showed resilience to convert her chances in the third set and consequently seal the victory.
In a tough three-set battle, the Kenya Open champion kept her nerve to progress amidst jubilant scenes.
Larke pushed Okutoyi hard in the opening set with the two trading point by point. On three occasions, Okutoyi broke her opponent's serve but Larke kept fighting back before Okutoyi wrapped up the opening set.
The second set followed a similar pattern with each player holding serve and fighting hard for every point before going into a tie-breaker where Larke won seven consecutive points to win the set and level the match.
Okutoyi came out firing in the third set, jumping to an unassailable 3-0 lead. Larke had no answer for the hard-hitting Okutoyi, who punished the Australian to progress.
Motivation
"I am happy to represent my country and everyone back home. It gives me motivation and I believe it gives Kenyan kids motivation to believe they can also do it," said Okutoyi after the match."
"Thanks to all my supporters back home. It really means a lot to me and motivates me even further as we continue to push through head of the third round."
Okutoyi, who is ranked 60 in the International Tennis Federation (ITF) Junior Rankings will now face Lola Radivojevic of Serbia in the third round today.
A win over the Serbian will see Okutoyi play against either Petra Macinko from Croatia or Denislava Glushkova of Bulgaria in the quarterfinals.
Okutoyi defeated Italian Federica Urgesi 6-4, 6-7(5), 6-3 on Sunday in the first round to become the first girl from Kenya to win a Grand Slam juniors match.
Okutoyi is the second Kenyan girl to play a Junior Grand Slam after Susan Wakhungu who featured at Wimbledon in 1978.