MMUST ready for glory dance as Kenya Cup action kicks off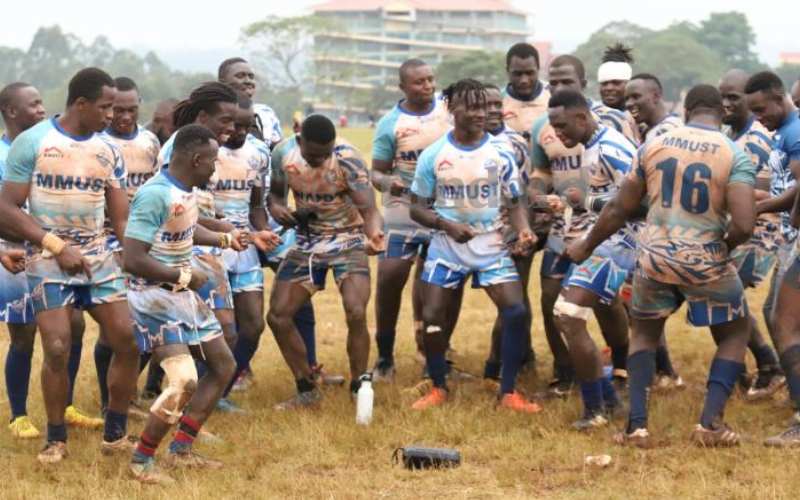 Masinde Muliro University of Science and Technology (MMUST) RFC are looking forward to a fruitful season as the 2021-22 Kenya Cup season kicks off today with six matches across the country.
MMUST assistant coach John Asila said their goal is to reach the playoffs in their second stint in the top tier league as they begin their season with a tie against Nondies at MMUST Grounds in Kakamega.
Speaking to the Standard Sports, a confident Asila pointed out that they have a strong team that is willing to grind out results.
"Last season we were rookies who lacked top flight experience. You could not compare MMUST with Nakuru, Kabras, KCB or Quins. However, that is about to change this year as we go into the new season a much changed side with greater ambitions," said Asila.
"Our goal this year is to get to the playoffs. We know it won't be an easy ride but we believe in our structures and players. To be able to produce one of our own, Timothy Mmasi to play for the Kenya Sevens shows we have talent and we are ready to dance."
MMUST finished sixth last season with four wins, a draw and five defeats and they will be aiming to finish in the top four as once again the season will be played on a one off, round robin basis with the top four teams qualifying for the semi-final playoffs.
It is with these ambitions that MMUST has beefed up their team with over six young players including Caleb Owino, David Bunduki, Kelly Akengo, Byron Odongo, John Biden and Ngaira Renhard among others.
"We believe in youth and that is why we are investing more on young blood. The young players have energy and speed that we will need knowing very well to be successful in the Kenya Cup you need more than physical and contact plays," the coach said.
At the same time the Kenya Rugby Union has announced that no team will be allowed to field players who are fully vaccinated against Covid-19 and Asila said MMUST are fully vaccinated and ready to go.
KRU warning comes days after the government directive that Kenyans must show proof of Covid-19 vaccination by December 21 to access public services.
Still in Kakamega, last year's runners up Kabras Sugar will be at home to Kenyatta University's Blak Blad at the Moi Showground.
The sugar men confirmed three new additions to the squad including Steve Sakari Sikuta from Mwamba and utility back Vuyo Mbotho from South Africa.
In the management department, Kabras have also roped in Carlos Katywa from South Africa in the forwards coaching role.
Strathmore Leos will get the new season underway when they host Nakuru in the day's early kick off at the RFUEA Ground.
This match will pave the way for the Ngong Road derby when hosts Kenya Harlequin and Impala Saracens face off at the same grounds.
Menengai Oilers welcome Mwamba to the Moi Showground, Nakuru while defending champions KCB host Homeboyz at the KCB Sports Club in Ruaraka, Nairobi.
This year's league season will also incorporate women's action.
There will be three fixtures this weekend starting with the early kick off between Mwamba and Nakuru at the RFUEA. Ruckit and Yamananshi Impala will duel at the Impala Club with Homeboyz and Northern Suburbs facing off in Ruaraka.