It's try time as star Ouma recalled ahead of USA leg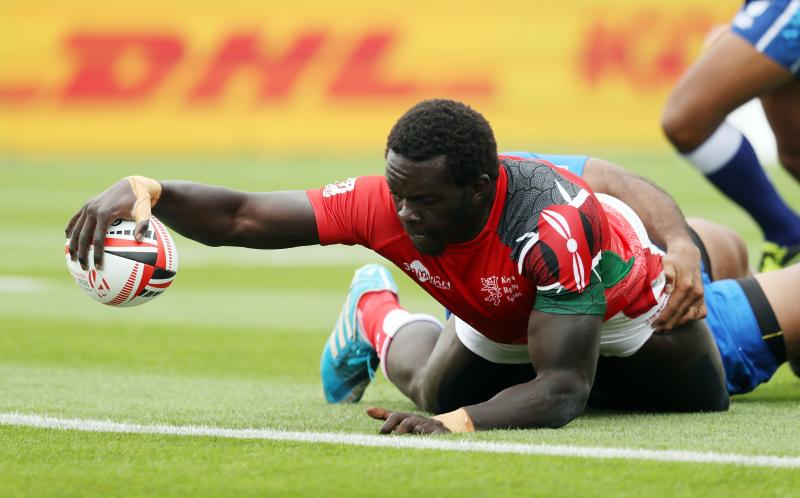 Oscar Ouma is ready to help Kenya Sevens discover its lost glory after he was recalled to the squad for next weekend's Los Angeles Sevens in the USA.
The Los Angeles showpiece, the fifth leg of the 2019-20 World Sevens Series, will be played the Dignity Health Sports Park after which teams will head to Vancouver in Canada one week later.
Ouma, who is a former Shujaa captain, makes a return to the team for the first time since the 2017-18 season just like his Impala Saracens counterpart, Samuel Oliech.
"It feels good to be back in the setup and getting another chance to represent the country. Going forward, it's all about doing justice to Jersey and respecting it," said Ouma.
"Our performance can always improve. The team is in a good place with both the experienced and upcoming players blending well. It's just about taking it a notch higher and firing on all cylinders," he said.
Other changes made by head coach Paul Feeney have seen vice-captain Jacob Ojee, Daniel Sikuta and Oscar Dennis return with the quintet of Bush Mwale, Johnstone Olindi, Nelson Oyoo, Geoffrey Okwach, and Herman Humwa paving the way.
Feeney said the postponement of the Hong Kong and Singapore Sevens could affect their preparation in the run-up to the Olympics and they are keen on looking for alternatives.
The Hong Kong and Singapore events, which were initially scheduled for April, were moved to October over the coronavirus.
"We can't just stay here for 12 weeks without playing at a high level and that's why we are exploring options to have the team go to camp and maybe play other sides which are involved in the circuit," he said.
Feeney explained that the five changes made to the team are meant to bring competition for spots while also giving more players game-time.
"Sammy (Oliech) would have been with us from the beginning but he was carrying an injury he sustained previously, " he said.
Jeffrey Oluoch, who has prominently featured at centre, will be deployed on the wing in Los Angeles and Vancouver with Feeney saying the Homeboyz man is more productive on the wing.
"We have had good preparation. We focused on the defence where we put in a lot of work during the last two weeks and I feel we are almost where we want to be," added Feeney.
The New Zealander said they have also spent the time to improve on their kickoffs, positioning as well as execution.
At the Los Angeles Sevens, Shujaa have been drawn in pool B alongside three-time Series winners South Africa, Ireland and Canada.
Kenya is currently 11th on the 2019-20 World Sevens Series standings after collecting 26 points in four tournaments.