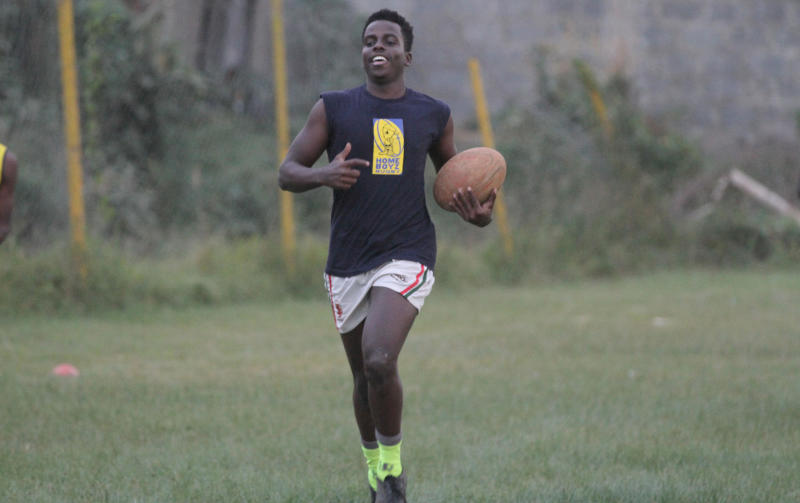 Whenever the achievements of the national rugby Sevens team are mentioned, the name Benjamin Ayimba will likely pop up.
Ayimba, a former Kenya Sevens captain, is credited with coaching Shujaa to their maiden World Sevens Series title in Singapore in 2016 and his eldest son Brian Ayimba has also taken up the sport.
While he admits that his father's exploits as a player and coach influenced his choice of rugby, Brian, who is currently on the books of two-time national Sevens circuit champions Homeboyz RFC, recalls his mother's divergent opinion regarding his decision.
"My mum actually wanted me to opt for ballet but there is no way that could happen. Rugby is the only sport I grew up knowing and I had no other option," the 20-year-old says as he settles for our interview after an evening training session at the Ligi Ndogo grounds.
"Although I was very young, I managed to watch my father play and closely followed his progress after he transitioned to coaching. Most of his friends are from the rugby circles and the allure of the game proved too strong to resist," the junior Ayimba says with a wide smile.
The first child in a family of four sons, who made his national Sevens Circuit debut at the 2018 Sepetuka Sevens, is in his second year at the Catholic University of Eastern Africa where he is pursuing a Bachelor's Degree in Actuarial Science.
He can be deployed at fly-half, centre, scrum-half and full-back. Having been introduced to the odd-shaped ball as a 13-year-old, the Maseno School alumnus feels he should have started earlier.
"It was quite late because at that age I was almost through with primary school. The national under-15 team was touring France and that's when I started training but I didn't make the final squad," says the utility back who featured for Maseno at three successive national school games between 2015 and 2017.
Because of his relationship with the trainer who coached Kenya to the semi-finals of the 2009 Sevens World Cup, Brian acknowledges that he is often faced with pressure to deliver whenever he is representing the Deejays, as Homeboyz RFC is fondly known.
"High expectations from fans is something you can never run away from but I have learnt to handle that over time. As a player, you should not allow people's comments whether positive or negative to get into your head because they can ultimately ruin your performance," he offers.
Brian, who idolises New Zealand great Dan Carter, says his father's hard hits and swift runs during his playing days encourage him. In addition, he is also drawing inspiration from his coaching skills.
"He is a man of his word and if he says something has to happen then he will ensure it happens. His decision making, the choice of line ups and his tactical approach are some of the things that make him stand out.
He is also a disciplinarian who ensures that everyone does the right thing," says Brian, who is an ardent supporter of Super Rugby outfit Crusaders and English Premier League side Manchester United.