Dala Sevens action: Mwamba coach Oduk not ready to lose
By BS Mulavi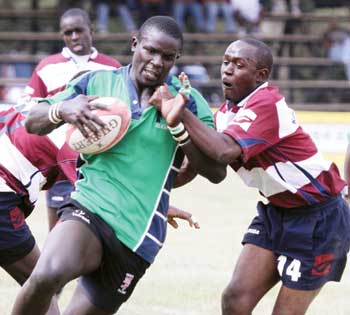 Dala Sevens tourney in Kisumu. [PHOTO:STANDARD]
"There will be no repeating of same mistakes we did at the Christie Sevens," these are the words of Mwamba coach Tito Oduk ahead of Saturday's clash in the Dala Sevens Rugby tournament in Kisumu.
National Sevens circuit defending champions Mwamba RFC lost to Kenya Harlequin last weekend in a pulsating final of the Christie Sevens. But the club is not taking the flak on a chin but looking at it as experience gained as they seek to steady their crumbling empire after the false start. Oduk is certain they have learnt their lesson as they seek to power on through the remaining four legs of the circuit.
"I wouldn't say that our loss showed that we are fading away," said Oduk, "This is sports and you win some and lose some.
"We were a bit experimental in that first leg by fielding young players and trying new styles of play, of course that meant we were prone to errors and blunders, but I am doubtful that we can repeat them again.
"I believe we have learnt from that experience and credit to Quins, they played very well in that tournament."
Quins also used the tournament to test out some of their new signings.
"The addition of players like Nato Simiyu and Felix Ayange really bolstered Quins squad and gave them the depth to be really consistent throughout the tournament," he said.
Hunting ground
Oduk said Kisumu has always been a good hunting ground for the Black shirts and this year is no exception given the level of competition the circuit leaders Quins have started with.
Meanwhile, the second edition of the B Quiniz Touch Challenge takes place on Saturday at the RFUEA Grounds. Organised by the B Quiniz Touch Rugby team, the tournament seeks to raise funds for various charitable causes as well as raise awareness about touch rugby, a non-contact, interactive and fun game derived from traditional rugby.
The first challenge, with the support of over 20 leading corporate sponsors, raised funds for the Angel Centre for Abandoned Children and Dream sponsors, two organizations that provide support to underprivileged children.
The upcoming rally, shall be supporting three causes: Therapies for Kids, Inc., an organization that provides support for children suffering from Cerebral Palsy; Seeds for Hope, an organization that provides health and social programs to children in need; and lastly, the young players from the Kenya Harlequins team.