Standard County Golf: Kamais, Muraya out to reclaim past glory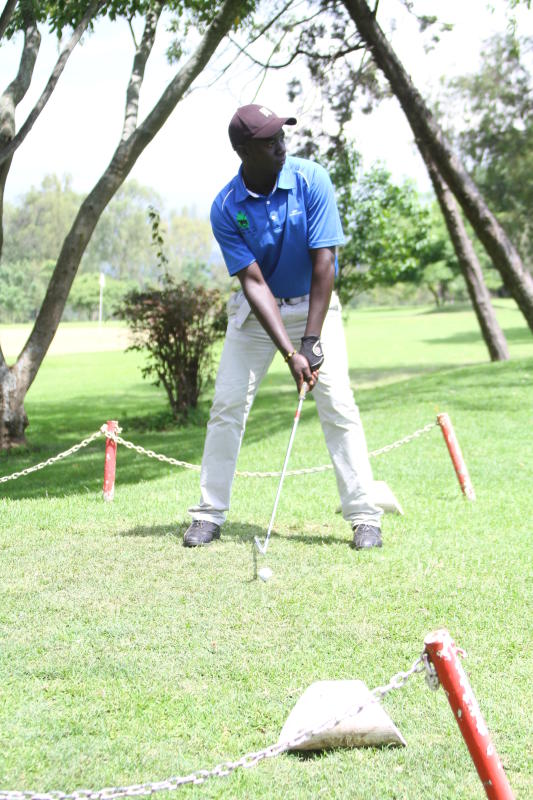 The opening leg of the 2022 Standard County Golf Classic series will tee-off at the scenic par 73 Nakuru Golf Club at 6:45am today .
The championships has attracted former winners who have warned the over 100 contestants to brace for a tough battle on the course as they are out to reclaim past glory.
The 2018 Nakuru circuit champions John Kamais and junior winner, Kenneth Muraya, spend a better part of yesterday aligning their shots on the range and perfecting their putts on the greens ahead of today's showpiece.
"I'm back, I'm fit, I'm here to reclaim the title. I'm going for nothing but victory. My target is to fire 45 stableford points to carry the day," Kamais told Standard Sports.
The 30-year old father of one carded 43 points to emerge the region champion four years ago.
"It was a good day in the office, I also won the Nearest to the Pin Men, the Longest Drive Men and the Two Club awards that night."
The top club amateur has maintained his envied handicap 2 status to date.
Ahead of this weekend's contest, Kamais has been combing the Nakuru Golf Club fairways from the start of this week.
"I did range work on Monday by hitting over 200 balls. On Tuesday I played 18 holes to test my endurance," said Kamais.
"On Wednesday, I combined 18 holes with the range while on Thursday I warmed down with a nine hole game."
Despite his flawless game, Kamais is quick to admit he always has nightmares in holes 8 and 17.
"I find myself hitting the ball right off the fairways to the roughs and to the challenging trees in hole 8. So, I'm going to use either a three iron or a three wood to mitigate this problem," he said.
"I'm going to play very safe shots in the 17th where I do fire the ball left, off the green, to the bunker."
Kamais is coached and mentored by former Kenya top amateur James Lorum who is currently the club pro.
Handicap 12 Muraya believes he has grown in the game since his feat as a junior, at 16, four years ago.
"I have been training hard for the last three weeks. Been hitting the range for one and a half an hour daily from Monday to Friday," the second year Daystar University student stated.
"My form has improved, I'm in great shape. I feel like I'm going to be crowned the ultimate winner of this event."
The series, which is a golf-inspired initiative that is powered by Standard Media Group PLC, is themed 'On the Green Course, for the Green Cause'.
It reflects the Standard Group's commitment to promoting business connections, while championing action on environmental conservation to tackle climate change.
Related Topics