It's race against time for FKF Transition Committee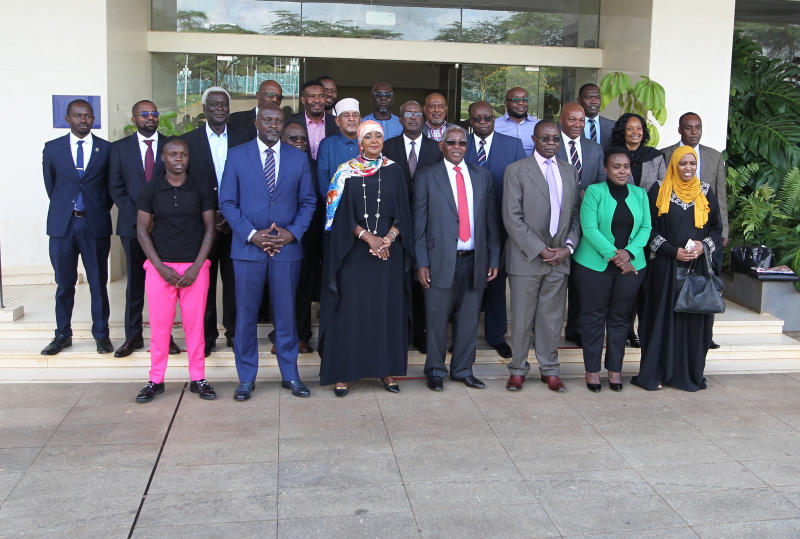 The newly-appointed Transition Committee have a mountain to climb as they strive to validate Football Kenya Federation's (FKF) draft constitution and organise elections.
Yesterday, Sports Cabinet Secretary Amina Mohamed appointed a 12-member committee to run football for five weeks –replacing the Caretaker Committee, whose six months term ended on Wednesday.
The members of the Transition Committee, which is largely made up of the members from the outgoing Caretaker Committee, are Aaron Ringera (Chairperson), Maurice Oyugi (Vice-Chairperson), Ali Amour, Bobby Ogolla, Neddy Atieno, Ceasar Handa, Hassan Haji, J. J. Masiga (Dr.), Michael Muchemi, Rachael Kamweru, Mwangi Muthee and
Anthony Isayi.
Lindah Oguttu will continue service as the head of the secretariat while Lorine Nerea will be the secretary alongside Edward Rombo.
Other members of the secretariat are Robin Toskin, Maxwell Wasike and veteran coach Rashid Shedu. Elisha Chepchieng, Richard Omwela and Titus Kasuve were not retained in the Transition Committee. Habo Mwachiro, Gabriel Warigi, Walter Ongeti and Khamisi were also not included in the secretariat.
The mandate of the Transition Committee shall be to: "Conduct the affairs of Football Kenya Federation in accordance with the Constitution of Football Kenya Federation.
"The committee is also tasked with ensuring that Football Kenya Federation operates within the provisions of the Sports Act, 2013. Co-ordinate and ensure the smooth running of Football Kenya Federation operations including team preparations for local and international sporting events. Co-ordinate and facilitate the validation of the draft
Constitution of Football Kenya Federation."
The Transition Committee shall hold office for period of five weeks with effect from May 11. Titus Kasuve and Richard Omwela, who were in the Caretaker Committee, were excluded in the newly-formed Transition Committee.
There was a lot of excitement and hope when the Football Kenya Federation Caretaker Committee was appointed after the disbandment of the Nick Mwendwa-led federation in November last year.
On Wednesday, Amina received a report and FKF from the Justice (Rtd) Aaron Ringera-led Committee at Kasarani Stadium promising to make a major announcement in regards to Kenyan football including the status of next month's away 2023 AFCON qualifiers match between Harambee Stars and Cameroon.
A few hours after receiving the report, the High Court ruled that Amina's disbandment of the Football Kenya Federation was well within her mandate, thus dismissing FKF's petition on the same.
The Caretaker was installed by the CS on November 11 2021 to manage football affairs for a period of six months after she disbanded FKF over allegations of misappropriation of funds.
And while Amina heaped praise on Caretaker for trying to bring sanity back into the game, a section of stakeholders feel the Caretaker has left the game in a worse situation than they found it.
Related Topics