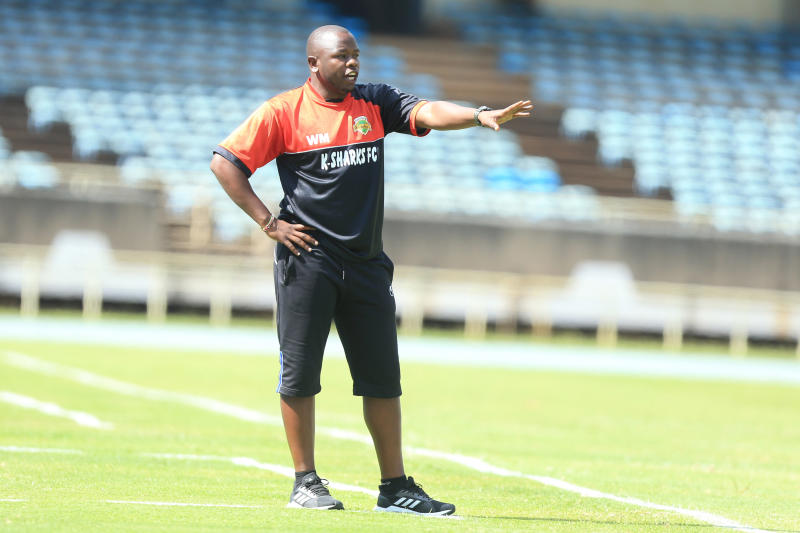 Football Kenya Federation (FKF) Division One side Naivas FC beat Kariobangi Sharks 3-0 to knock them out of Betway Cup at Camp Toyoyo yesterday.
Naivas FC forward John Kelweshi grabbed a first half brace in the 15th and 28th minute to lead 2-0 at the break before David Ormond sealed the win with a 71st minute goal.
SEE ALSO: Sholei: We must protect freedom of the Sports Dispute Tribunal
Speaking after the match, Sharks coach William Muluya said he was pleased with the second tier side that played despite their loss.
"It was a good match in general as we tested our young players. They are showing progress and growth and in the next few months we will see some of them in the main team," he said.
SEE ALSO: Nyamweya: Mwendwa has no capacity of terminating FKF/KPL contract
Naivas will now face record Kenya Premier League champions Gor Mahia in the round of 16 next month as they seek to make the quarterfinals for the first time.
Fourteen more teams are yet to play today where Equity Bank will face Balaji EPZ, MMUST play host to Keroka Technical FC and Congo Boys FC hosting Tandaza FC at Serani Grounds.
SEE ALSO: FKF denounces SDT's consultative forum, waits for FIFA direction
In the second match, Kevin Ndungu and Maira Oele were on target as KSG OGOPA defeated Re Union 2-0 to qualify for the next round.
Meanwhile, Liverpool manager Jurgen Klopp says moving the Africa Cup of Nations back to January "is, for us, a catastrophe."
The 2021 tournament has been moved from the summer because of "unfavourable" weather in host country Cameroon.
And the Reds face losing Senegal forward Sadio Mane, Egypt winger Mohamed Salah and Guinea midfielder Naby Keita for a month in mid-season.
"If we have to make a decision about bringing in a player, it is a massive one," said the Anfield boss.
"You know for four weeks you don't have them. As a club you have to think about this. It doesn't help African players."