The Hit Squad ready to rumble in the Africa Zone Three Championships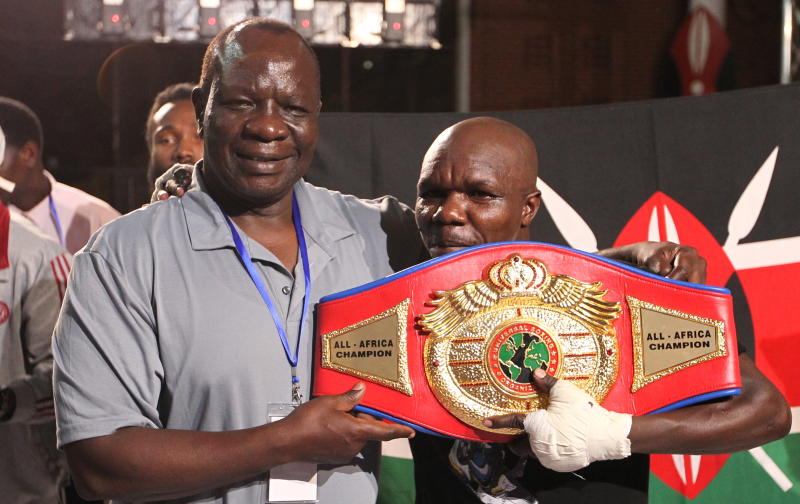 With only three weeks to the Africa Zone Three Boxing Championships, the National Boxing Team is ready to improve on their performance compared to their last outing.
The tournament will be held in Kinshasa, the Democratic Republic of Congo from April 3-11 and not in Dar Es Salaam, Tanzania as was earlier planned.
The decision to have Kinshasa host it for the second time in less than 18 months was arrived at the Africa Zone Three headquarters in Younde, Cameroon after Tanzania failed to offer a firm confirmation of their hosting rights.
Head coach Musa Benjamin said by achieving that feat, it'll give them morale and confidence required for effective performance at the Africa Boxing Championships in Tunisia, World Women Boxing Championships in Turkey and in the Commonwealth Games in England.
"We need to ensure our performance this time is better than last time. It'll help us to gauge our strengths and weaknesses ahead of the other international assignments," Benjamin told Standard Sports.
In their last outing hosted in Kinshasa, Democratic Republic of Congo last year, the team scooped 13 medals in one gold, five silver and seven bronze medals.
The gold medal was won by Olympian Elly Ajowi of Kenya Police Boxing Club.
A total of 13 countries have confirmed participation in the showpiece.
They are hosts Democratic Republic of Congo, Kenya, Tanzania, Uganda, Rwanda, Burundi, Libya, Congo Brazzaville and Cameroon.
After the Kinshasa Championships, Kenya hopes to send three teams for Africa Boxing Championships in Tunisia in April, World Women Boxing Championships in Istanbul, Turkey in May and Commonwealth Games in Birmingham, England in July.
Benjamin said the final squad will be picked on merit since their aim is to reach the medal bracket in the weeklong showpiece.
A provisional squad of 27 boxers are training at Kenya Police Depot in Nairobi under the supervision of three experienced coaches led by Benjamin with the assistance of deputy coach David Munuhe and assistant coach John Waweru for the showpiece.
THE FULL SQUAD.
Minimumweight(48kg);-Martin Maina (Kenya Police).
Female (45-48kg);- Christine Ongare (Kenya Police).
Flyweight (51kg);-David Karanja (Kenya Police).
Female (49kg);-Ann Wanjiru (Kongowea of Mombasa).
Bantamweight(54kg);-Shaffi Bakari (Kenya Police).
Female;-Alice Weiyego(Nairobi) and Martha Amina (Kibera).
Featherweight(57kg);-Isaac Meja and Samuel Njau (Kenya Defence Forces(KDF)) and Martin Oduor (Kenya Police).
Female;-Beatrice Akoth (Box Girls Nairobi).
Lightweight(60kg);-Nick Okoth (KDF).
Female;-Teresia Wanjiru (Kenya Prisons) and Stacy Ayoma (Nairobi Box-Girls).
Light welterweight (63.4kg);-Victor Odhiambo (KDF) and Anthony Maina(Kenya Prisons).
Welterweight(67kg);-Joseph Shigali (Kenya Police).
Female;- Everlyne Akinyi (Kisumu).
Light middleweight(71kg);-Boniface Mogunde(Kenya Police) and Stephen Olang'(St Theresa's Undugu Boxing Club).
Female;-Lorna Kusa (St John's Nairobi).
Middleweight(75kg);-Edwin Okong'o(KDF).
Female;-Elizabeth Akinyi (Kentrack).
Light heavyweight(81kg);-James Denga(Kentrack).
Heavyweight(92kg);-Joshua Wasike(Kenya Police).
Female;- Elizabeth Andiego (Nairobi County).
Super heavyweight(Over 92kg);- Elly Ajowi(Kenya Police).
Related Topics