Nick Okoth becomes first African boxer to win in Russia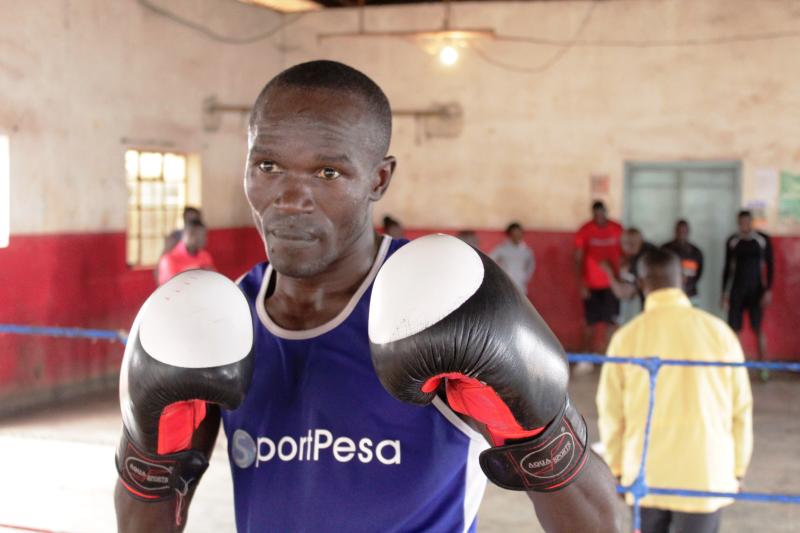 The 2015 Africa Boxing Championships lightweight (60kg) gold medalist Nick 'Commander' Okoth became the first African boxer to win his bout in the ongoing Konstantin Korotkov Memorial International Boxing Championships at Lenina Regional Sports Complex - Stadium in the city of Khabarovsk, Russia.
Okoth, who plied in the featherweight (57kg), beat Kishko Sergei of Ukraine on unanimous points' decision to cruise into the semi-finals on the fourth day (Thursday) of the tournament.
All the five Russian judges in Radnaev Baryato, Rymyacencev Semen, Liskyn Andrey, Moiseev Oleg, Shevchenko Aleksey and Shalimov Uriy gave Okoth a thumbs up on a 5-0 win of 29-28, 30-27, 30-27, 30-27 and 30-27 respectively.
"It was a good but difficult match, which I easily won. My opponent was good and applied too much force but I defended myself well following instructions from my coaches who kept shouting them at the touchline," Okoth told The Standard Sports in a post-match interview.
It was a sweet victory for the experienced Okoth, who strolled to victory in all three rounds of the epic match against the Russian.
Okoth takes on Ovik Oganisyan of Russia in semi-finals this afternoon.
And the victory was a big relief to the technical bench led by Musa Benjamin with the assistance of David Munuhe and John Waweru following a double loss for female boxers in the opening matches.
"It was a tough match for Okoth but he came out victorious because he followed our touchline instructions. Fights will be tough but we are ready for any eventuality. The win was good for the team," said Benjamin.
The female players who lost in the opening matches were Commonwealth Games flyweight bronze medalist Christine Ongare and national welterweight champion Elizabeth Akinyi.
Ongare was beaten on unanimous points' decision by Diana Gorishnaya of Estonia while Akinyi lost to Maria Moronto of Dominican Republic also on points.
Benjamin said their prime objective in Russia was to give the four players exposure against refined opponents ahead of the 2020 Tokyo Olympics.
"This tournament came at the right time to prepare players for the big games after a long lay-off due to Coronavirus pandemic. It is giving us exposure on possibilities of meeting the same opponents in preliminary matches at the Olympics," Benjamin told The Standard Sports.
Ongare blamed her defeat on temper after she was severally held and pushed by her opponent without the intervention of the referee.
"My opponent kept on holding on me as she pushed me around, which made me lose temper and control of the game against Gorishnaya without intervention of the referee who instead penalized me," Ongare told The Standard Sports from Russia.
However, she said the standards in Europe were far ahead of Africa as it gave her the experience required to take part in the Olympics.
On her part, Akinyi was not aggressive against Moronto (Maria) in the first two rounds only to recover in the third one but by then it was too late to catch up with her opponent.
Benjamin said a cut sustained by Akinyi in her mouth also contributed to her defeat as she kept on backpedalling in the last two rounds.
"It was too late for her to beat her in the third round with the cut," said Benjamin.
Out of the four boxers, it is only two-time Olympian and Africa Zone Three super heavyweight champion Elly Ajowi who is yet to take the ring.