Winners of inaugural Nairobi City Marathon set to earn Sh6m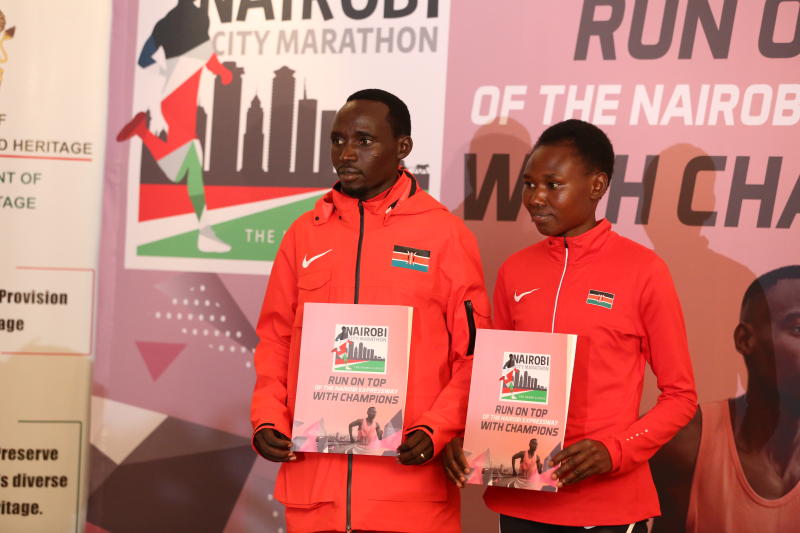 The inaugural Nairobi City Marathon slated for May 8 is set to offer the largest purse in Africa with the winner going home with Sh6 million, the organisers announced yesterday.
Speaking during the launch Sports Cabinet Secretary Amina Mohamed, said the prize money was set in an attempt to rival other major global marathons.
Amina elaborated on the government commitment to support various sporting events in the country and promised the marathon dubbed Uhuru Classic will be an annual event.
"We have always watched our athletes win some of the world's major city marathons but it's now time we watched it happen here in Nairobi.
"It has always been our dream to host a major marathon and this is an opportunity for the country to have its first ever city marathon," Amina said.
She said the prize purse will strive to match those at major marathons like the London Marathon, Berlin Marathon, Chicago Marathon and Boston Marathon among others.
Some of the big city marathons like the Boston Marathon which was held this month saw winners winning up to Sh17 million apart from appearance fee which sometimes is much higher than the prize money depending on the calibre of the athlete.
The marathon will feature 42km, 21km, 10km and 5km races and will see each winner bag Sh6m for full marathon, Sh250,000 for half marathon while 10km winner will earn Sh150,000.
"We are delighted to have the honour to carry the message of infrastructure development legacy by the government through the Nairobi city marathon," Jackson Tuwei, Athletics Kenya president said during the launch yesterday.
Tuwei added: "Nairobi City marathon will be a unique event run on the newly built expressway. The course has been certified to international standards, in an event a record is broken, World Athletics will certify the record."
Registration for the event is ongoing online with over 800 athletes confirming participation.
Marathoners Lawrence Cherono and Ruth Chepngetich, who attended the launch, called on elite runners to register for the event to be able to win the huge prize money on offer.
The inaugural marathon will take place just a day after the Continental Tour Gold event the KipKeino Classic at Kasarani Stadium.
The Standard Chartered Bank Nairobi Marathon is the other event that is staged in Nairobi where the men and women's winners' pocket Sh1.5m each.
Related Topics