Jelagat and Mwendwa win Avena Kitui half marathon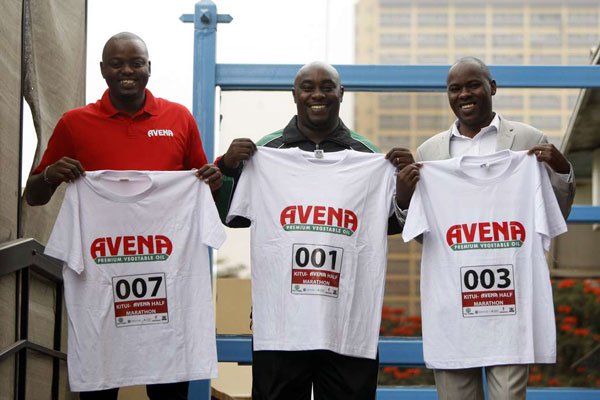 Eldoret's Nancy Jelagat and Stephen Mwendwa of Machakos are the winners of Avena Kitui Half Marathon held on Friday in Kitui
Jelagat clocked 70:48.8 to win the women's 21km ahead of Eldoret counterpart Vane Nyamboke, who posted 73:05.4 for second place and Agnes Mumbua of Machakos, who returned 74:06.2. Mwingi's Pauline Mutwa (74:35.7), Shelmith Muriuki (75:10.9) of Machakos and Eldoret's Vivian Chepkirui (75:25.9) closed the top six places.
Mwendwa ran away with the men's title in 61:19.0 with Ronald Kirui of Kiringet placing second in 61:28.8. Bernard Musau of Machaokos completed the podium in 61:31.3. Eldoret's Japheth Kosgei (61:50.6), Edwin Kimutai (6156.5) and Jackson Kavesa (62:03.7) of Eldoret followed.
Janet Nyiva won the women's 8km in 29:29.0 with Rachal Syunzi (29:41.0) and Pauline Mbithe (29:50.8) completing the top three places.
Pius Mwangangi emerged best in 25:57.1, beating Martin Mumo (26:08.0) and Nyamai Mailu (26:10.9) to the podium.
In the girls' 6km race, Jedidah Kambua clocked 24:25.1 to win the event. Sikuku David (25:04.5) and Katuku David (25:14.8) were second and thrid.
To get the latest soccer news, text 'SPORTS' to 22840.
Ndunda Kithikii ruled the boys' 6km in 22:46.0 with Mwanthi Muthama (22:46.3) and Mola Kimani (23:43.9), placing second and third respectively.
The event patron Enock Wambua expressed delight over the way the event was run.
"I am grateful to God, to sponsors and participating athletes that the inaugural Kitui-Avena Half Marathon was a resounding success," he said.
He described the event as a perfect stage for tapping abundant athletic talent in Kitui and the entire lower Eastern region.
He promised to make the race an annual event.
Apart from Avena, other sponsors are; Golden Africa, Communications Authority, Sports Kenya, Mulleys Supermarket - Kitui Branch, Naivas Supermarket - Kitui Branch, Sinohydro Construction Company and Parkside Hotel – Kitui.
For More of This and Other Sports Stories Subscribe to the Standard Epaper
LATEST STORIES