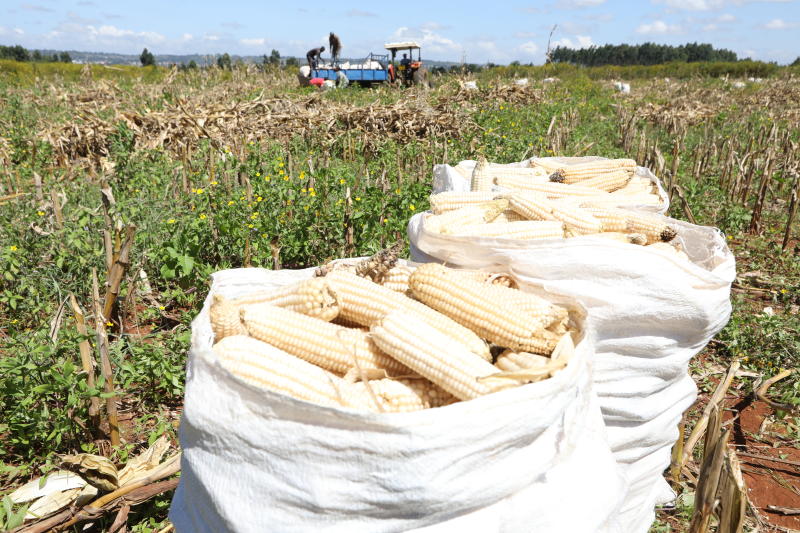 The anti-graft agency has been accused of dragging its feet in investigating the cereals body over claims that traders pocketed billions of shillings at the expense of farmers.
The claims were made yesterday during a meeting convened by maize producers in the North Rift to deliberate on the way forward over delayed payments.
Last month the Ethics and Anti-Corruption Commission (EACC) suspended payments to farmers until investigations into the matter were completed.
In a letter to Agriculture Cabinet Secretary Mwangi Kiunjuri, EACC said its North Rift regional office was investigating allegations of irregular supplies by traders and payment by the National Cereals and Produce Board (NCPB).
"Investigations have disclosed that during the 2017/18 season, NCPB committed over Sh11 billion in Strategic Food Reserve (SFR) maize purchases out of which over Sh7 billion has been disbursed to NCPB, leaving an outstanding balance of Sh4 billion," read the letter.
It continued: "Pending payments should be suspended until investigations are completed to cushion the Government from any possible losses."
False hopes
But farmers and local leaders said the EACC was giving them false hopes.
Christopher Kiptum, a farmer in Uasin Gishu, said banks were demanding loan repayments and accrued interest and penalties.
Kimutai Kolum, another farmer, said several pledges by the State to clear the dues had not been honoured. "The Government had promised it would release Sh1 billion. Recently, Treasury CS Henry Rotich promised release of Sh1.4 billion, but farmers are still waiting."
A parliamentary investigation lifted the lid on the scandalous payments that largely benefited well-connected businessmen and politicians.
The scandal led to the resignation of NCPB boss Newton Terer and the suspension of key regional directors.
Moiben MP Silas Tiren, who is also a member of the parliamentary committee on agriculture, said genuine farmers should be paid even as the EACC gets to the bottom of the matter.
The lawmaker said he wondered why investigations were taking long yet Mr Kiunjuri had promised the committee that he would give a report within 21 days.
"It is now over a month and nothing has moved. We expected action even after Terer resigned," said Mr Tiren.
Nandi Hills MP Alfred Keter and his Cherangany counterpart, Joshua Kutuny, said they would petition Parliament this week to push for the payments.
"Farmers are really suffering and they not only want to get their pay but also a comprehensive report on the maize issue. I think it is now critical that EACC gives us the real names of the looters of NCPB. It is immoral to subject farmers to such a traumatic experience yet they are the only solution to the country's food security," said Mr Keter.
A source at EACC was, however, guarded on the status of the investigation. "Farmers should be patient as we have taken up the matter. They should be grateful that we are conducting investigations."
Bumper harvest
Soy MP Caleb Kositany said a bumper harvest was anticipated this year, with Uasin Gishu expected to produce an estimated six million bags of maize. Mr Kositany added that the Government needed to clear outstanding debts and allocate additional funds to buy the maize after harvest.
The farmers also noted that they still had more than 500,000 bags of maize in individual stores, which risked going to waste after the cereals board suspended further purchase of the grain for the SFR.
NCPB Corporate Affairs Manager Titus Maiyo said the board was optimistic that the money would be released soon, adding that farmer's arrears would be cleared "in accordance with instructions from the Government on release".