Kenya Breweries lures youth into farming in keg production drive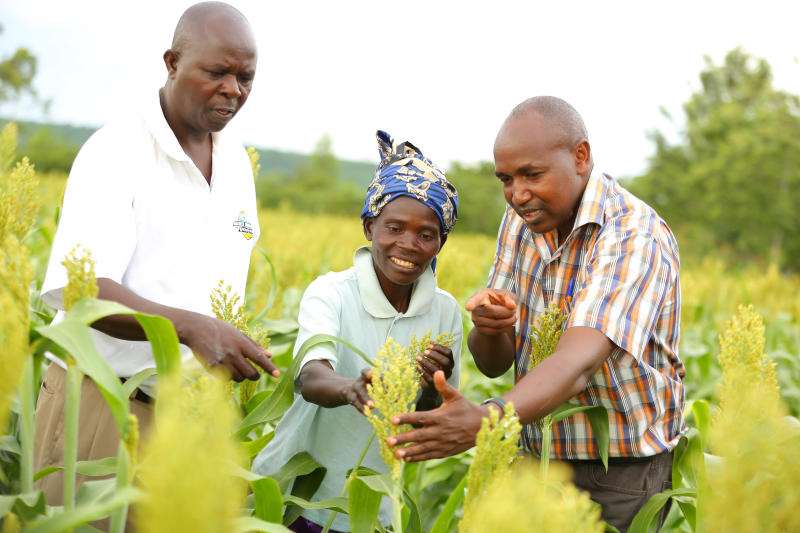 The leading brewer in the country is targeting the youth in a campaign aimed at making sorghum farming an attractive and profitable endeavour.
Kenya Breweries Limited (KBL) is dangling the promises of fast-maturing seeds, free extension services, and steady farm and factory gate prices to lure the young people into farming white sorghum.
White sorghum is used primarily in the manufacture of cheaper, low-end beer, whose production also seeks to lower the consumption of unhealthy illicit brews.
The spirited campaign across western Kenya is also calculated at helping the national and county governments ease unemployment by spurring growth in the informal sector.
The beer maker, which is set to open a Sh15 billion keg brewery in Kisumu next month, is asking youths to cultivate as small as one-acre farms for steady returns.
Extension services
With extension services that include directions on fertiliser use, the firm is assuring farmers of harvesting at least 18 bags per acre after just three months, and payment of Sh32 per kilogramme for the Gadam and Silo sorghum varieties.
Additionally, in collaboration with the Busia, Migori, Homa-Bay, Kisumu and Siaya county governments, KBL will help farmers fight invasive grain-eating birds through seasonal spraying of nests.
KBL Head of Engagement and Sustainability Jean Kiarie said bloc farming and the introduction of seed varieties that are less attractive to the birds were options they were exploring.
Although the firm initially targeted up to 25,000 farmers to supply the sorghum, Ms Kiarie said they were open to embracing as many small-scale farmers as possible.
Entrepreneurship summit
Speaking at an entrepreneurship summit in Busia, she urged the youth to embrace sorghum farming as well as the Senator Keg beer as the region gears up for the launch of Kisumu Brewery next month.
"We are implementing a 'West for West' strategy in our local sourcing of sorghum, which seeks to have the majority of raw materials for Kisumu Brewery sourced from the western and lake regions of the country."
The youth, she said, stood to benefit from the project, which promises 'instant and steady returns on minimum investment'.
"The youth here in Busia County and across the region have been presented with a huge opportunity to join the agribusiness sector through sorghum farming or be part of our distribution channel for Senator Keg," she said.
To fight drought, involve communities
According to the latest information from the Meteorological Department, rainfall will be poorly distributed in April, May and June, and this will have a serious impact on agriculture