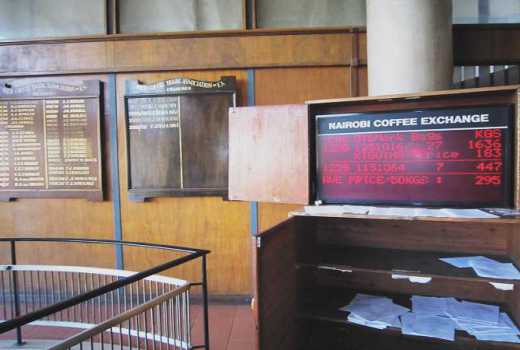 NAIROBI, KENYA: The scale of losses is easily in the tune of billions of shillings as only inferior quality beans that attracts lower prices are available on the open market.
A major racket by the multinational firms that manage farms on behalf of small-scale producers ensures the highest grades bypass the Nairobi Coffee Auction, which is battling claims of insincerity.
Control of the entire value chain, from farm to warehousing and export, has created a loophole, allowing the managing agents to literally cherry-pick beans and decide what goes through the auction.
Nairobi Coffee Exchange (NCE) Chief Executive Daniel Mbithi said he estimated that 15 per cent of coffee beans irregularly leave milling plants to go directly to a foreign buyer – at a price determine by the marketer.
"I think that is the biggest problem, but then you cannot blame the exchange for that," Mr Mbithi said.
Coffee marketers are allowed in law to find foreign buyers directly in an arrangement called direct sales, which bypasses the NCE, where price discovery is through bidding.
However, all such deals are required to be registered with the Government agency responsible for farmer protection and crop development, the Coffee Directorate of the Agriculture and Food Authority.
"It is open to abuse because there is no way of telling, especially where the marketers are also the exporters and own warehouses," Mbithi added.
Subsidiaries of multinationals, including global commodity leaders, are involved in the management of smallholder farms through their respective co-operative societies.
The firms, often through separate companies, have established milling operations that allow them front row access to ready beans.
Millers are required to store the beans at licensed warehouses of their choice, including those owned by related parties owned by global commodity traders.
High grades of coffee beans have earned about Sh600 per kilo ($300 per bag) in recent auctions, less than a quarter of the price paid by the eventual consumers in most world capitals.
Dick Sickmueller, a trader with the biggest player at the exchange, Taylor Winch Ltd, said there was nothing wrong with direct sales.
"We have had direct sales for about 12 years. Nothing new," said Mr Sickmueller who indirectly works for UK's biggest commodity trader, ED&F.
Direct sales were permitted, but under strict regulation, to allow foreign buyers who want coffee beans bearing specific attributes such as aroma and acidity. Such buyers are willing to pay a premium for the harvest. However, farmers have no way of telling this.
There is no way for the authorities to know if a specific harvest was traded through the exchange or directly to foreign buyers, a matter that is further complicated when the local agent has full control of the entire value chain.