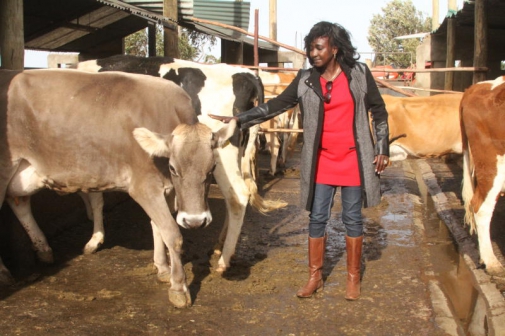 After leaving the high-pressure Judiciary job in 2013, former Chief Registrar Gladys Boss Shollei, has settled into farming.
When she is not busy running other official engagements, you will find her tending to her dairy cows, her new found passion.
Smart Harvest team visited her farm at Plateau in Uasin Gishu County, where she keeps hundreds of pedigree cattle.
Gladys keeps Friesian, Holsteins, Guernsey and Brown Swiss, which are considered superior breeds because of their high milk production and good fat content.
"I enjoy taking care of these animals and and I find great satisfaction in this. This is my new hobby: spending time on the farm. It is very relaxing and rewarding," she opens up the interview.
One of the things that strikes you when you walk into the farm, is how Gladys has embraced technology and integrated it into farm operations to make things run smoothly. Another aspect that stands out is the silage storage.
Spotlessly clean
The cows are are housed in well constructed structures that put into account their well-being.
"We treat our cows with tender care because that goes a long way in boosting milk production. You see when cows are stressed their milk levels dip, so they have to be fed well and kept in comfortable and clean structures," she says.
The sheds are clean and it is rare to see those nagging flies. Top hygiene, she says also keeps diseases at bay.
Much as she has perfected the art of dairy farming, it is interesting to learn that at some point she loathed farming.
"You will be surprised to learn that when I was young, I disliked animal rearing. Actually I used to tell my mother that I will have to work extra hard in life so that I would venture into other businesses. But look now the narrative has however changed, it has become part of our family and a business life," she says.
For closer monitoring, the animals are grouped in cubicles ranging from the youngest calf to the expectant cow. This way, she is able to monitor the lactation and feeding cycle.
"Most farmers group their herds and fail to remember that it is ideal for them to be in cubicles. There is a consistent programme strictly monitored from a three-day old calf calving to the next cycle," she says.
Gladys says the cubicles can host more than two calves isolated from the parent mother three days after giving birth.
"The reason we put them separately is to ensure the calves get constant attention and not get used to the mother. But at the same time, it is important for the young calf to suckle so that they get enough colostrum from its mother at that tender age. This is important to boost the animal's immunity," she says.
The farm has installed a synchronised mobile application to assist in checking on the feeding and milk production programme of every cow. This app particularly comes in handy because she is able to monitor the animals without having to be there physically.
Given that Gladys is planning to plunge into the deep end of politics, it is not realistically possible to be on the farm 24 hours a day.
To help her manage the farm, she has employed a team of trained farm professionals.
Delegate duties
Winnie Chebii, an animal health officer, oversees management of the dairy unit. To start the calves on a healthy note, after one week, they are introduced to dairy meal and when they reach one month they are fed on grass in small portions.
"We give them Boma Rhodes and Kikuyu grass which we have planted on the farm," says Chebii.
After another 18 months of feeding, the heifers are prepared for insemination through artificial process. The bulls are then sold for beef in the markets.
"Before we serve them, we have to consider the genealogy and body condition because it helps on what kind of results we desire to achieve in the next calving," she says.
Two months to delivery, the heifers are also put under a critical steaming process to improve milk production.
Kenya Agricultural and Livestock Research Organisation's Dr Moses Olum says steaming is the period in the third trimester when cows are fed on increased ratios mostly in the last month of pregnancy.
During this period he says, highly digestible food is given in readiness for heightened energy requirements and improved production.
"Food given during this period is in the form of grains and concentrates. The dam therefore accustoms to higher energy intake which is converted into production. This helps avert negative energy balances that occur soon after calving due to reduced appetite when cows don't take required amounts of forage therefore preventing diseases such as ketosis."
The vet cautions that this process should be limited to last month of pregnancy since if practised early; it leads to over fat cows at calving which is counterproductive with risks of diseases.
And though farming has its fair share of challenges, the former Chief Registrar says it is worth every effort.
"It is a great place to relax away from the hustle and bustle of Nairobi and it is also an enriching experience for the children when they visit the farm and interact with the workers," says the mother of three.