From prison officer to smart farmer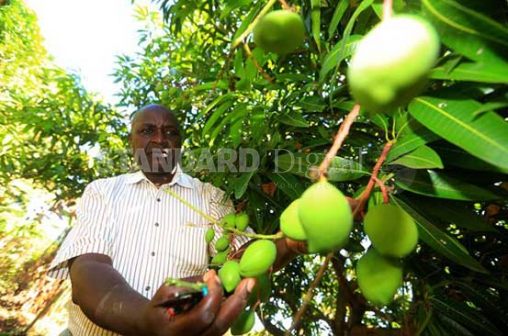 As the saying goes, one fruit a day keeps the doctor away. But to this retired prison farm manager, a fruit seedling keeps poverty at a distance.
In any ordinary morning, you will find George Konyango Ngira watering his nursery at his farm in Sega in Ugenya, Siaya County.
The 64-year-old embraced production of fruit seedlings for sale and fruit farming immediately after his retirement from Kodiaga prisons in 2007.
"I had plans to venture into horticulture farming after retirement because after years of being a farm manager, I knew with dedication and hard work, I could keep poverty away through farming. I only had to dig a borehole and buy local mangoes to start producing seedlings of my choice," says Ngira.
His desire to excel in horticulture was strengthened when he learned new methods of producing mangoes throughout the year.
"Mangoes, just like most fruits, are seasonal. After grasping this method where I could have mangoes throughout the year, I embraced it. I started grafting mangoes to local farmers for export," he said.
Ngira's nursery is full of mango, apple, orange and guava seedlings as well as banana suckers.
The father of seven opted for grafted mangoes that he produces for two seasons every year, affirming that, unlike other fruits, mangoes have a ready market in the region.
"The success rate for the grafting process is 70-80 per cent and it should be done during dry season. Grafting is better done during dry season because that is when the scion is dormant. There is need for a ready water source and that is why I have a borehole in the nursery," Ngira says.
The farmer, who was trained in horticulture farming by German cooperation (GIZ), says it takes three months after grafting for the seedlings to be ready for sale to local farmers.
"I sell my seedlings at Sh200 per plant for mangoes and oranges. I graft a lot of seedlings depending on the market. Initially, I sold the seedlings at Sh150 or 100, but with the growing market, I increased my price, I don't look for farmers to buy my seedlings anymore, they look for me," said Ngira.
The farmer says he makes money from his nursery every season, making Sh950,000 from the venture annually.
"The mango seedlings bring a profit of between Sh500,000-Sh950,000 at the end of the year. I have an orchard where I mix up varieties to get my materials," he tells Smart Harvest.
He grafts Tommy Artkins, Vandaik and Ngowo mango varieties, which he claims does better in the region.
"I have clients from all over the Nyanza region. Mango seedlings and fruits sell most in my home area Ugenya while my orange seedlings are bought by our neighbours in the Western region where the fruit does well," he says.
After seeing the agronomic benefits of fruit seedling farming, Ngira decided to give back to the society by training young farmers on how to produce grafted mangoes.
But many youths despise farming because they are afraid to soil their hands.
"I formed a group of young farmers dubbed Ugenya Fruits and Tree Nurseries Operators, where we contribute money monthly for welfare and table banking. All the farmers here are engaged in tree nurseries but I want to train them on horticulture," Ngira says.
He acknowledges the challenges that slow him down. "We lack enough land to meet the demand for fruit seedlings. There's also lack of labor because even with the group I started, we still cannot meet the demand. Many youth shy away from farming. I also face lack of adequate water supply as I depend on boreholes. My plan is to get irrigation machines," he says.
Ngira joined the prisons in 1976 as a farm manager and worked in Kamiti Maximum Prison for three years.
He was later transferred to Kakamega prisons where he worked for seven years, Kibos prisons in Kisumu for four years before his final stint at Kodiaga where he retired.
"I had just returned back to the village but still had children in college and the university that I needed to educate, so I took on my passion for horticulture to raise income. Having worked in the prisons farm almost all the years I was employed, I was good to go," revealed Ngira.
Ngira's says he channels all his energy and resources to his farm because he earns more than he ever did during his days at the prisons.
According to Ngira, who hopes to become a large scale mango producer, about 90 per cent of the mangoes exported are from small-holder farmers like him.