Common mistakes that fuel spread of crop diseases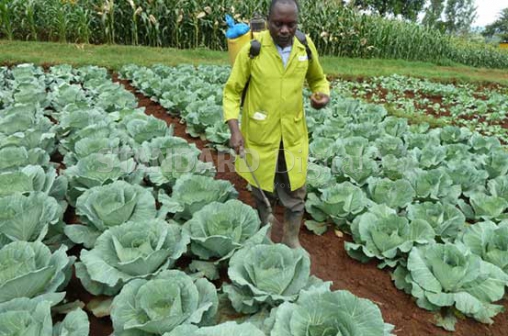 The rain season is here with us. Like in any other season, the showers are expected to bring us loads of blessings - thriving ventures and lush backyards. But the rains also bring with them the heavy burden of pest and diseases upsurge.
It is the wet and humid conditions of the rainy spell that trigger the sudden bloom of harmful microorganisms that had been laying in deceptive peace in the soil, the seeds and even crop residue. The diseases quickly thrive, often sweeping through the farm like a wild fire.
The situation is actually expected to get worse with effects of climate change, which is attributed to the sudden outbursts of the rain and drought in close sequence.
While it is not possible to wipe out pests and diseases, it is fairly easy to control them to a reasonable level, and save your farm unnecessary losses that farmers incur year after year.
But this takes a keen person committed to his farm, and willing to take time and understand the art of farming, and the logic behind pest and disease outbreaks.
But even good farmers make mistakes. Little slacks that often cost them a fortune. It is therefore important to understand some common mistakes you should not make; or perhaps things you need to correct for your venture to yield your expectations.
Variety is not all about yields
One of the greatest mistakes I have seen farmers make is thinking of crop varieties in terms of how much each cultivar can yield. But crops are bred for much more than their yields.
Disease and pest resistance is one of the beautiful traits farmers overlook when choosing the variety to plant, yet this is meant to be the farmer's first line of defense against pests and diseases. So the next time you inquire about the best tomato, beans or onion variety to plant, inquire also about its pest and diseases resistance. It could save you a lot of costs.
Control diseases, not outbreaks
Another common slack is rushing to the agro-vet a day or week too late. If you are controlling a disease that has affected more than five per cent of your crop, you are trying to manage a crisis. Instead, a farmer should always conduct regular scouts and identify any symptoms of a disease or pest emergence.
When controlled early, diseases are more easily contained, and cause lesser damage.
Not anytime is good time to spray your crops
While it is true to say that pests and diseases control is an emergency, it is also true that the timing of the solution is more important than anything else. It beats any logic to spray your crop a few minutes before a down pour, for instance.
Whenever possible, plan to spray your crops very early in the morning, in a calm and cool day. This reduces the rate of loss of the pesticide from the foliage, and gives it more time to act.
Mind your guests
You may not control a disease in your neighbour's farm, but you can manage its spread into your farm. One of the ways to do this is by being mindful of the people who frequent your farm, since most diseases are easily transmitted through human clothing and farm machinery.
This is more critical if you are farming sensitive crops or horticulture products like french beans, tomatoes and other common veggies.
In instances where casual labourers have to move from one farm straight to another, you might need to demand a change of clothes or aprons and thorough cleaning of their hands; more so if they are to attend to the crop directly through such operations like partial harvesting.
Fight the right battle
There is a big difference between a diseases and a disorder. Plant diseases are caused by living microorganisms like fungi, bacteria or virus while plant disorders are caused by other underlying factors like nutrient deficiency.
Since some of these disorders express themselves like the normal diseases, farmers spend millions of shillings purchasing pesticides instead of supplementing the deficient mineral or correcting the factor that is affecting their crop.
So the next time you site some curling up of the leaves, strange pigmentation; stunted growth or any other unusual characteristic in your crops, seek first to rule out the possibility of a crop disorder before rushing to the agro-vet for one more bottle of pesticide. If need be, consult an agronomist.
Crops were meant to grow in a sequence
Crop rotation is a practice that can cut down pest and disease incidence significantly by reducing the buildup of the harmful microorganisms in the soil. Farmers however continue to dedicate given farms or plots to a certain crop or crop variety, a mistake that pays them back with a backlog of pests and diseases each season.
If you want to manage diseases effectively; ensure you grow your crops in a rotation, and avoid rotating related crops like maize and sorghum, carrot and dhania or tomatoes with capsicum or pepper; because related crops are attacked by same family of pests and diseases.
-The writer is an agriculture and science communication expert, consultant, and university lecturer