My secret to big, appetising and juicy tomatoes in arid region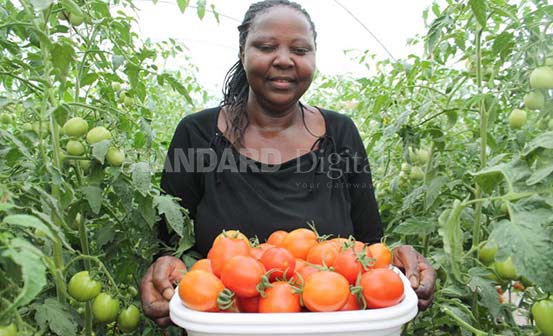 To tomato farmers, Migori County is "cursed" land. It just cannot bear fruit. Many farmers here have tried and made losses from this otherwise money-making crop.
Jared Osongo is one such farmer. His trials ended up in disappointment. The last crop of tomatoes Osongo planted grew up well but suddenly withered just as they were about to flower.
"All the plants withered and died when the first fruits were just fattening up," he says. That was it for Osongo who dumped tomatoes thereafter. He now grows only maize in his three-acre farm.
But Damary Onditi is proving that with the right approach, the county is just as good as any other tomato producing region.
Mrs Onditi's story has the same beginning, but her script changes when she decided to seek advice from experts.
An agronomist asked her to try greenhouse farming.
"I have tested it and I would advise other farmers to give it a try. I am a happy farmer," says Onditi.
Besides being an enthusiastic farmer, ready to reap big, Onditi's thirst to learn from Fred Ochieng, the agronomist, enabled her to do well.
"I have been eager to learn proper crop husbandry in a greenhouse. I can confidently say I am the next big tomato farmer in this region," says Onditi.
Harsh weather
The secret to harvesting big tomatoes, according to Mr Ochieng, is shielding the crop against many things, but more so harsh weather conditions which accelerate spread of diseases and infections among plants.
"Tomatoes do well in moderate rains. But a place like Migori receives either long or erratic rainfall which cannot be predictable," says Ochieng.
Soils also present big problems to tomato farmers. Soil acidity varies from one region to another. Loam and black cotton clay soil, whose acidity is a main concern, are dominant in Migori.
Soils with a lot of acidity are not recommended for tomatoes. More often, tomato plants die because of vulnerability to high acidity levels.
Additionally, due to climate change, some diseases like bacterial wilt, down mildew and blight are common and spread faster in open fields.
"Because the conditions are well controlled in a greenhouse, it is difficult to incur losses due to disease attack because it is easy to manage any suspicious illness in your crop," says Ochieng.
In Onditi's greenhouse, every tomato tree is grown in its own polythene pots that are well supplied with piped water through drip irrigation.
The soils were treated before the crops were planted. Treatment sterilises the soils against any disease causing organisms and germs. It also gives it neutral levels of acidity.
"There are many ways of treating soils. They can be fumigated, roasted or drenched in a chemical solution," advises Ochieng.
A greenhouse must be professionally built to reduce costs of repair. Her greenhouse, which cost Sh500,000 to set up, holds about 1,400 tomato trees.
Sweeter deal
Onditi has a constant supply of water which she harvests from the roofs of her houses whenever it rains.
She has an underground depression that serves the greenhouse for up to three months during the dry spell.
She expects to earn at least Sh200 per tree. Currently, the price of a large sized tomato is between Sh10-15. In a single harvest, she can gather up to 10 crates during the peak season.
Over the last one month, traders have been flocking her farm to buy her tomatoes which they will in turn sell in Migori town. Now, Onditi can dream of expanding her venture.
According to Ochieng, about 50 farmers who have ventured into tomato greenhouse farming around Migori County have succeeded in their ventures.
But demand for tomatoes in the county is still high. Most tomatoes sold in local markets come from Nakuru County, about 300 kilometers away.
Tanzanian farmers have also been exporting the vegetable across the border.
Loise Akinyi, a trader, says greenhouse tomatoes are sweeter and more attractive.
"The skin colour and smooth texture of the tomatoes make them sell like hot cakes," says Ms Akinyi.